Explosion-Proof Electric Actuator, Corrosion Resistance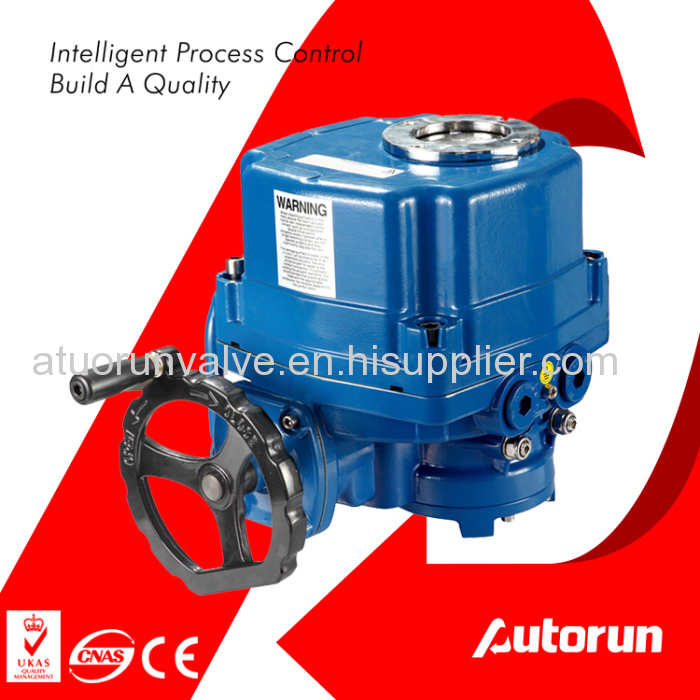 1. Summary:
Part-turn electric actuator is used for controlling 0°~360° rotation of the valves and other similar products, such as butterfly valve, ball valve, damper, flapper valve, cock valve etc. It widely applies to petroleum, chemical, water treatment, shipping, paper making, power plant, heating, light industry and other industries. Drived by 380V/220V/110VAC power or 24V/110VDC power, inputs 4-20mA or 0-10VDC control signal, moves valve to the right position, and achieves to automatic control, maximum output torque is 6000N·M.(OHQ series have got CE and explosion-proof certificate)


2. Performance Feature
Shell--The shell is made of aluminum alloy, with anodic oxidation treatment and polyester powder coating. It is strong corrosion-resistant and enclosure IP67,NEMA 4 and 6, IP68 and explosion-proof is optional.

Motor--Asynchronous motor, small, large torque, and small inertia force, F-class insulation rating, with thermal protection to avoid damaging.

Manual Structure--The design of handwheel is safe, reliable, labor-saving, small. Declutch to operate by handwheel if without power, and reset automatically when power on.

Indicator-- Installs indicator in the center axis and adopts convex mirror design, no cumulate water, more convenient to observe.

Space heater-- It is used for controlling temperature to avoid condensing internal of housing and keep dry.
Limit switch-- Mechanical, electronic double limit. Mechanical limit stopper is adjustable, safe and reliable; electronic limit switch is controlled by cam. Set position accurately and conveniently, and not affected by excessive handle.

Torque Switch-- (Except OHQ-005/008/010) Providing overload protection to avoid the damage of valve and electric actuator when jammed by cutting power automatically.

Self-locking--Accurate worm and worm gear transfer large torque efficiently , high efficiency, low noise (max. 50 dB), long life, with self-locking, prevent inversion, as stable and reliable transmission parts, no need to refuel.
Anti-off bolt-The bolt attaches to the shell and be not off when remove the shell.

Installation-- The installation size meets international standard ISO5211 / DIN3337.

Circuit--Controlling circuit meets the single-phase or three-phase power supply standard, circuit layout is reasonable and compact, terminals meet various of additional functional requirements effectively.

The display of valve position-During the opening or closing movement of actuator, the change of valve position on LCD is displayed with large numbers.

Adjust the phase sequence automatically-Intelligent actuator check and test the phase sequence for 3 phase power supply automatically, users no need to consider about the phase sequence.


3. Performance Parameter
Model
Max Output Torque
60/50Hz
Operating Time
Max Drive Shaft Size
F-class Motor
Rated Current(A)
Handwheel Revolution
Weight
single phase
three phases
N·M
90°
mm
W
110V
220V
380V
440V
N
Kg
OHQ-005
50
18/22
φ20
20
1.10/0.95
0.55/0.54
0.3/0.3
N/A
10
7.5
OHQ-008
80
18/22
φ20
20
1.10/0.95
0.55/0.54
0.3/0.3
N/A
10
7.5
OHQ-010
100
18/22
φ20
20
1.10/0.95
0.55/0.54
0.3/0.3
N/A
10
7.5
OHQ-015
150
21/25
φ22
40
1.65/1.67
0.88/0.84
0.31/0.31
0.30/0.31
11
17.3
OHQ-020
200
21/25
φ22
40
1.67/1.67
0.89/0.85
0.31/0.31
0.30/0.31
11
17.3
OHQ-030
300
26/31
φ35
90
1.85/1.86
0.92/0.92
0.35/0.35
0.34/0.34
13.5
22
OHQ-050
500
26/31
φ35
90
3.60/3.62
1.55/1.58
0.59/0.59
0.58/0.58
13.5
23
OHQ-060
600
26/31
φ35
120
3.65/3.62
1.60/2.20
0.60/0.59
0.59/0.58
13.5
23
OHQ-080
800
31/37
φ45
180
4.10/4.10
2.15/2.20
0.85/0.85
0.79/0.79
16.5
29
OHQ-120
1200
31/37
φ45
180
4.20/4.10
2.35/2.30
0.87/0.87
0.81/0.81
16.5
29
OHQ-150
1500
78/93
φ45
180
4.20/4.10
2.15/2.20
0.85/0.85
0.79/0.79
49.5
83
OHQ-200
2000
93/112
φ45
180
4.10/4.10
2.15/2.20
0.85/0.85
0.79/0.79
49.5
83
OHQ-300
3000
93/112
φ45
180
4.20/4.10
2.35/2.30
0.87/0.87
0.81/0.81
49.5
83
OHQ-400
4000
155/185
φ45
180
4.20/4.10
2.35/2.30
0.87/0.87
0.81/0.81
82.5
83
OHQ-500
5000
155/185
φ45
180
4.20/4.10
2.35/2.30
0.87/0.87
0.81/0.81
82.5
83
OHQ-600
6000
155/185
φ45
180
4.20/4.10
2.35/2.30
0.87/0.87
0.81/0.81
82.5
83

4. Standard Technical Parameter
Shell
Enclosure :IP67,NEMA4, Exd II CT5

Power
Standard:220VAC/1ph
Optional:110VAC/1ph, 380V/440V/3ph,50/60HZ, ±10%
24VDC/110VDC/220VDC
Motor
Asynchronous motor
Limit switch
2×Open/ Close, SPDT,250VAC 10A
Auxiliary limit switch
2×Open/ Close, SPDT,250VAC 10A
Torque switch
Close/Open, each 1, SPDT,250VAC 10A
Except OHQ-005/008/010
Travel
90°±10°
0°~270°
Fail safe/
Operating temperature
Internal-placed thermal protection, Open 115ºC ±5ºC/Close 97ºC ± 5ºC
Indicator
Continuous position indicator
Manual operate
Declutching mechanism, operate by handwheel
Self-locking device
Self-locking by worm and worm gear
Mechanical limit
2 × external adjustable stopper
Space heater
7-10W(110V/220VAC)
Conduit entry
2 × PF 3/4"
Ambient temperature
-20ºC~+70ºC
Lubrication
Grease moly(EP type)
Material
Steel, Aluminum alloy, Aluminum bronze,Polycarbonate
Ambient humidity
Max 90% RH
Non-Condensing
Anti-vibration
X Y Z 10g,0.2~34 Hz,30 minutes
External coating
Dry powder, Epoxy polyester,high anti-corrosion

5. Option Specification
| | | |
| --- | --- | --- |
| No. | Option scheme | Remark |
| 1 | Explosion-proof actuator(Exd II CT5) | OHQ series |
| 2 | Water-proof actuator (IP68,10M,250HR) | OHQ series |
| 3 | Potentiometer unit(1K-10K) | OHQ series |
| 4 | Proportion control unit (control signal 4-20mA DC/1-5V/1-10V) | OHQ series |
| 5 | Local control units (local control open/stop/close optional switch, local/remote switch) | OHQ series |
| 6 | Travel 120°, 180°,270° | OHQ series |
| 7 | Direct current motor (24VDC) | OHQ series |
| 8 | Torque switch (SPDT× 2 250VAC 10A) | Except OHQ-005/008/010 |
| 9 | Electric current position sensor (output 4-20mA DC) | OHQ series |
| 10 | Self-reset when power failure | CHQ series |
| 11 | High temperature resistance actuator (-10ºC~+100ºC) | CHQ series |
| 12 | Low temperature resistance actuator (-40ºC~+70ºC) | CHQ series |
| 13 | Low speed actuator | CHQ series |


6. Standard Parts Structure:


Manual operation (Clutching system)
--Manual/Auto convert to handle and
handwheel used for emergency manual
operation
--Powered,handle will automatically
reset to auto operation


Cam and limit switch
--Tighten with two screws and simple
setting
--Each cam can be setseparately
--Once set,each cam will be on the
position forever


Space heater
--7-10W,ceramic housing with thermostat
to prevent overheat comparing with set
temperature
--Without risk of electricity leakage


Terminal block
--Enough terminal for customer's
convenience(Max 22 points)
--Proven reliability and tight wiring
connection
--Terminal length:8-9mm/(2.5mm2)
--Terminal dimension:10×22×32mm


Anti-off bolt
--Cover bolts are specially designed to
prevent falling down during
maintenance or installation
--All external blots are stainless steel
for rust prevention


Indicator sustained by spring
--Direction of indicator has been set by
factory
--If change direction of indicator,just
grip the indicator plate to change it
--Spring under the indicator plate
sustains the set position unchanged
--No need to loose screw and tight against
at all


Inclined plane
--For other actuators, it is hard to take
off cover because of little tolerance
when the interface between cover and
body is vertical.
--For CHQ actuators,it is easy to take off
cover as small tolerance, ,the design
of interface is 3 degree inclined plane


Torque switch
--Torque switch protect motorand
internal electric components from
overheat caused by overload of valve
--If torque works,the actuator stop at
once


Removable drive sleeve
--Sleeve is removable as different
requirement
--4 under hungs for tighting or loosing
between drive shaft and sleeve
--Easy installation with valve


Two slots on window glass
--Two slots on the window covers and
convex are convenient for draining and
observing,and ensure the well sealing
of the cover


7. Company Introduction
Zhejiang Odelo Automatic Control Valve Co., Ltd. is located on Wuxing Auenue, Dongou industry Park, Oubei Town, which is called "China's Valve Village". We are manufacturer of pneumatic/electric actuators and automatic control valves. Our company has designed and manufactured a series products of international level by adopting advanced technique and equipment introduced from home and abroad, which are used widely in petroleum industry, chemical industry, light industry, power plants, metallurgy, HVAC, medical treatment, fire, water treatment, etc. We have provided national key projects with high quality products and good services. In addition, we have won a good reputation among customers from all over the world. Welcome to contact us and visit our company. Sincerely hope we can enter long term business relations.