We are seeking global co-operation agents for our products.
Kailin Sand (KL CERAMSITE)
Kailin Sand (KL CERAMSITE) is a kind of new artificial Foundry sand that is ball-shaped, high heat-resistant, low heat dilating rate. KL has advantage of cost and performance than Chromite sand and zircon sand that provide the effective ways to increase improve the quality of the foundry, cost-down and less damage to the environment. It is the best selection to put the KL into use in the field foundry and has good vision of development.
Chemical &Physical Index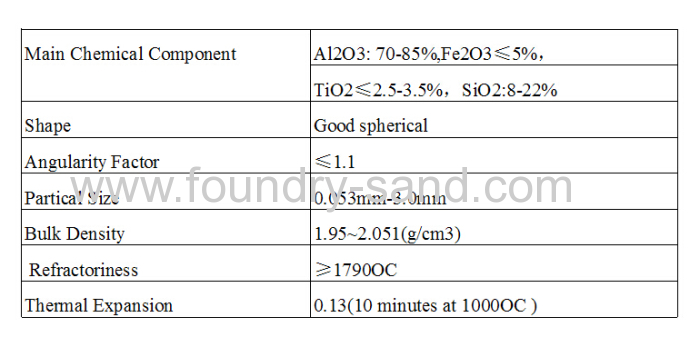 Properties of Kalin Ceremic Sand (Compared with other special Sand)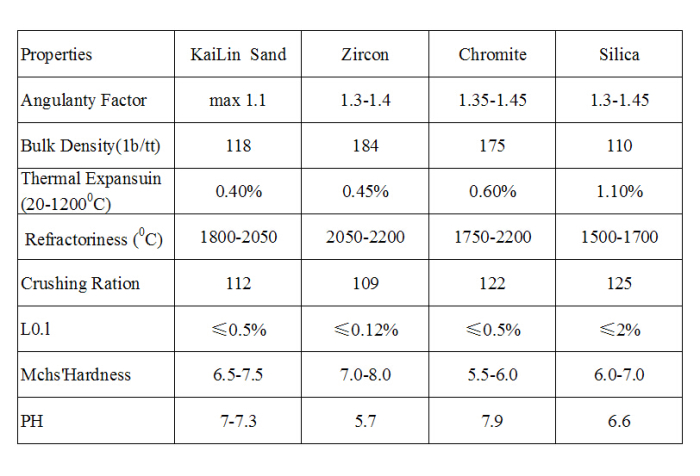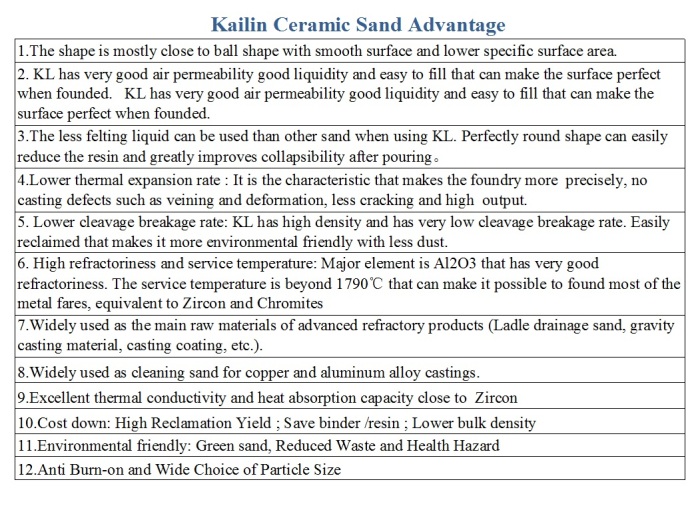 Ceramic Sand History ( Origin of Kailin Ceramic Sand)

"Early in 1997, I engaged in the production and research work of resin coated sand. One day, a few friends and I walked into a ceramic sand production plant which product electricity-melting bauxite sand, and found a special artificial sand. It has very good round appearance and smooth surface. Oh my God! Isn't that the optimal sand which foundry men looked for? When we left the plant, I caught some sand sample for further testing.
"Two years later, in August 1999, we found a company, Luoyang Kalin Foundry Material Ltd., to manufacture and market those molten bauxite sand---kailin ceramic sand. At that time we made ceramic sand by calcining the bauxite ore. Soon we found that this kind of sand were not suitable for foundry use due to it's lower refractoriness. Not long after that, we started to use melting and blowing process to produce ceramic sand.
"So, here comes a question. What's the primary difference between the oil field using ceramic sand and the foundry using sand ? In my opinion, for oilfield ceramic sand, we mainly concern it's crush strength, but for foundry use ceramic sand, refractoriness maybe is the first consideration. For it's good Eucharistic for molding and core making, it's a real treasure in foundry, we called it "ceramic sand"in Chinese. Soon, there appeared the word "ceramic sand"in china foundry trade circle .
"In 2000, Luoyang Kalin Foundry Material Ltd. Issued it's first ceramic sand ad as "ceramic sand " on the famous monthly named "foundry"sponsored by the CFA. From then, we have kept this ad on it for about 15 years. At the same time, we have marketed the ceramic sand from north to south, from china to abroad. and in 2005 we registered a trade mark as "ceramic sand"inChinaand declared a patent (patent number: 20,051,001,799.6)
"Along with the marketing and application of the ceramic sand, more and more foundries have taken the advantages of lower casting costs, less foundry waste emission and higher casting quality contributed by using kailin ceramic sand. Today, the kailin ceramic sand, for its superior performance, expand its application quickly, such as use in resin bonded sand, sodium-silicate sand, green sand, lost foam, vacuum molding process, etc.. We would like it to contribute to the progress of foundry forever."
About the origin and the marketing of kailin ceramic sand,Mr. Liu Mandui,the general manager, once told a story as follows.
Application of Ceramic Sand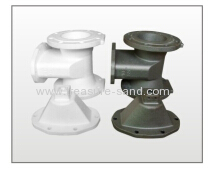 Casting Modle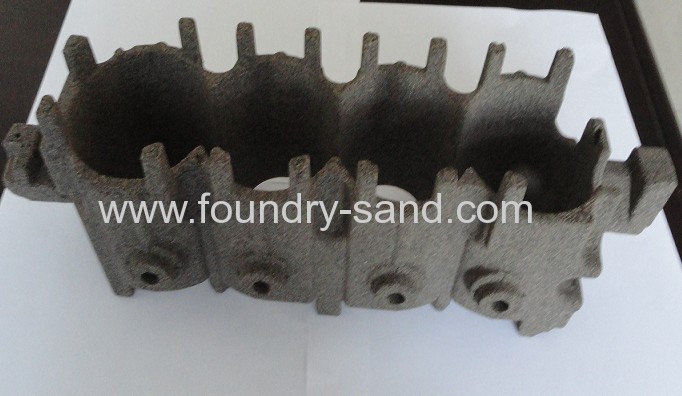 Factory Buldings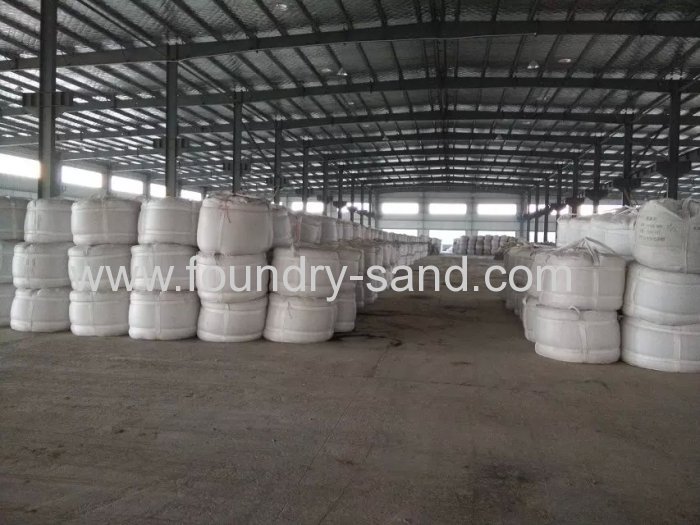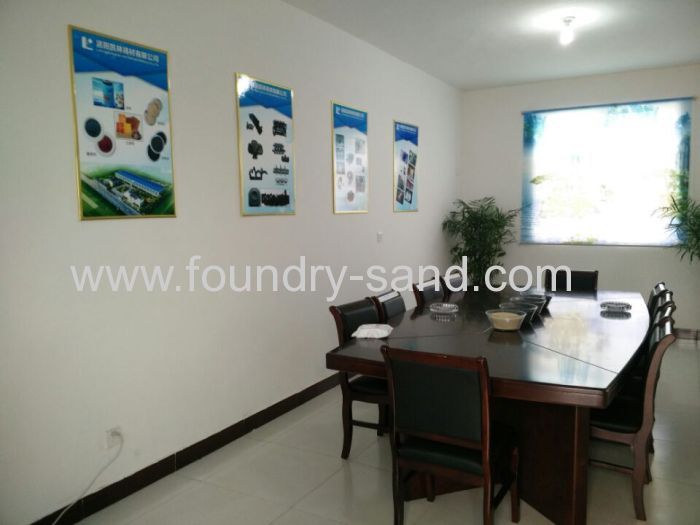 Equipment photo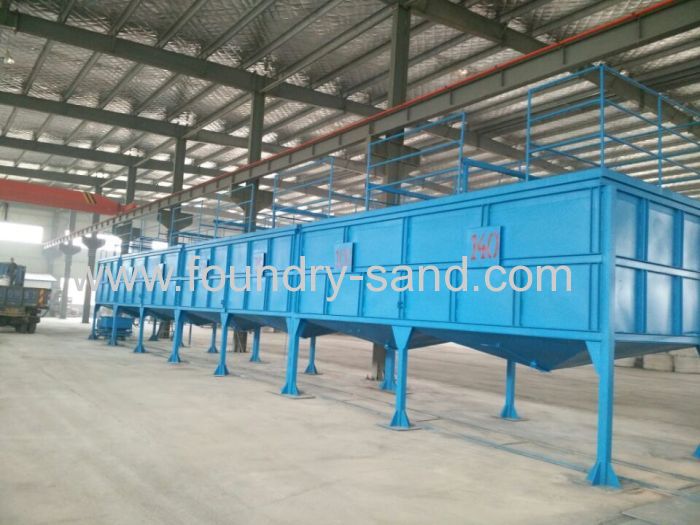 Technical Support
Anything wrong happening in our products will be solved within one day; we always offer relative technical support/consultant quick response and all your inquiry will be replied within 24 hours.
The Main Market

Our Products and service are sold well in Japan, North America, South Korea ,Europe and other Countries.
SGS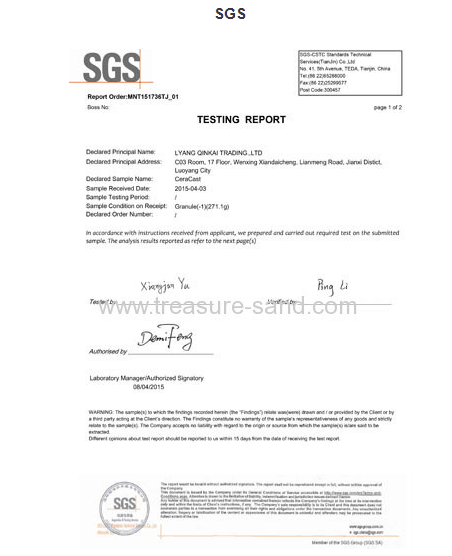 FAQ

Q1:What is the lead time ?
A:Sample is 3~5 days, mass production time is about 10~15days .

Q2.Do you have any MOQ limit?
A:Our MOQ is one container includes 20 tons.

Q3:Are you manufactory or trading company?
A:We are manufactory.

Q4: What kind of your products?
A:Our main products is ceramic sand .
Why ceramsite?
1.Prevention of sand expansion defects, especially finning veining;
2.Elimination of gas-forming additives;
3.Prevention of reactions between metal and moulding sand;
4.Prevention of metal penetration;
5.Reduction of core weight;
6.Improved flowability of the moulding sand;
7.Influence on the formation of microstructure;
8.Pouring of thin-walled castings.