Birthing Chair supports Back During Labor!
We are seeking global co-operation agents for our products.
Used for centuries, birthing chairs are low in height, and provide back support by facilitating sitting in the squatting position.
This model helps you to move your pelvis freely so that you can maneuver yourself into a more comfortable position easily.
Scientifically, squatting is the best position for easy and safe delivery.
While a conventional labor table requires you to apply extra force, the birthing chair helps to use the force of gravity and helps control labor pains.
Birthing chairs today are much more sophisticated than in the past and many can be turned into delivery tables to give you a stronger sense of empowerment, while others are equipped with straps to help you maneuver you into the correct position for delivery.
Some are three-legged birthing stools with an elevated slanting back and circular seat with a big hole in the middle. The lower part of the chair can be removed or folded, and enables you to sit, recline or lie down. Mirrors, lights, or basins can also be added to balance the chair.
Pros and cons of birthing chair:
While squatting aids gravity to speed up an easy delivery process, the main drawback of a birthing chair is the possibility of excessive tearing of the perineum. This happens when the baby's head puts too much pressure on the pelvis. This makes post-partum recovery an extended healing period.
we are seeking global co-operation agents for our products.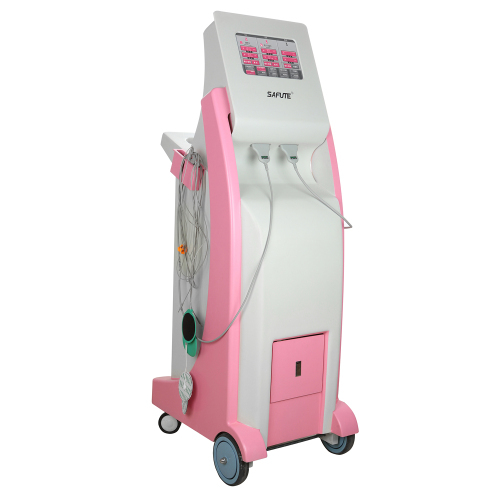 A. Galactagogue Conventional Therapy
Adoption of the breast electrodes inside the breast to produce mechanical Vibration and rotational motion , Substitute to produce baby sucking the nipple effect , is the baby sucking its strength 5-10 times , while endocrine regulation , improve local blood circulation, promote maternal body pituitary Secretion of prolactin and oxytocin , to make Breastfeeding up in advance , reducing pain during breastfeeding .
1. 8-10 hours milk secretion in advance , increased Secretion quantity.
2.Dredge breast duct ; breast milk reduce siltation ; caesarean effect is more pronounced.
3.Activation of breast involution , reduce the risk of breast disease , breast firm,reduce the breast droop.
B. Postpartum , Postoperative Urinary Retention Treatment
Due to changes in psychological , anesthesia , pain and postural factors it is easy to form urinary retention; This instrument can cause lumbosacral pelvic muscles and fascia produce regular contraction movement, led the bladder muscle rhythmic movement , the lifting of the bladder muscle paralysis , improve local blood circulation , relieve congestion and edema of the bladder , the bladder contraction promote rehabilitation , restoration of spontaneous urination.
C. Treatment of Uterine Involution
1.Adoption of the act on the maternal abdomen electrode sacral ; promote pelvic muscle contraction ; fascia tension increased ; uterine ligament exercise; eliminate pelvic congestion ; reduce postpartum hemorrhage; promote lochia discharge ; accelerate uterine involution .
2.Promote bowel movements , improve local blood circulation, adjust the visceral autonomic nervous system, promote intestinal exhaust , defecation, promote uterine contractions, the bottom of the uterus drops , alleviate postpartum fatigue, relieve back pain, fart time averaging advance 10-20 hours,return to normal diet to ensure adequate nutrition for pregnant women , physical and quick recovery , prevent Intestinal adhesions and postpartum constipation .To the pelvic organ recovery and mitigate postpartum perineal swelling, surgery pain and postpartum hemorrhoids have a certain effect .
D. Postoperative analgesia and postoperative recovery treatment
1.Surgical analgesic: Instrument controlled by microcomputer surgery irritation sacral skin surface , interference perineal nerve transmission , so that transmission blocking pain , pain is suppressed.
2.Postoperative recovery : by the microcomputer control equipment , so that pelvic floor tissue contraction , thereby stimulating uterine ligament campaign to promote uterine contraction, strengthen capillaries , improve local blood circulation .