Obstetric nursing device
During the pregnancy, most women'body shape is changing, it will be fat, abdominal bulge, hip and thigh deformation, etc. How to restore the body as soon as possible? It is the most concern of every woman.
It mainly use low-frequency pulse of the mechanical effects, do treatment for the maternal's hip, thigh, waist and other parts.
By the effect of low frequency pulse, it can promote local tissue blood vessels , increase blood flow, promote cell membrane permeability, promote metabolism, decrease the blood pH value of alkaline, promote cell proliferation, restore the function of damaged tissue and organs.
The low intensity pulse can stimulate the growth and synthesis of protein complexes in the cell, accelerate tissue repair, and achieve the effect of body shape recovery quickly.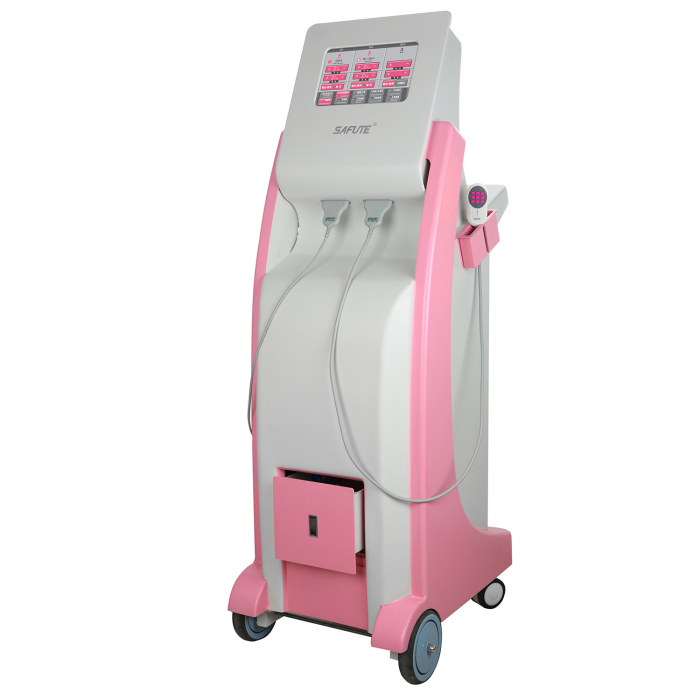 we are seeking global co-operation agents for our products.
LG2000 Postpartum Treating Device
Being an emerging therapeutic technology, postpartum rehabilitation provides comprehensive and positive postpartum recovery for organs like breast, ovary, uterus, pelvic floor, vaginal and body shape according to postpartum physical changes.
Main Features :
Three treatment channels : can do treatment for 3 patients at same time.
Luxury touch screen : 10.4″big size pink LCD touch screen.
Main Function : (10 items)
1. Pelvic Inflammation, 2. Galactagogue Routine Therapy,
3. Urinary Retention, 4. Hypogalactia,
5. Postpartum Recovery, 6. Mammary Ducts Impatency,
7. Recovery of Shape, 8. Lobular Hyperplasia,
9. Postoperative Pain Relief, 10. Involution of Uterus .
Technical Data :
(1)Voltage : AC220,50HZ.
(2)Security type : Grade I Type BF
(3)Power : ≤ 35VA
(4)10.4 inches 24-bit color TFT LCD touch screen, resolution 800 * 600 .
(5)ARM7TDMI core processor
(6)Pulse output main frequency is 833 Hz ±15%
(7)Pulse output amplitude : 32 grade, Amplitude range : 0~70VP-P±10%
(8)Treatment time : 0~90 minutes. Increase or decrease 5 minutes each time .
(9)Treatment ends with alarm prompt .
(10)Each wire length ≥1.5m .
(11)The manual controller function :
Hand control the output intensity high or low, start or pause .
(12)Output pre-zeroing function : No output when it is power off and then restored .
Accessaries : Rubber electrode pads and manual controller
Special shape treatment pad for breast
Rectangular shape treatment pad Round shape treatment pad
The manual controller
Product list :
| | | |
| --- | --- | --- |
| No. | Name | Quantity |
| 1 | Main frame | 1set |
| 2 | Power line | 1pcs |
| 3 | Treatment output line | 1set |
| 4 | Special shape treatment pad for breast | 2pcs |
| 5 | Rectangular shape treatment pad | 2pcs |
| 6 | Round treatment pad | 2pcs |
| 7 | Cummerbund | 2pcs |
| 8 | Manual controller | 1set |
| 9 | Fuse | 2pcs |
| 10 | Users' manual | 1set |
Option: Disposable electrode pads