Lottery Reader Equipment Optical Mark Reader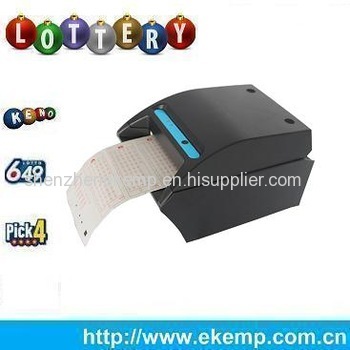 Key Fuatures:
1.Small volume, light weight, stable and reliable
2.performance, and fast processing speed.
3.Easy, convenient and highly-efficient, and available for multiple office sites anywhere and anytime.
4.Easy to learn, convenient to operate, and manualfeeding.
5.The secondary development package provided.
6.enables user to develop software system suitable to him.
Spicification:
CPU

ADSP (400MHz), Embebed System

Image Sensor

CCD (1396 pixels), great depth of noncontact scanning, high reliability

and easy maintenance

Scan Pixels

330 x 300 dpi (H x V), 8-bit gray scale data

Maximum scanning width

82.5mm

High Speed

200mm/s (300 DPI) or 400mm/s (160DPI), bi-directional transport

Thermal Printing Function (optional)

200DPI print precision, support character, Chinese and image printing

Interface Supported

RS232, USB 2.0 (optional)

Power Supply

+24 VDC ± 5%/2.5A

Operating Temp/ Humidity

0~50°C; 10% ~90% RH

Size

170 x 126 x 100mm (D x W x H)

Weight

Around 0.87kg