About high quality LED mould components in China
Product details
Product name:LED mould components
Product size: customization
Material:Japan(SKD11.SKD61.SKH51.S45C)
USA(AISA.D2.H13.P20.M2)
Germany(DIN.2379.2363.2344.2347)
ASSAB(Rigor.Stavax.Impax.Elmax.ASP23)
Hardness:58-60 HRC
Grinding precision:0.001mm
Electric discharge processing precision:0.002mm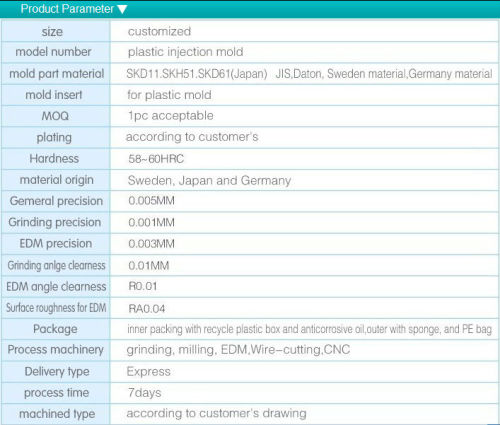 YIZE mold aslo to product quality as the premise,to ensure the delivery production the high quality LEDmould components in China.
Sodick wire cutting machines ensure the general precision of our LED mould part to be 0.005mm,if specially required,we could guarantee linearity,parallelism and verticality within 0.002mm.
And then with the help of Sodick and Mitsubishi EDM machines.EDM precision within 0.003mm,EDM angle clearance within R0.015,EDM surface roughness within Ra0.2 are the technical precision available.
If you want high quality LED mould components,YIZE is a good choice.
partforu01 recommend you LED mould components
Contact Yize Mould
Dongguan YIZE MOULD Co.,LTD
Punch and die manufacturer Address: Hexing Road No.122, South Shatou District, Chang'an Town, Dongguan City, Guangdong Province