6pcs Timing Betl Double Pin Wrench Set VW Audi VAG 1.4tdi 1.9 tdi pd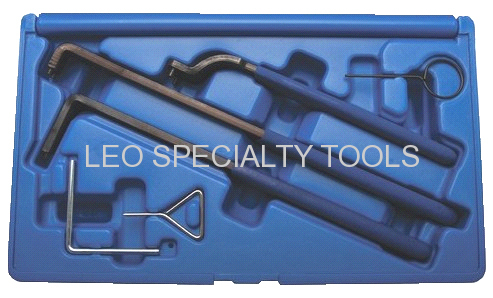 Description:
The belt tensioner roller has two holes in which the two pins of the Double-Pin V159-VAG 3387, T10020 are inserted allowing them to turn the belt tensioner roller and to tension the timing belt.
For use on Lupo. Polo 1.4 TDi PD Golf, Bora, Polo 1.9 TDi, PD, Beetle, Sharan 1.9 TDi PD, Passat1.9 TDi PD, AudiA2 /A3 1.4 / 1.9 TDi PD, A4 / A6 1.9 TDi A4 / A6/A8 ALLROAD 2.5 V6TDi
Neatly packed in blow moulded case for transit.
Includes:
3 x double pin wrenches
90 degree pin
Triangular pin
Circle pin
Supplied in blow moulded case
Applications:
Lupo. Polo 1.4 TDi PD Golf
Bora, Polo 1.9 TDi, PD
Beetle, Sharan 1.9 TDi PD
Passat 1.9 TDi PD
AudiA2 /A3 1.4 / 1.9 TDi PD, A4 / A6 1.9 TDi A4 / A6/A8
ALLROAD 2.5 V6TDi
Specifications:
Dipped foam handles
Hardened and tempered steel
Black phosphate finish
Mirror polished pins