Product Description
DSP / DQG series solar pump is designed as DC brush motor driving pump impellers, by onnecting to solar panels direcly.The power from solar panels can drive pump.This type pump is most popular in the areas, where lack of electricity or strict requirement for environmental protection.
DSP / DQG series pump is suitable to pump and drainage water, which doesn't need controller. moreover, the installation is very simple.This type pump is mainly applied in the field of power plants, steel mills, mining, chemical, fire, water plants, agricultural irrigation and other industries.
DC Solar Pump Model Specification
Model

Voltage
(V)

Power
(W)

Max. Flow
(M³/h)

Max. Head
(m)

Outlet
(in)

Dimension
(mm)

Weight
(kg)

4DSP3/30-30/250W

18-40

200-400

3

30

1.25''

96*800

10

4DSP3/50-50/500W

42-80

400-600

3

50

1.25''

96*900

11

4DQG2/40-30/250W

18-40

200-400

2

40

1''

96*560

8

4DQG2/60-50/500W

42-80

400-600

2

60

1''

96*560

8.5
Product Overviews
DC Solar Pump Installation
1. Connecting a longer cable to the pump positive negative terminal (black) and positive terminal (red). The cable length will be designed as actual requirement, but make sure not to connect too long cable ,since the DC motor efficiency will be decrease during the super long cable. It is also suggested that at least 3mm2 or 4mm2 cable to connect onto the pump. Finally, please confirm that the cable connectors is water proof and best seal.
2. Before you start wiring the pump to the solar panel. The pump needs to be submersed in water for at least 15 minutes before power is applied. Water is the lubrication for the pump and if it is not "preconditioned" properly the bearings will not be adequately lubricated. This will result in premature wear and failure of the pump and will refused the warranty.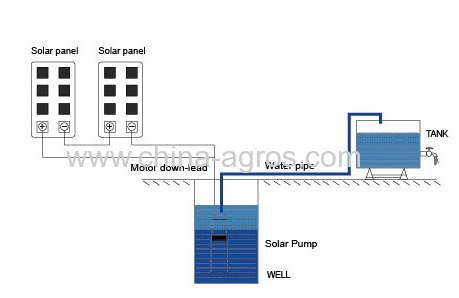 Solar Panel Design ( Not Unique, just recommend )
For pump of 30V,250W, solar panel is :
Solar Panel : 2PCS in series, Power : 150W, VOC : 21.5V; VM : 17.8V;
For pump of 50V, 500W,the connection way
Solar Panel : 4 PCS in series, Power : 150W, VOC : 21.5V; VM : 17.8V;