Professional Supplier Bike Renting System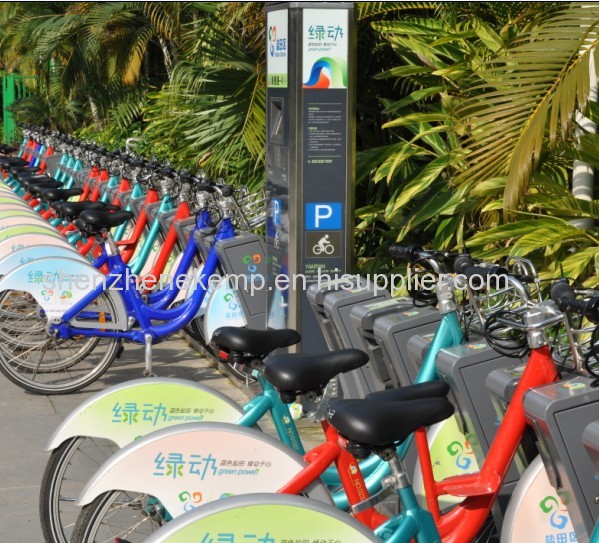 Transportation Public Bicycle Rental System can let the people enjoy the convenience of traveland provides tourists with an effective auxiliary means of transport with the advantages like quick borrow & use, offsite return and recycling.It not only improves the mobility and
accessibility of urban public transportation, but also attracts the car owners changing
the way of travel. The system solves traffic problems for public in short-distance travel with a small number of bicycles.
Public bicycle system is a part of urban public transport . It is the extension and complement of the bus system and other transport, together constitute a comprehensive full coverage,
high efficiency urban traffic system. Bicycle as "zero emissions" green transportation, can
effectively saves resources and reduce the pollution. At the same time, a large number of
bicycles can alleviate the problems of traffic difficulties , parking, and high traffic cost.
Bicycle system creates conditions for "green city", "healthy city" and "happy city" and become
more and more popular in many cities around the world.
We designed and developed the Ekemp Public Bicycle Rental System based on the experience of bicycle rental system both in China and abroad.
Ekemp Public Bicycle Rental System is designed with the features "centralized management & independent control". The finance, resources and maintaining are unified managed while the terminal
completes the job independently.
Every lock pillar equipped with independent processor and card reader, can independently park and collect the bicycle ,deduction, balance display function and avoiding queuing.
The lock pillar software can run offline. When the background system or network is temporaryfault , people can still borrow and return the bicycle. The system will automatically uploaded
the records to the background management center when the system and network back to normal.
1.Managing Center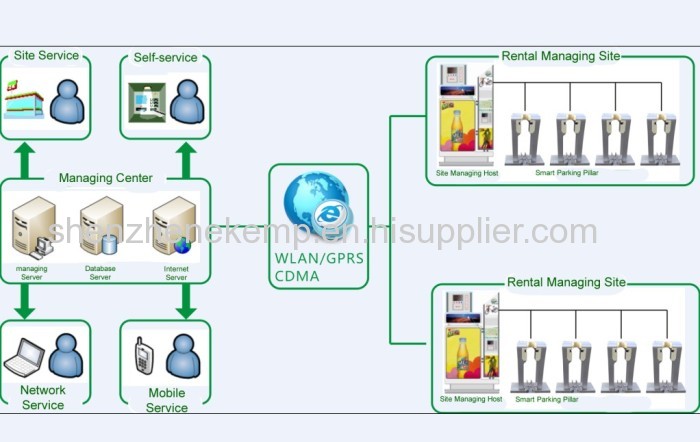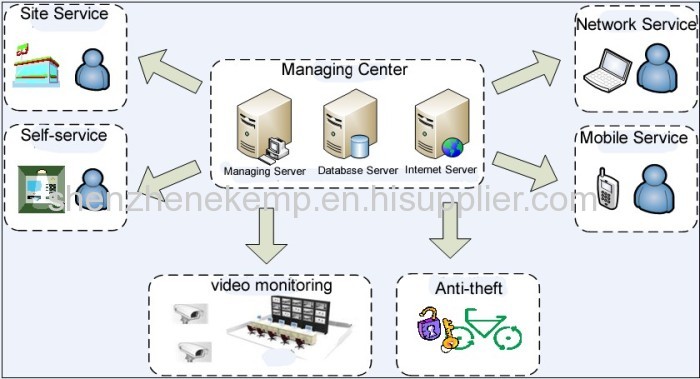 2. Managing Box (Kiosk)
1.Built-in GSM/GPRS,3G/HSPA wireless communication module.
2.Integrated anti-explosion keyboard, LCD screen and card reader;
3.Can search rent/return record,card balance, and information of stations nearby;
4.External solar panel, green and eco-friendly. The built-in back up battery, can support 20 parking locks to work 48 hours;
5.The built-in voltage and temperature monitoring equipments and the lightening-proof light box, can be used for advertisement and poster.
3.Smart Parking Docks
1.Super thick, integrated installation, no excavatation needed;
2.Can read many kinds of cards, support off-line functioning;
3.Vandal-proof alarm system and faults indication;
4.LED screen indication and voice prompt;
5.Streamline appearance, double-pillar structure;
6.Water-proof, dust-proof;rust-proof, corrosion resistent.
7.Can add the electricity charging module to charge the electric bicycles
8.Charging module can reveal charging status,and plug off when the battery is full.
4. High-performance EKEMP Bicycles