Main features

Auto feeding, forming and cutting, small noise, high speed, smooth cutting without burr; feeding length, feeding speed, output can be set in text displayer. This machine is suitable for small and medium three phase motor, gasoline generator motor etc stator wedge forming and cutting.
Technical parameter
| | | | |
| --- | --- | --- | --- |
| No. | Item | Unit | Parameter |
| 1 | Feeding length | mm | 10~300 |
| 2 | Wedge width | mm | ≤16 |
| 3 | Material thickness | mm | ≤0.35 |
| 4 | Temperature range | ℃ | 15~150 |
| 5 | Power supply | | 220V/50Hz/60Hz |
| 6 | Weight | kg | ≈150kg |
| 7 | Dimension | mm | 450×650×1100 |
Working principle
Machine adopts full mechanical action, parameter is controlled by PLC. Feeding by stepping motor, and drives forming structure, to finish wedge forming and feeding; then drive cutting structure to cut wedge by cutting stepping motor.
Machine structure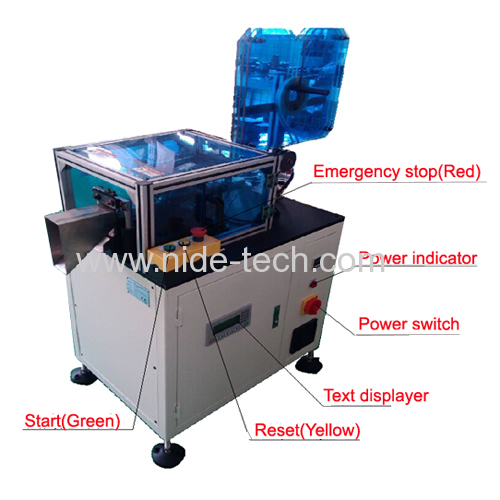 Common malfunction and solution
Malfunction

Reason

Solution

Machine doesn't running after pressing "Start" button

a) Power is OFF;

b) Under Emergency stop;

c) No paper;

a) Switch ON power

b) Loosen Emergency stop button

c) Load paper

No wedge come out

a) There is sundries at paper exit

b) Upper and lower wheel didn't match well

a) Remove sundries

b)Adjust gap between upper and lower wheel
Maintenance
1. Before running machine, check mechanical and electrical part, screws are loose or not.
2. After finishing one shift, remove the sundries and clean the machine, and reset the machine.
Competitive advantages
Variety of application, easy operation.
We have Overseas Service Center.
Machine is controlled by PLC. All the parameter can be set in the touch screen.
It is suitable for stators with different model number and dimension.
The operation and tooling change process is easy.
We could customize machine for our customer as per their requirement.
We directly supply our machines to many countries, like USA, France, Turkey, Iran, India, Brazil, Argentina, Mexico etc.

Besides paper inserting machine, we also supply different types of insulation materials for stator or armatures, such as insulation paper and wedge with different class degree. DMD Class B/F, DM Class B/F, Polyester film Class E, Red Vulcanized Fiber Class A, NH& NHN, etc