Automatically Wheel motor Segway scooter segway PT stator coil winding machine
Machine description
This wheel hub motor stator coil winding machine equips with servo control system. It can diagnose fault, count output, etc. Other function such as auto winding, multi-diameter wires winding, auto indexing, auto skip slot and winding speed could be programmed in the touch screen. This automatic coil winding machine is easy to operate and maintain.
Technical parameter:
| | |
| --- | --- |
| Wire diameter | 0.3~1.5mm |
| Stator diameter | 90~100mm |
| Slot number | 8~63 |
| Winding number | 1~13 pcs |
| Stator height | 0~50mm |
| Winding speed | 200rpm/min |
| Power supply | 220V/ 50/60Hz 1.5Kw |
| Weight | 900Kg |
| Dimension | 1700*950*2000mm |
Machine structure and working Principle
This automatic stator coil winding machine is consisted of machine body, indexing part, winding and wire array part winding and wire array part wire threading part, tensioner and control system. The winding, arraying and indexing are driven by servo motor controlled by control system
Maintenance
Every day check the mechanical, electrical, pneumatic and lubricating parts before work. Check if the fastener are loosen, abnormal noise in the moving parts or if the electrical parts can work normally.
After work, clean the machine and reset the machine.
Check if there is water in the air source filler regularly. If yes, drain away water.
Check if there is oil in the atomized lubricator regularly. If no, add oil.
Check the lubricating condition of guide way mechanism regularly.
Check the magnet valve screws and its pipe connector every 3 months
Clean the filler every 2 months
Calibrate the pressure gage every 1 year
Segway scooter segway PT winding machine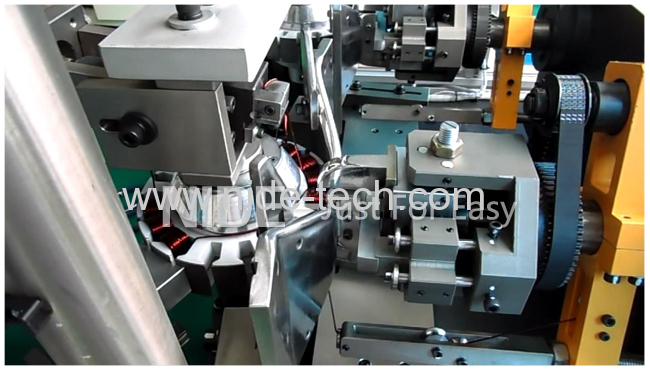 The touch scrren of this scooter winding machine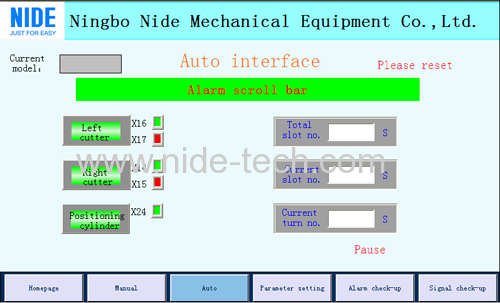 1) Current model:the current stator model number
2) Total slot no.: the whole stator slot number
3) Current slot no.: the current slot number doing winding
4) Current turn no.: the current turn number doing winding
Stator wound by this machine