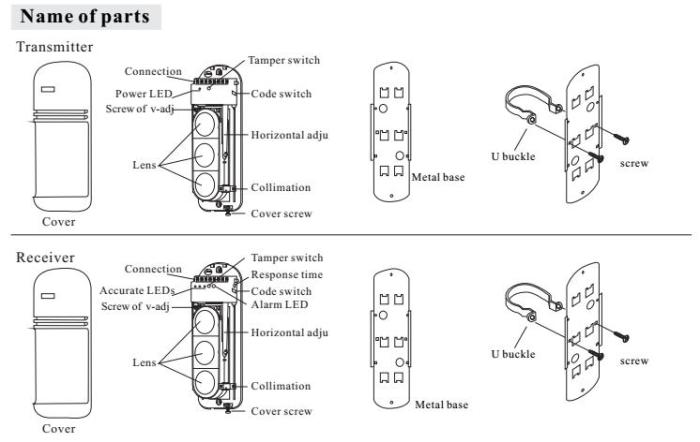 Features:

1.3 synchronized beams operate in high efficiency. Fit for outdoor installation due to its strong ability to fog, snow and rainfall proof.
2.8 bands frequencies for option, which can avoid and clear beams interference caused by highly superposing and long-ranged operation of infrared beams.
3.Receiver is with digital 10 sections of LED display, beams can be aligned accurately and immediately, no need of multi-meter for voltage focusing.
4.Transmitter adopts intelligent CPU design and quartz vibrator with stable frequency. It is not easily affected by temperature or humidity change.
5.Receiver adopts intelligent CPU design, decoding circuit, AGC circuit, digital band filtering circuit, alarm output control circuit all adopt intelligent CPU software processing, its action is extractive and can increase signal identification ability greatly to avoid external interference.
6.Adopt unique plane Fresnel lens with more powerful optical focus, which can avoid false alarm effectively.
Parameter:
Model
SEB-50
SEB-100
SEB-150
SEB-200
SEB-250
Distance(outdoor)
50m
100m
150m
200m
250m
Operation current
60mA
60mA
60mA
60mA
60mA
Operation voltage
DC 13.8-24V AC 11-18V
Lens
Plane Fresnel lens
Response time
50—700ms
Alarm output time
2S
Alarm output contact
NC,NO Contact capacitor AC, DC 30V/0.5mA
Alarm output capacity
1A/120V AC 2A/24V DC
Tamper Output
NC touching capability AV/DC 24V/0.5mA
Beams adjustment
V: 20°(±10°) H: 180°(±90°)
Operation temperature
-25℃~60℃ 5%---95%