Such new design 1080P HD transmitter is a powerful HD transmit system, using the core of mobile communication technology COFDM(multi-carrier modulation technique), which can transmit good quality and stable full-hd digital video signal under the condition of high speed mobile and heavy building blocks transmission in city environment. Support full HD 1080P H.264 encoding format and HDMI/SDI two HD inputs(single selection) as well support stereo balance audio input and narrowband transmission system.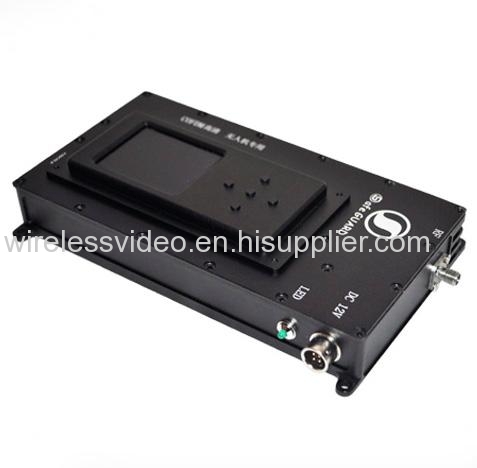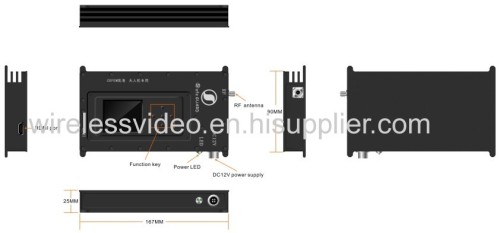 Features:
■Support FULL Hd high quality video encoding transmission(can up to H.264 High Profile 1080P(at)60, compatible with 1080 I resolution)
■ Broadcasting HD encoding compression (H.264/Level 4 standard), support 1080i/1080P HD transmission.
■ COFDM modulation, Video compression code stream bandwidth can up to 12Mbps;
■ Built-in with HDM and HD-SDI interfaces(single selection),
■ Support composite standard video interface and balanced audio input;
■ RF bandwidth 4/8MHz(support adjusted by user), the working frequency will be displayed on the LCD;
■ It will be HD1080i transmission when the RF bandwidth is 4/8MHz.;
Specifications:
Power section
Voltage
DC11V~DC16V
Current
≤1.1A (at) DC12.5V
Transmitter section:
Frequency range Output
250MHz-320MHz330MHz- 450MHz / 1000MHz --4400MHz,or can be customized according to customers'request.
RF bandwidth
2/2.5/4/8MHz(adjustable)
Power output
28-34dBm(adjustable),in 1dB step
CNR
30dB (at) 30dBm
SHG
>52dBc
Encryption
AES
Modulation
COFDM
Constellation
QPSK,16QAM
FEC
1/2,2/3,3/4,5/6,7/8(option)
Carrier
2K,8K
Guard Interval
1/32,1/16,1/8,1/4 (otpion)
Flatness
Full band≤2dB,8MHz≤0.5dB
AV interface
HDMI/SDI(single selection)
CNR(weighting)dB
≥58
Sloping field SNR(unweighted)dB
≥50
Analog Audio
Balanced audio input range
Vmax=±15V

Unbalanced audio input range




Vmax=3Vpp
Standard
SMPTE 425M (Level A and Level B), SMPTE 424M, SMPTE 292, SMPTE 259M-C SMPTE 272M SMPTE 299M
Input range (mV)
800±80
Versions
HDMI/HD-SDI 1.3
HDCP protocol
Yes
Encoding support
AV rate
64, 96,112,128,160,192,224,256,320,384Kbps(adjustable)
Audio encoding mode
MPEG1 Layer2
Video resolution
Minimum 720×480 50i(720×576 50i )
Maximum 1920×1080 60P
Video coding
H.264
Video rate
500kbps-16.68Mbps(autoadaptation)
Formate
YCbCr4:2:2
Working Temperature
-25℃~55℃
Storage Temperature
-40℃~70℃
Transmission distance
NLOS distance
2km max with obstructions
LOS distance
1-40km from air to ground if 300-500m flight altitude
1-4km for vehicle to building
Appearance characteristics
Dimension
167*90*25mm
Weight
515g
Product application: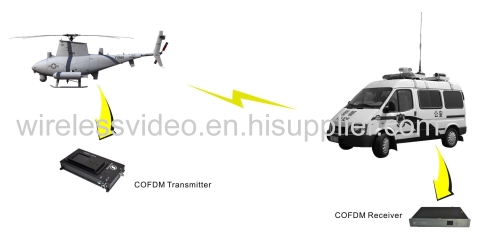 Our Services

One year free warranty;
Three months for free spare parts (Replacement parts will be charged after a year);
24-h technical guidance;
One-stop ODM/OEM solution;
We provide professional system design and construction;
We have over 15 years experience's study, design and manufacturing in wireless microwave transmission area;
We are the professional plant source, so we can provide you high quality in best price.