The vertical type armature balancing machine can measure the armature's unbalance and do the unbalancing. Touch screen can display the unbalance with its angle and value. There are two correction method, drilling and milling. The smallset residual unbalance value is 1gmm/kg Machine can be customized as per customer's armature.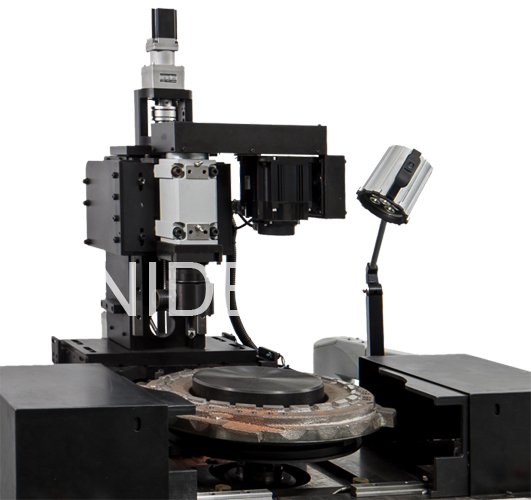 Technical data
technical data of vertical balancing machine
Rotor range: Stack weight: 30KG / Rotor diameter: Max 500mm
Measuring speed: 400~900 rpm
Balance correction method: Drilling/Milling
Power: three phase AC 380V
Working air pressure: 0.4~0.6Mpa
Smallest achievable residual unbalance: 1gmm/kg
Cycle time: 30~60s
Residual volume: G6.3
Dimension: 1300x1000x1300mm
Weight: 2000KG
Cleaner consumption: 1.5KW
Machine consumption: 5.5KW
Main components
Cylinder: SMC
Servo motor: Mitsubishi
Sensor: Keyence, Omron, Contrinex
Touch screen: Keyence
Control PLC: Keyence
Daily Check and Maintain
1. Clean the dust and iron filings on the machine.
2. Check the vulnerable components (eg: leather belt, Iron piece, drill), please replace them if they are damaged.
3. Spraying antirust oil to prevent the machine rusty.
Month Check and Maintain
1. Check the machine power.
2. Check the machine each function module is normal.
3. Check the machine test station.
Rotor suitable for this machine