Short Intruduction:

Haul up to 1,000 lbs. with ease with the Half-Ton Trailer. Commercial-grade construction and heavy-duty materials make this trailer ideal for firewood, yard waste, lumber, and much more. Easily remove the end panels in seconds for dumping or carrying long loads such as branches or logs. Optional side wall extenders contain lighter materials and allow you to pile them high while they remain secured. Steep 35 degree dump angle ensures minimal effort to deposit any load in your desired location. No more shoveling!
Main Feature
1):Wall Extenders
Optional wall extenders contain lighter materials and let you pile them high. Adds 12" to the height of the Versa-Trailer's walls.
2):Winch-assisted Dumping
Many so-called "dump" trailers have such a shallow tilt to their dump action that you have to shovel them out or unload them by hand. The Versa-Trailer has a steep, 35 degree dump angle that allows you to empty your full load without any manual labor. Optional winch kit assists with dumping heavy loads by attaching the cable to a hitchpoint on the frame.
3):Removable End Panels
The end panels come off in seconds, without tools, for carrying log loads or for dumping.
4):Pivoting Hitch
The pivoting hitch allows your towing vehicle and the trailer to ride independently over rough terrain without putting torque on the tongue or hitch.
5):Pivoting Jack Stand
Raises or lowers the tongue, for hitching to your towing vehicle, without straining your back.
6):Steel Guards
Tire valves are protected from rocks, roots and stumps, so you can take the trailer into woodlots, on trails, or through meadows without worry
Solid wheel axle and wheel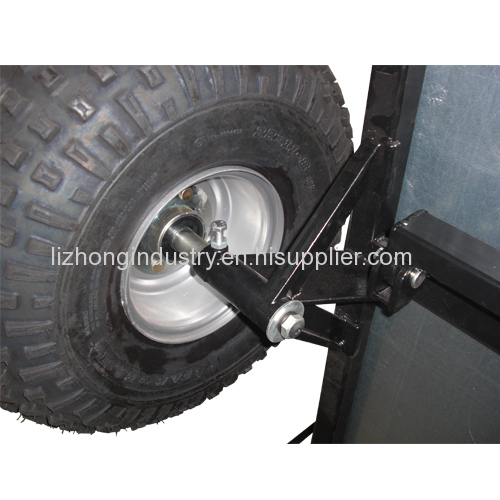 Strong Base of bed
Wall Extention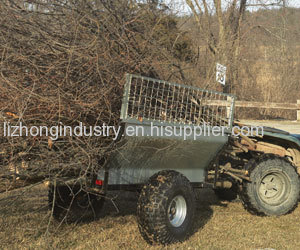 Jack&Hitch