13 5/8" x 5000 psi Wellhead casing spool
Surface wellhead casing spool API 6A
Casing spool is well control equipment connected above the Casing Head. With the design of versatile straight-bore,
the casing head and casing spool can be equipped with mandrel hanger and slip hanger, to handle any emergency
effectively while the flange housing remains unchanged. The improvement of the structure simplifies the operation
procedures and saves operating time.
Casing spool allows for testing of the blowout preventer while drilling. Allows for pressure testing primary and secondary
casing seals and flange connections.
Casing Spool Body Specification
Bottom flange

Top flange

Size

W.P. (psi)

Size

W.P. (psi)

A mm (in)

B mm (in)

C mm (in)

11"

2, 000

11"

2, 000

500 (19.69)

230 (9.06)

280 (11.02)

3, 000

500 (19.69)

230 (9.06)

280 (11.02)

3, 000

3, 000

500 (19.69)

230 (9.06)

280 (11.02)

5, 000

500 (19.69)

230 (9.06)

280 (11.02)

5, 000

5, 000

650 (25.59)

230 (9.06)

280 (11.02)

10, 000

650 (25.59)

230 (9.06)

280 (11.02)

13-5/8"

2, 000

11"

2, 000

480 (18.90)

230 (9.06)

280 (11.02)

3, 000

560 (22.47)

230 (9.06)

280 (11.02)

5, 000

660 (25.98)

230 (9.06)

280 (11.02)

13-5/8"

2, 000

580 (22.83)

230 (9.06)

350 (13.80)

3, 000

580 (22.83)

230 (9.06)

350 (13.80)

5, 000

600 (23.62)

230 (9.06)

350 (13.80)

3, 000

11

3, 000

560 (22.47)

230 (9.06)

280 (11.02)

5, 000

660 (25.98)

230 (9.06)

280 (11.02)

13-5/8"

3, 000

660 (25.98)

230 (9.06)

350 (13.80)

5, 000

660 (25.98)

230 (9.06)

350 (13.80)

13-5/8"

5, 000

11

5, 000

660 (25.98)

230 (9.06)

280 (11.02)

10, 000

725 (28.54)

230 (9.06)

280 (11.02)

15, 000

725 (28.54)

230 (9.06)

280 (11.02)

13-5/8"

5, 000

725 (28.54)

230 (9.06)

350 (13.80)

5, 000

725 (28.54)

259 (10.20)

350 (13.80)

10, 000

740 (29.13)

230 (9.06)

350 (13.80)

15, 000

750 (29.53)

230 (9.06)

350 (13.80)

10, 000

11

10, 000

725 (28.54)

230 (9.06)

280 (11.02)

15, 000

725 (28.54)

230 (9.06)

280 (11.02)

13-5/8"

10, 000

740 (29.13)

230 (9.06)

350 (13.80)

15, 000

800 (31.50)

230 (9.06)

350 (13.80)

16-3/4"

2, 000

11

2, 000

580 (22.83)

230 (9.06)

280 (11.02)

3, 000

580 (22.83)

230 (9.06)

280 (11.02)

13-5/8"

2, 000

580 (22.83)

304 (11.97)

350 (13.80)

3, 000

600 (23.62)

304 (11.97)

350 (13.80)

5, 000

620

304

350
Facility of the factory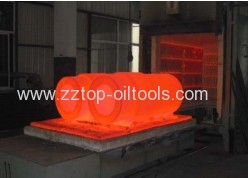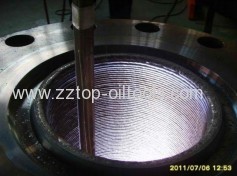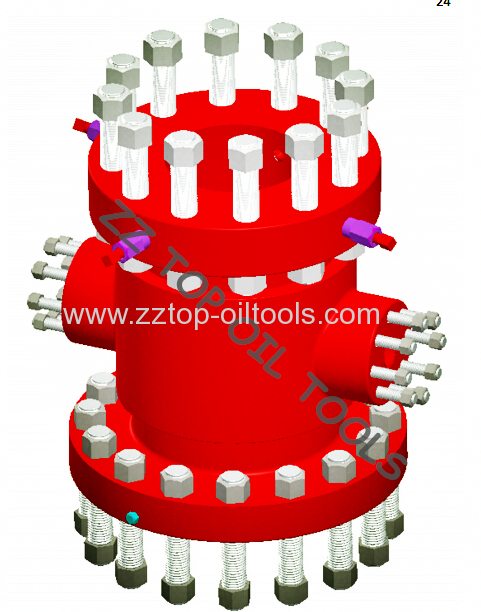 13 5/8" x 5000 psi Wellhead casing spool
Surface wellhead casing spool API 6A