Auto Car Windshield Removal Tool Kit Automotive Wind Glass Remover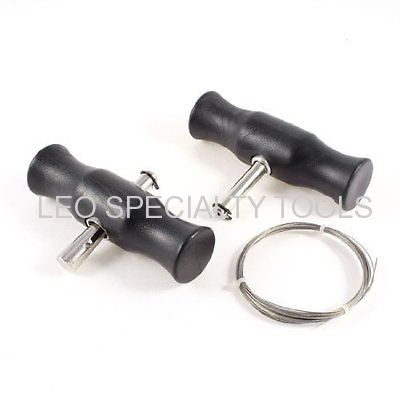 Description:
This professional quality windshield removal kit makes it easy to safely remove any style of windshield including acutely angled ones. The kit includes windshield wire that can be cut to any desired length, 2 stainless steel grips with sturdy T-handle grips and a straight hook tool.
Features:
Remove any style windshield
Braided steel windshield wire, straight hook tool
2 piece stainless steel with sturdy T-handle grips and sliding wire attachment
Windshield wire can be cut to desired length
Operation:

Carefully pop-off and remove any windshield trim covering

the edge of the windshield.
Cut about two to three feet of Braided Wire.
Place the wire into the groove of the Hook Tool, near the
wire end, as shown below.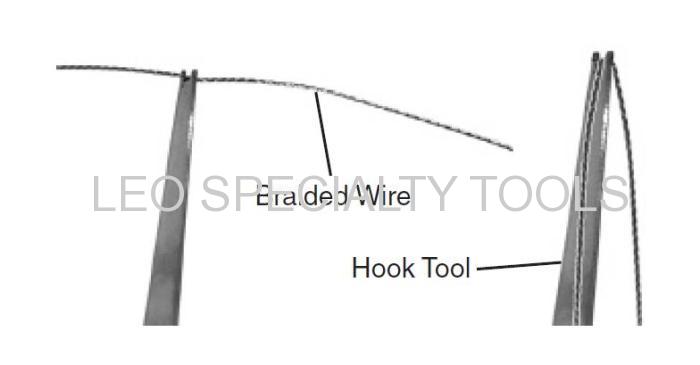 Bend the wire over the end of the Hook Tool.
Working from the outside of the vehicle, force the wire
between the windshield and the frame to which it is glued.
Pull the Hook Tool out, leaving the wire behind.
From the inside of the vehicle, pull the wire through to one
half its length.
Attach the T-Handle Grips to each end of the wire:
a.) Push the T-Handle Grip Attachment Post to the
opposite end of the Handle to open it.
b.) Push the end of the wire into the Attachment Post and
feed it into the grip hole.
c.) Push the Attachment Post back into the T-Handle so
that the wire cannot be pulled out. (See below.)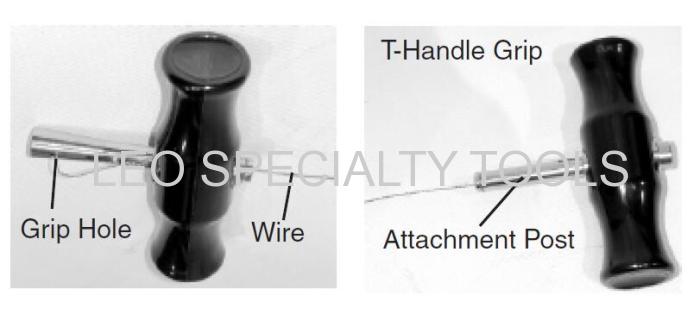 With the help of another person, grab each T-Handle Grip
(one on the inside of the vehicle, and one on the outside)
and pull the wire along the perimeter of the windshield,
separating it from the vehicle frame and glue.