Intelligent Lighting Controller-WD35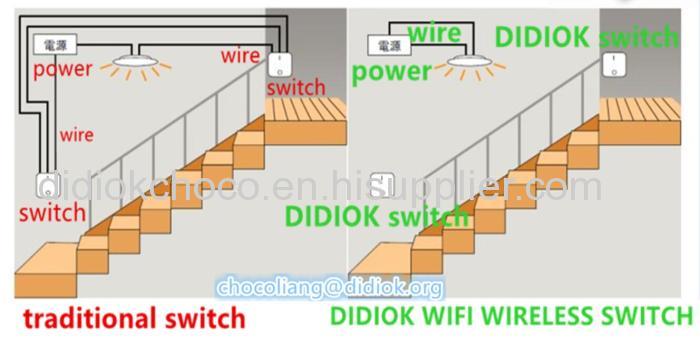 WD35 receives and processes radio signal which comes from the wireless switch to control various lighting equipments. Its integration with microprocessor, wireless transceivers relay makes it strong anti jamming ability. Wireless switch, wireless sensor and intelligent host are available to mate with WD35.
With energy –harvesting B20 technology, DIDIOK is introducing self-powered wireless switches without running wires. By pressing the switches, it can generate enough electricity to send radio signal to a light controller which commands a light fixture or any home appliance to turn on or off. It helps to save labor cost and the cabling cost and makes life easier.
1.No Batteries, No Wires, No Cabling, Saving over half cost
By pressing the switch, the mechanical energy turning into electricity energy. No need battery, no power line, green and safety. With basic electrician knowledge, you can do the installation of our wireless switch on your own quickly and easily.

No need to running wires, place switch anywhere without breaking walls, saving wire cost and cabling time and labor cost.
2.30m (100feet) communication range with no direction restriction and remote control through walls
one switch can control one light fixture, or several light fixtures, or several switches control one light fixture at the same time. The switch can be installed in glass door, wardrobe door, desk, bed side stand etc, or you can take the wireless switch in your hand to control the light fixture, fans or home appliance. With using self – powered wireless switch, you can control the light fixture anytime or anywhere in your home.
3.Colorful Switches

We have colorful switches with many types for your options. You can choose your preferred colors to decorate your home.
pls contact with me for more details,
Choco
email: chocoliang(AT)didiok.org
whatsapp: +86 138284 30544