Yaoguo 3 layers evacuated solar tubes

Structure chart of solar vacuum tube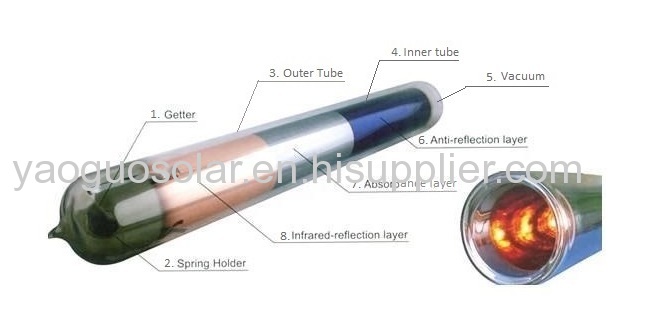 A solar vacuum tube is mainly made of these parts:
1. Getter 2. Spring holder 3.Outer Tube 4.Inner tube 5.Vacuum 6.Anti-reflection layer 7.Absorbance layer 8. Infrared-reflection layer
2. How does Yaoguo solar vacuum tube work?
After installation and check the heating collector system correctly, cold water is filled in the water tank. Due to gravity, cold water flowed into the vacuum tubes, absorbing the heat (which the temp. might reach 250 degree centigrade). Cold water changes into hot water and goes back to the water tank.
3. Specification:
Item

Specification

Outer tube diameter (mm)

Φ47

Φ58

Inner tube diameter (mm)

Φ37

Φ47

Tube length (mm)

1500,1600, 1800

1500, 1600, 1800, 1900,2000, 2100

Thickness of Tube(mm)

1.60±0.15

1.60±0.15, 1.8±0.15

Colors

Blue, Purple, Black, Yellow
4. Technical Data
Coating property

Structure

Cu-SS-ALN

Sediment method

3 Targets magnetron sputtering

Absorption ratio

α=0.93~0.96(AM1.5)

Emission ratio

ε=0.04~0.06(80°C±5°C)

Vacuum tightness

P<=5.0×10-3 Pa

Heat loss

0.4 -0.6W/(m2.°C)

Resist coldtemperature

-25°C

Resist high temperature

250°C

Service life

15 Years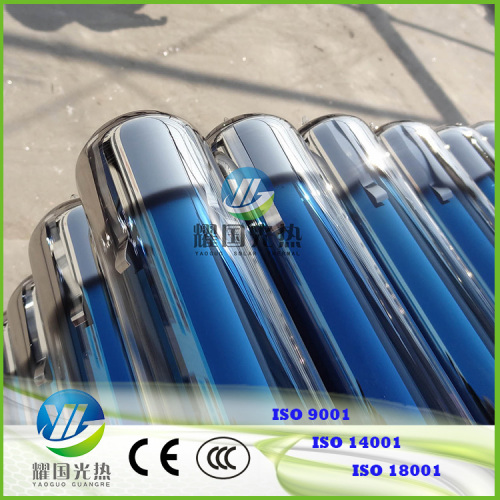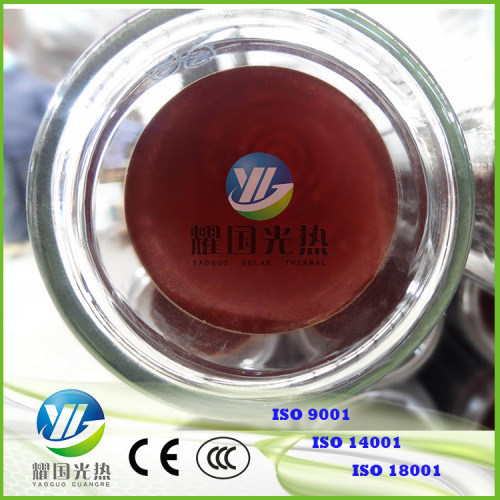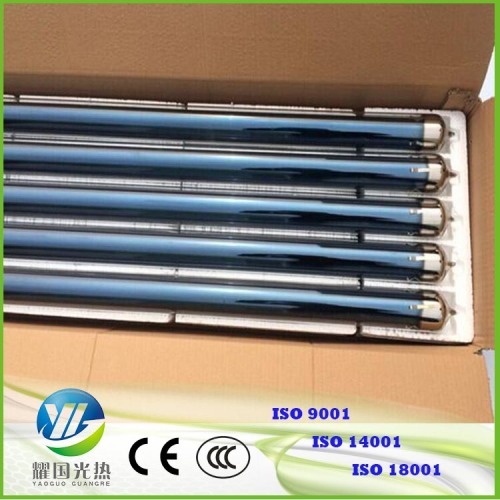 5. Production Procedures
Yaoguo Solar has a complete industrial chain of solar vacuum tube, which ensures the quality and quantity of the goods. Solar borosilicate vacuum tube is a kind of high-precision products. So all the procedures finishing in one place could produce items with stable quality, and reduce cost at maximum to benefit the customers.
Our Advantages
Reasons using Yaoguo solar vacuum tubesare:
1. Over 10 years production experiences
2. Production chain from glass tube to solar vacuum tube which could ensure the stability of tubes.
3. 8 years export experiences
4. Global network
5. Fast delivery (production time: 5 containers within 5 days; 10 containers within 10 days.
Packaging & Shipping
Loading Quantity
| | | | |
| --- | --- | --- | --- |
| Specification | Quantity each carton | 20ft | 40HC |
| Ø 47*1500mm | 15/20/24pcs | 5040pcs | 12000pcs |
| Ø 47*1800mm | 15/20/24pcs | 4600pcs | 10200pcs |
| Ø 58*1800mm | 10/15pcs | 2600pcs | 6600pcs |
Company Information

Yaoguo Solar is located in Shandong Province, China. The factory covers an area of 68000M2. Right now, we have staff of 580, among whom, 106 technicians and 58 senior management staff. As one of the professional manufacturers of solar vacuum tube, all specifications of solar vacuum could be offered such as 47*1500mm, 58*1800mm, 58*2100mm and so on. Right now, the capacity reaches 10 million pieces per year and tubes are exported to more than 20 countries around the world, such as India, Turkey, Mexico, Syria, Lithuania, Brazil, Chile, USA, Jordan, and Egypt, etc..
And also many solar heat products are designed with cost-efficiency. We are devoted in making high quality products with the latest technology. Till now, there are CE, CCC, ISO9001, ISO14001, ISO18001 and 17 patents. Keep innovation, keep quality, keep service.
FAQ

1. What is your production capacity per year?
--Our production capacity could reach 10 million pcs per year.
2. Do you produce the high borosilicate glass tubes all by yourself?
--Yes, right now, we have 2 furnaces in our factory and over 20 coating lines. We could assure thestability of quality from the glass tubes to solar vacuum tubes.
3. How about the guarantee?
--Five years guarantee and 25 years' lifespan.
4. Is OEM available?
--Yes, we could help you design the logo and print logo on the tubes and packages.