Main Features:
-Compact,125g light-weight printer
-Rugged and dust proof(with protective case),1.5drop rate
-Battery powered, 40hours stand-by time once full charged
-Support Continuous printing 8rolls 40mm diameter paper(around 120m) one full charged
-With battery level, charge in time directly
-Print text,logo, graphics, 1d barcode,QR code fluently and clearly
-Compatible with all major operating system Android, IOS,Windows.
-Free cost SDK provided, LOGO download-able and print
-Strong OEM service,brand name/functions customized
Application: Restaurant,Drinking and Food, Ticketing,Transportation and Logtistic,Retail, Health Care,Field Work,Outdoor
SPECIFICATIONS
color: Black(Or Customized basing MOQ)
Print Method: Line Thermal
Resolution/Total Dots: 203 dpi/384 dots
Dot Density: 8 dots/mm
Print Speed: Up to 90 mm (3.54 inches) per second (ips).
Print Width: 48mm/line
--Character
Simplified Chinese(standard): GB2312
Traditional Chinese(optional*): Big5(TaiWan),GB18030(HongKong)
Japanese((optional*): Shift-JIS
Korean((optional*): Code page 949
Extended character sets(Standard):
OEM437(Standard Europe),Katakana,
OEM850(Multilingual),OEM860(Portuguese),
OEM863(Canadian-French),OEM 865(Nordic),
West Europe,Greek,Hebrew,East Europe,Iran,
Windows Code Page 1252,OEM866(Cyrillic#2),
OEM 852(Latin2),OEM858,IranII,Latvian,Arabic,
Windows Code Page 1251, OEM864
--Font
Simplified Chinese(standard): 24×24dots 16 characters/line
Traditional Chinese(optional*): 24×24dots 16 characters/line
Japanese(optional*): 24×24dots 16 characters/line
Korean(optional*): 24×24dots 16 characters/line
Font A(standard): 12×24dots 32 characters/line
Font B(standard): 9×17dots 42 characters/line
--Code
1D Barcode(standard): EAN13, EAN8, UPC-A, UPC-E, Code 93, ITF Codabar, Code 39, Code 128
2D Code(standard): PDF417,QRCODE
Emulation: ESC/POS+ additional unique commands
Data Buffer: 10K Bytes
Printer Size: 106mm x 75mm x 45mm
--Interface(Here all the optional interfaces are listed)
1> Bluetooth V2.0(EDR,Class 2):Applied in Android/Windows/Wince OS
2> Bluetooth V4.0(BR/EDR/LE,Class 2):Applied in Android/Windows/Wince/iOS OS
3> Wi-Fi:Wireless Standard:Compatible with IEEE802.11b/g/n
Frequency:2.4GHZ
Work Mode:STA/AP
Advantages: Multi-TCP Link(5 channel) supported
Ultra Low Power
Applied in Android/Windows/Wince/iOS OS
4> RS232 serial: Applied in Windows OS or RS232 compatible device
5> USB: Applied in Android/Windows/Linux OS
--Power
External Adapter: 100V~240V AC Input--> 9V /1.5A~2A DC output
Built-in Battery: Lithium-Ion 7.4 V. 1500 mAh
Charging Time: About 3 hours
Maximum Print Lines per Charge: 45,000 (less than 25% density continuous printing )
Reliability (MTBF): 50km (printing ratio 25% max)
--Weight
Net Weight: 125g
Package Weight: <500g
--Paper
Thickness: 0.06 to 0.08mm
Width: 56mm~58.5mm
Roll Diameter: <=40mm
--Operating Condition
temperature: -10°C to 50°C
Humidity: 10%~80%
--Storage Condition
temperature: -40 ℃~70 ℃
Humidity: 10%~95%
PACKAGE
One Carton : 30pcs
Carton Gross Weight: 15Kg (For Europe/USA Plug) / 16Kg(For England Plug)
Size/unit: 18.5cm x 11.5cm x 6.5cm
Packaging Size :61 x 40 x 23 cm 15KG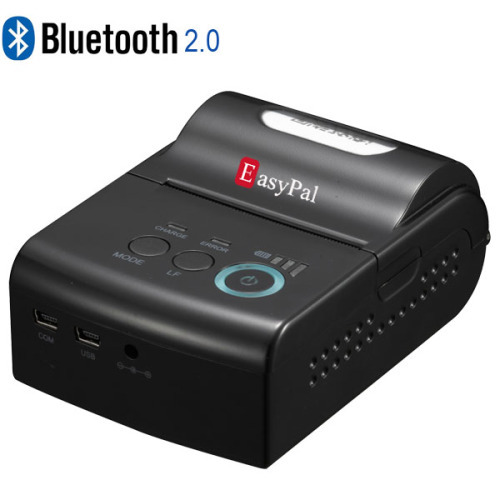 Who we are?
EasyPal Tech, print on your hand all round the world.
EasyPal focus on mini thermal printer,mobile receipt printer,pos printer and other pos peripheral products,with strong R&D,accepting OEM service.
Why Choose us?
From Product
1)High Quality (All our products are strictly controlled by qualified technician, we were honored excellent Supplier by power company for maintenance lower
than 2% during the past year.)
2)Competitive Price (larged raw materials(original imported IC),own mold parts,original factory assemble, products cost lower 2% than peers.)
3)Delivery in time (Delay in delivery lower than 2% during past years.)
From Service
1)Professional technical service (6years+experience in design,hardware structure,quality control, 7years experience engineer in print solution)
2)OEM brand on products, or OEM print function as your project requirement
3)Customer focus and cooperated attitude( Every customer get our fast response, simple operation and order process, market protection for distributors)
Welcome to choose us to serve what you need!