C18 Automatic Inner and Outer Tea Bag Packing Machine for Indosia Gunung Mas Black Tea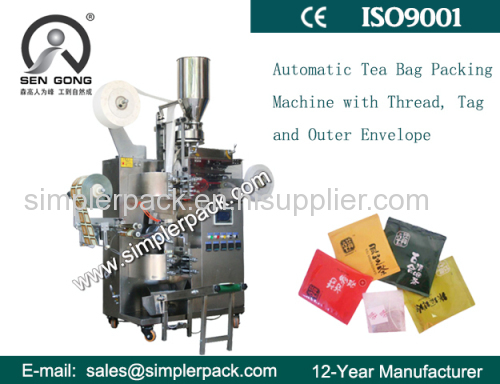 //Brief Introduction://
1) Automatic packaging machine;
2) Multi-function: inner and outer bags, with thread and tag, electric scales;
3) Suitable for all kinds of tea leaves and other ground drinking spices;
4) Cost effective;
5) All-round process: filing, weighting, bag forming, sealing, cutting and counting etc.
//Application: //
It is suitable for inner and outer bag packing of small granular products, such as tea leaves, medicinal tea and health care tea, etc.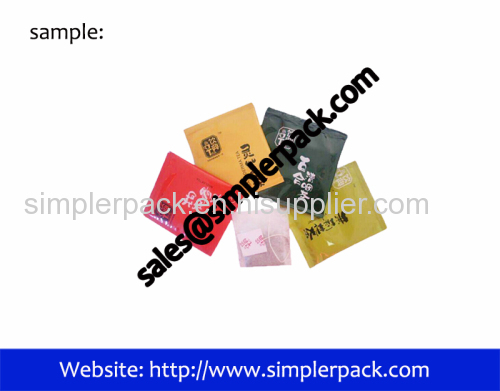 //Machine Attributes: //
1. Machine Materials : SUS304 Stainless Steel
2. Machine Parts : International Brand-name Parts
3. Machine System : Computer System
4. Machine Temperature : Automatic Temperature Control System
5. Filling System: Cup Filler/Electric Scale Filler
6. Machine Condition : Fully New
7. Machine Automation : Almost Fully Automatic
8. Machine Driven By : Electric
9. Machine Installation : Experienced Technicians Direction
10. Machine After Sales Service : One-year Guaranteed
11. Outer Packaging : With Outer Envelop
12. Thread and Tag: With Thread and Tag
13. Bag Shape: Inner is Flat, Outer is Rectangle
14. International Approval : ISO9001:2008
15. Quality Approval : Certification of Compliance
16. Orders Limit : Small Orders Are Accepted
17. Experience : 12 Years Manufacturing
18. Orders Delivery : Prompt Delivery
19. Packaging Accuracy : Almost Perfect
20. Orders Limit: Small Orders Are Accepted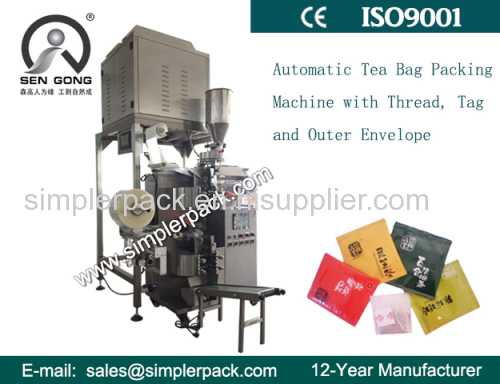 //Technical data://
Machine type:

Tea Bag Packing Machine Series

Machine model:

C18

Machine name:

Automatic Cup Filler Tea Bag Packing Machine

(with Outer Envelop, Thread and Tag)

Packing material:

Paper/Plastic,Plastic/Plastic,Plastic/Aluminum/Plastic, Paper/Aluminum/Plastic, Tea filter paper, Thread, Tag paper.

Measuring:

Measuring cup filler

Filling range:

3~15ml

Packing speed:

40~60 bags/min

Tag size:

L:20~24mm , W:40~55mm

Thread length:

155mm

Inner bag size :

L:50~70mm , W:40~80mm

Outer bag size :

L:70~120mm , W:60~90mm

Power supply:

220V, 50HZ, 3.7KW

Machine dimension :

1250*700*1800mm(L*W*H)

Machine weight:

500KGS
//Features: //
1. This machine is an automatic multi-functional tea packaging equipment with a new heat sealing type. The inner and outer bag is formed at the same time, avoid your direct contact with the packing material and improve working efficiency.
2. Inner bag is made of filter paper with thread and tag attached, and outer bag is made of composite paper.
3. The biggest advantage is: tag attaching and outer bag making can adopt photoelectric positioning.
4. Packing capacity, inner bag and outer bag size can be easily adjusted according to different requirements in order to achieve the best packaging results, improve product appearance and enhance the value of the product.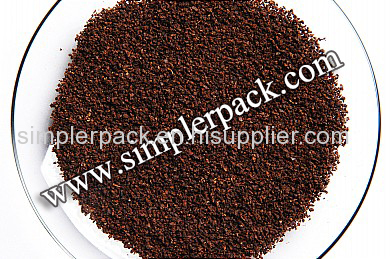 //Best Seller Points://
1. Brand-name Parts, Experienced Staff, Direct Manufacturer, Country of Origin;
2. International Approvals, Quality Approvals, Solid Technology, Years Experience;
3. Products Features, Product Performance, Small Orders Accepted;
4. Standard Packaging, Prompt Delivery, Service Guaranteed.
//Company Slogan://
Seeking Perfect Packaging Technology; Offering Humanity Packaging Solutions!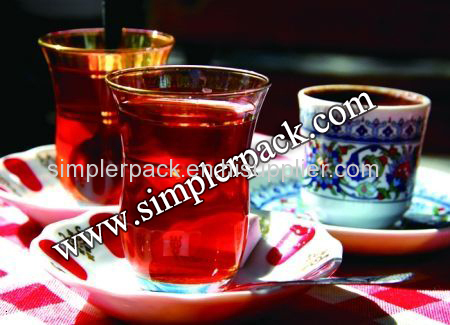 //All Packaging Machinery://
1. Bag Tea Packaging Machinery:
a. Filter Papaer Teabag Packaging Machine;
b. Double Chamber Tea Bag Packaging Machine;
c. Tea Packaging Machine with Thread and Tag;
d. Tea Packaging Machine with Outer Envelop;
e. Inner and Outer Tea Bag Packing Machine;
f. Multi-Function Bag Tea Packing Machine;
g. Tea Vacuum Packaging Machine
2. Nylon Tea Packing Machinery:
a. Triangle Nylon Tea Packaging Machine;
b. Pyramid Teabag Packaging Machine with Outer Envelop;
c. Nylon Mesh Triangle Tea Packaging Machine;
d. Non-woven Pyramid Bag Tea Packing Machine;
e. Rectangle Inner and Outer Tea Bag Packing Machine.