Company information
Aquscience cooperated with senior experts of professional companies in top aquarium breeding and gardening industry in the Netherlands,Germany, UK etc.,combining with fluid mechanics design & water pump structure/mold design from the Royal Dutch Philips company, Current Frequency lntelligent control software by the Tsinghua University, we design and manufacture the most high efficiency and energy saving BLUE-ECO PMSM Motor submersible pump.

Using many our owned patents of efficient impeller pumping system,work with adjustable speed and programmable intelligent controller,Aquscience developed full serie of professional water pump production lines from 10w~2200w,up to 94.6% performing efficiency, long working life without failures, good for both fresh and marine water, noiceless and low vibration, our product sets up a professional range pole for the industry and guide the whole industry to upgrade.

Aquscience owned a lot of patents of intelligent filtration system,also by exchanging patents with other companies from USA and European countries, we designed and made the only one system fully automatic working without maintains, it's a new general revolution product, with a fantastic features like energy/water saving, high efficiency and quiet, no changeable items, no human daily maintains requires, remarkable big treatment capacity.

The system is formed with BLUE-ECO lntelligent Pump, Drum Filter, and Bubble Bead Filter, taking little space and easy for mounting, lt can get rid of all solid waste bigger than 10micron and reduce the resolved Ammonia and NO2 ,NO3, etc., keep the water quality good to establish a good bio-cycling system.

Aquscience also developed a patented technology of aquarium water flow control system:Ocean Controller, Protein Skimmer.Cooperated with our whole serie of pumps and through 0~10v external control system which also compatible with other pumps in the industry, composite an intelligent water cycle and water quality treatment system for customer's aquarium system.

The BLUE-ECO lntelligent Filtration system consisted by mentioned BLUE-ECO cells,professionally serve for the large-scale aquarium, swimming pool,Koi pond, high-end aquaculture and horticulture, doing great for intelligent water life.
Detailed images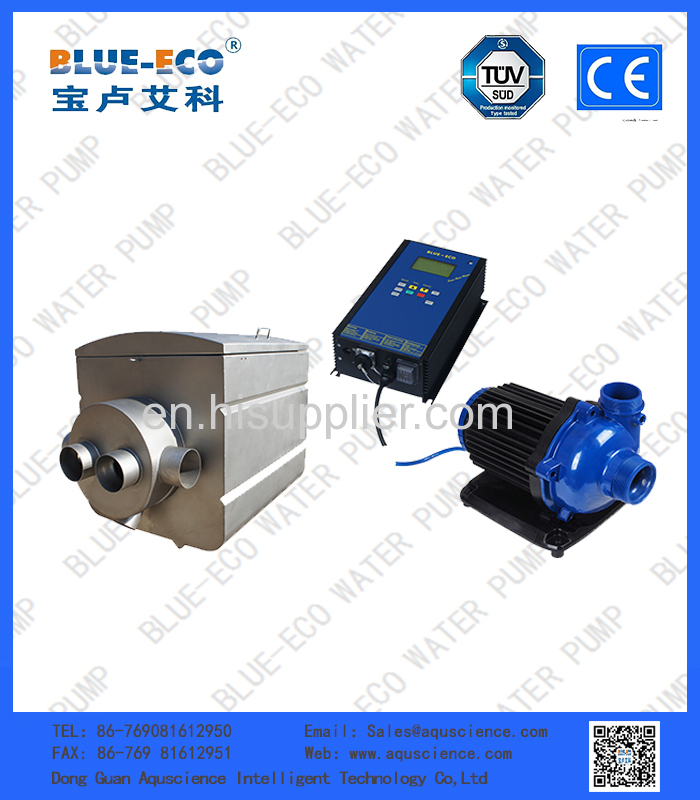 Product description
Aquaculture in fresh water as well as salt water is highly dependent on the location. It is only possible to produce the types of fish which are adapted to the natural water quality and temperature at the location. Limiting factors are, as a rule, water quantity, oxygen content and water temperature. When production is accomplished using recirculating systems the quantity of water available can be increased significantly by treatment of the water. Even species which prefer warm water such as pike, catfish, tilapia, eels and perch can be farmed throughout the entire year at constant temperatures. This not only increases the productivity; it also optimizes the use of production resources, such as food, because the metabolisms of the fish can be stabilized under optimum conditions.
Main Features
1) Energy saving: the fully system only the water pump consuming electricity and it can run within 10~240w, you may set different power rate for different time;
2) Maintenance free: there is no consumable items need wash or change manually, it will back wash automatically which can save a lot maintenance expense and time;
3)Fully automatic: the full system can be controlled by the water pump's controller. Once setting done, the full system can automatically run for months and years;
4) Durable: all the products are with patents and strictly tested before delivery which we give 2years warranty
Our Service
1) We are very glad that customer give us some suggestion for price and products

2) If any question let us know it in the first by E-mail or Telephone. we can deal with them for you in time

3)All the product are offered 5 years warranty among them 2 years free and 3 years limited
FAQ
Q1:Are you factory or trading company?

A: We are factory and manufacture.

Q2:Where is your factory located?How can I vist your factory?

A: We are located in DongGuan, welcome to visit us.

Q3:How to place my order?

A: Just contact us via Trademanger, E-mail,Skype or telephone to confirm the product,make the deposut then we will start to manufacture.

Application Project
Overseas Koi Pond
The ground Koi pond, 7*2*1.5M, It is a typical European concept fish pond with a designed bottom drainage, over 30Koi, feeding 400g food per day,The system is compacted installed, covered by a floor, easy to check the status of the system. It's also energy-saving,supper quiet, and it allows people enjoying close to the fish
Garden Koi Pond
The garden pond with 60T water, with Koi and turtle, feeding 500g fish food per day, the original filter tank area of 20 square meters, can't maintain the water quality, and requires cleaning once every three months,BLUE-ECO reformed the method of filtration to automatic water filtration,just less than 2 square meter of area and keep water good quality,free for frequently maintenance