The FT-17DOF-SC-RTP FT Humanoid ROBOT is a ready to play humanoid robot which comes fully assembled & completed from our team at FEETECH.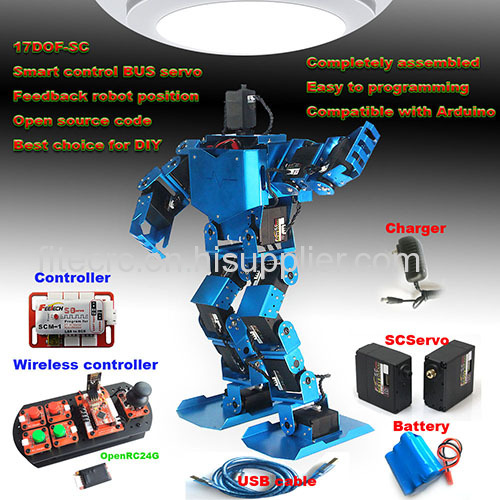 This humanoid robot uses 17PCS FT-SCServo (SCS15).
SCS15 is all metal gear 15kgNaN and uses TTL level Half Duplex Asynchronous UART BUS Communication Protocol. It gives the feedback of the data relevant to position, voltage temperature, load and speed.
This humanoid robot uses all aluminum alloy parts, anodized color (red, blue, white for optional) or an assortment.It is simple wiring and makes assembly and disassembly fast and convenient.
It is easy to use "MOTION" editing software for Windows system. As long as you use a computer you will love playing with this humanoid robot, even if you do not have any programming knowledge, you can edit the humanoid robot actions within 'MOTION' editing software.
Robot hobbyist can move the robot in a variety of different poses by hand, then read in and save data from robot joint SCServo via software, moving through the posture sequences from one by one will complete the program of series motion or dance. The data of dance or motion group can be saved into your local computer for use the next time, or download into the robot control board for offline operation.
The 2.4G remote control system is based on Arduino open source, users can freely modify according to our Arduino source and combination with the Robot Control Board (SCM-1) to create more advanced functions.
You will feel strong & excited when to play this robot dance and movement patterns. The Robot Control Board (SCM-1) can also accept UART instructions, allowing the user to send control instructions according to the packet data's protocol complementing the robot scope of uses and research.
Humanoid Robot Specifications
· Height:380mm;
· Weight: 1.7kg(Including battery);
· DOF:17 Degrees Of Freedom in total
Head 1 PCS
Hands 6 PCS
Feet 10 PCS
· Connect with computer:USB-mini
· 2300mAH NI-MH rechargeable battery and AC charger
· Arduino open source 2.4 G remote control system
Key feature
· 17DOF,UART BUS servo, simple wiring, easy to assemble and disassemble
· It is easy to use "MOTION" editing software for Windows system, Programmed robot's motion by hand.
· Save the robot motion data on local and is easy to be use by other robots.
· Motion automatic interpolations function; Make the movement more continuous and smooth, make sure the movement of posture to posture more perfect within specified speed time.
· Can name the motion group by yourself if you need great for understanding and memory. It can repeat like function calls every motion group. Each motion can be imported and exported alone.
· After a series of motion group orderly arrangement can coherent form a dance. Both played online and off-line available.
· Each motion group can be remote controlled by Arduino open source 2.4G remote control system (especially good for use as a fighting robot)
· With 39kb FLASH motion data storage unit, can be divided into 254 motion group. If storing one motion group, It can contain up to store 730 posture.
· The "MOTION" software can show motion data. The robot will to move online when double-click any data of software. This is very easy to debug robot's motion.
· Can be controlled by Arduino UART with instructions.
· NI-MH battery can recharge any time no needing worry about d damage. Battery can run about 30 minutes.
· Accurate design of each part. Using a screwdriver can complete the assembly
Packing list
One assembly completed set of FT-17DOF-SC-RTP humanoid robot including:
· All metal gear SCServo * 17pcs
· Aluminum alloy machinery frame * 1set
· Master control board (SCM-1) * 1pcs
· Arduino open source 2.4 G remote control system * 1set
· 7.2V 3,000mAh NI-MH battery * 1set
· 8.4 V AC charger * 1pcs
· USB-mini cable 3750px
· Programming software "Motion" * 1set (download from Website)
Related documents
· Instruction manual
· Robot debugging manual
· Software debugging instruction
· Remote controller instruction