New factory Rugged Phone 4G LTE DMR 2G 16G 32G NFC digital walkie talkie trunking system OEM order rugged ip68 poc lte octa core

4W or 3.2W DMR UHF400-480mhz/VHF136-174mhz/Police use 350M
4.0" 11136 x600 HD(Compatible with 4.8" industrial-grade screen 1280*720 HD) sunlight readable
IPS capacitive scratch resistant touchscreen Corning glass
android 5.1 7.0 MTK6735 quad core
2GB RAM+16G OR 32GB ROM support up to 32GB: support encrypt tf card
Support 2 SIM Cards (nano sim) or one sim one TF card slot
Sim1:Support LTE/EVDO
Sim2:Support LTE/PDT
FDD LTE/TD-LTE/TD_SCDMA/WCDMA/GSM(-R) DMR/PDT Full band

New factory Rugged Phone POC 4G LTE DMR 2G 16G 32G NFC digital walkie talkie trunking system OEM order rugged ip68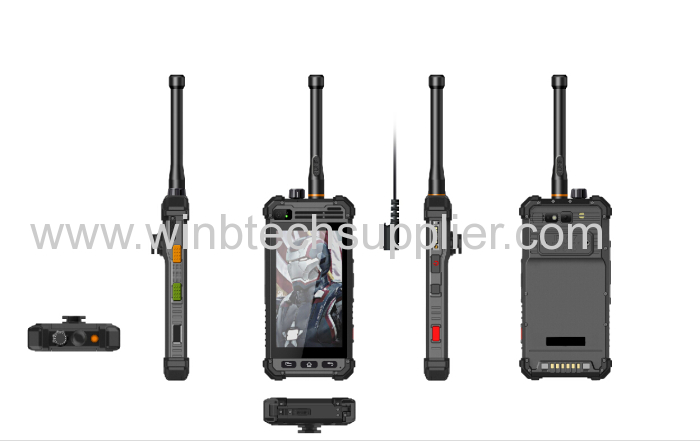 2G: GSM850/900/1800/1900; 3G:WCDMA850/900/1900/2100
LTE-FDD:B1/B2/B3/B4/B5/B7/B8/B17/B20
LTE-TDD:B38/B39/B40/B41
TD_SCDMA:A/F(B34/B39) EVDO:BC0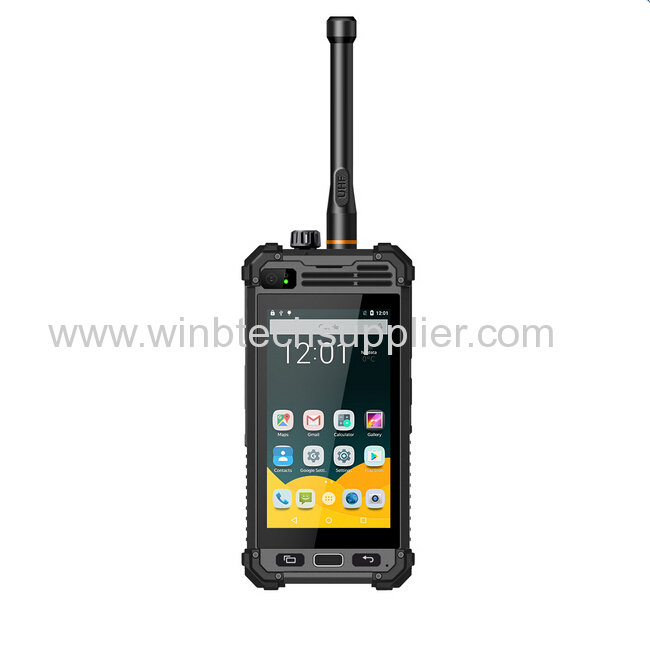 DMR digital use walkie talkie , tough phone, for industrial for police for constructions use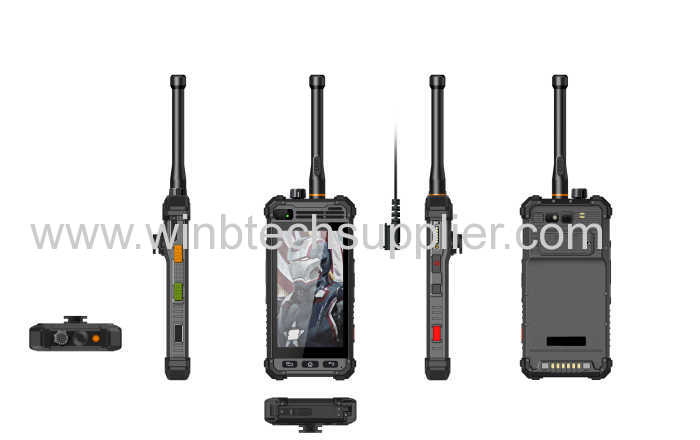 4500mAH polymer battery , support quick changable
1st version:Analog, UHF 400-470MHZ vhf 136-174 MHZ customize
2st version:Analog+DMR2,
3st version:PDT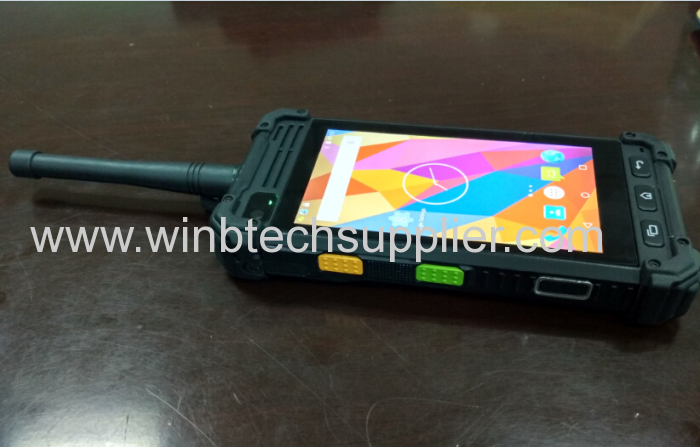 Main Features
LTE 4G,Android IP67 rugged smartphone,professional walkie talkie. DMR digital


Release time
2016.MAY-JUNE
Walkie talkie power output
4W or 3.2W DMR UHF400-480mhz/VHF136-174mhz/Police use 350M
Display
4.7" 1280*720 HD(Compatible with 4.8" industrial-grade screen 1280*720 HD) sunlight readable
Touch Panel
IPS capacitive scratch resistant touchscreen Corning glass
Glove wearing touch
Support
OS
android 5.1
Platform
MTK6735 quad core
CPU
1.5Ghz
Memory
2GB RAM+16G OR 32GB ROM
Micro SD card
support up to 32GB: support encrypt tf card
SIM
Support 2 SIM Cards (nano sim) or one sim one TF card slot
Sim1:Support LTE/EVDO
Sim2:Support LTE/PDT
Network
FDD LTE/TD-LTE/TD_SCDMA/WCDMA/GSM(-R) DMR/PDT Full band
Data connection
GPRS,EDGE,HSPA,LTE CAT4
Band
2G: GSM850/900/1800/1900; 3G:WCDMA850/900/1900/2100
LTE-FDD:B1/B2/B3/B4/B5/B7/B8/B17/B20
LTE-TDD:B38/B39/B40/B41
TD_SCDMA:A/F(B34/B39) EVDO:BC0
Network speed
LTE :CAT4 ( 150Mbps Downlink 50mbps Uplink)
WCDMA: Category 24 HSDA category 7 HSUPA
TD_SCDMA: category 14(downlink) category 6(uplink)
GSM: Class 12 GPRS ,Edge
Battery
4500mAH polymer battery , support quick changable
Quick Charge Stand
Support
Colour
Black
Size
165mm×79mm×20.8mm
Weight
300g(handset) 350g(with battery)450g(whole package)


Input methos
English,Chinese,Support 3nd party input method


PTT
1st version:Analog, UHF 400-470MHZ vhf 136-174 MHZ customize
2st version:Analog+DMR2,
3st version:PDT
POC
Support
programmable key
Support,Customer can customize the key for special function purpose by software
IP Class
IP67
GPS
Yes,Support GPS. A-GPS, glonass , beidou, Galileo systems
Google map
Yes
IP Class
IP67
Sensor
Gravity,Distance sensor,Light sensor,3D accelerator,Gyroscope sensor
Indicator led


* Red light
press PTT key status
* Green light
Walkie talkie receive signal status
* Blue light
Long light:Walkit talkie switch on; Flash:missed call,SMS
Laser point
Support,
FM
Yes
NFC
Chipset:MT6605 Frequency: 13.56MHZ


Camera
Front camera:8 Mega pixels (CAN 1300m customised), Back camera:13 Mega pixels
Sensor type
CMOS
Flash light
Yes
Video record
Yes
Video record resolution
Support up to 1920*1080 pixels recording


Video
MP4,3GP, WMV,AVI.
Mp3
MP3/MIDI
Ringtone
MP3/MIDI
Picture
JPEG etc.
Game
Support


WLAN
WIFI 2.4G/5.8G
USB
Micro USB v2.0
Earphone Jack
Professional Pogo Pin port,it can expand to connect with professional walkie talkie earphone,camera,recorder etc;also software updation.
(Compatible with MOTO 8268 earphone)
Bluetooth
BT4.0
high light torch
and laser light
optional
1D 2D scanner
optional
fingerprint touch ID
optional
1.4G OR 1.8G special network module
optional: can be added functional modules according to needs: SPECIAL NETWORK


Accessories
Handset


Walkie talkie antenna


Data cable






Charger adapter


User manual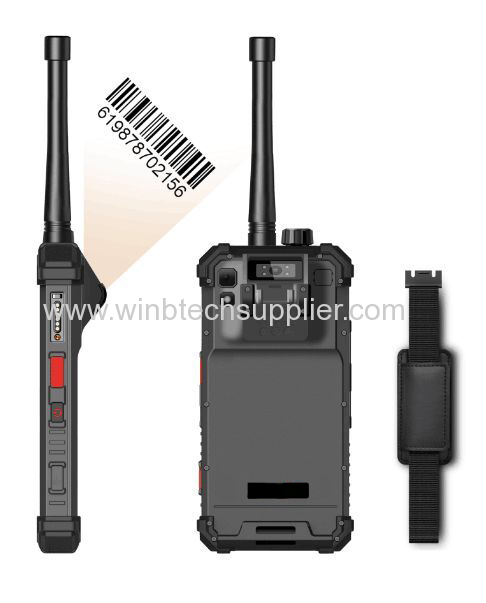 Payment:
a.TT, Western Union,, MoneyGramfor samples, small qty order or urgent orders at the buyer convenience,
b.TT, L/C at sight optional and flexible for bulk order.

Shipping
1.For samples, can be sent by express :DHL, UPS, FedEx, TNT, EMS, door to door service
2.For mass order delivery, can be optional with terms of Exwork, FOB, CNF, CIF by air or by sea based on the buyer forwarder or our recommended local forwarder at the buyer convenience
3.To save the buyer shipping cost, we can also offer Chinese cheap cost from our local forwarder for our buyer more selections
About after-sale service:
All of our products much be checked before shipping, 12 months warranty! and we offer replacement or credit for the returned defective products.

Contact us:
Shenzhen Winbrilliant Technology Co.,Ltd
Add:2th Floor,B buliding, ShangXue industral park,,Bantian,LongGang district.Shennanzhong Road, Shenzhen, China
Tel:+86-0755-83722519
Fax:+86-0755-83722519
Skype: davidesprit

dmr digital walkie talkie digital trunking digital push to talk two way radio
Intrinsically safe, rugged mobile NFC , walkie talkie Smart phone.
mobility.
Our rugged phone 4g lte , full band, here in china we do the ANTI- EXplosion test, EX ib ⅡC T4 and can be used in petrolchemical industry.
Now we recommend you to make your local ATEX certificatioin for using in your country for anti-explosion in petrolchemical industry.
Recognizing that many work tasks are performed in both non-hazardous and hazardous areas, wonbtec is launching an entire family of compatible tablets, peripherals and accessories ideal for use in Zone 1 / Division 1, Zone 2 / Division 2 and non-hazardous environments worldwide.
Wonbtec is the leading manufacturer of the world's toughest phones.Established in 2007, Wonbtec designs and creates smartphones rugged mobile phones for safe reliable communications, for those working in the most extreme environment including adventure enthusiasts who love outdoor sports. We are committed to deliver the highest quality of rugged and water submersible phones in the world. All wonbtec phones are engineered and designed in Germany USA EU SHENZHEN specifically to make clear calls anytime under any extreme conditions and environments. Our global network spans across the world including Europe, USA,Middle East,Australia and Asia.

Our Wonbtec phones are of high-quality products that are tailored to wide variety of industrial and outdoor requirements(IP68,MIL-STD 810G, EX ATEX such as waterproof,shock-proof,dust-proof,etc.)

Based on our products features comes the current technical standards where more complex applications, for example, MDM, MRM, Push to Talk, NFC solutions are incorporated into existing and new product development. Explosion - proof devices that are developed jointly with the partner iSafe Mobile, ETC complete the program.

Should you have any question, please do not hesitate to contact us.
atex ex barcode and RFID rugged smartphone ip68 3g 32g atex ex iecex
atex ex barcode and RFID rugged smartphone ip68 3g 32g atex ex iecex
Exib II C T4 Gb ; Ex ib I Mb suits for ZONE1 ZONE 2
Ex ib IIC T5/Ex ibD 21 T100℃
Ex ib IIC T5Gb / Ex ibD21 T100℃: suits for zones gas (1 zone 2 ) and Dust (21 ,22 )
suits for ATEX zone 1/21 zone 2/22 anti explosion;FOR petroleum ,petrochemical industry;Ex ib IIC T5 Gb / Ex ibD 21 T100℃ IP67;Suits for hazardous environments,such as gas, oil, petroleum;pharmacy,military,mining ,chemical,etc. suits for zone 1/21, zone 2/22, dust explosion environments, for IIA,IIB,IIC Devision T1-T5 degree temperature , for safety use for the workers and communications safely.
Exib II C T4 Gb Ex ib I Mb suits for ZONE1 ZONE 2 Barcode RFID 4g lte phone
ex atex iecex
Rugged ATEX
ATEX (ATmosphères EXplosibles) is the name commonly given to the two European Directives for controlling explosive atmospheres:


(EX ib ⅡC T4)
(EX ib ⅡC T5)


(EX ib ⅡC T6)

(EX ib ⅡB T4)
(EX ib ⅡB T5)
(EX ib ⅡB T6)










Certified for European ATEX zone 1 and Class 1, Division 1 intrinsically safe, for the safe operation

within hazardous areas.






ATEX Approval:

ATEX Zones 1

Il 2G Ex ib IIC T6 Gb, Tamb = -10°C…+50°C

Il 2D Ex ib IIIC T85°C Db IP6X, Tamb =-10°C…+50°C

I M2 Ex ib I Mb, Tamb = -10°C…+50°C

UL913 5th edition Class 1, Division 1:

C I, II, III Div 1 Gr A-G T4, Tamb = -10°C…+50°C

CI Z0 Gr IIC T4 IP65, Tamb= -10°C…+50°C

CAN/CSA-22.2 Part 157




industrial




automotive
aviation
chemicals
construction

distilleries

utilities
defence
oil and gas
petrolchemical
pharmaceutical

rail
Security



Intrinsically Safe
Smartphone Mobility

Health & Safety
Lone Worker Apps

Real-Time Location
Locate Everything



ATEX Zone 1/21
II 2G Ex ib IIC T4 Gb
II 2D Ex ib IIIC T135°C Db IP6X
IECEx Zone 1/21
Ex ib IIC T4 Gb
Ex ib IIIC T135°C Db IP6X
CSA (Northern America)
Class I, II Division I
Group A, B, C, D, E, F, G T4


ATEX Zone 2/22
II 3G Ex ic IIC T4 Gc IP54
II 3D Ex ic IIIB T135°C Dc IP54


ATEX Zone 1/22
II 2G Ex ib IIC T4 Gb
II 3D Ex ic IIIB T135°C Dc IP54
IECEx Zone 1/22
Ex ib IIC T4 Gb
Ex ic IIIB T135°C Dc IP54



ATEX Zone 1/21
II 2G Ex ib IIC T4 Gb
II 2D Ex ib IIIC T135°C Db IP6X
IECEx Zone 1/21
Ex ib IIC T4 Gb
Ex ib IIIC T135°C Db IP6X
CSA (Northern America)
Class I, II, III
Group A, B, C, D, E, F, G T4

ATEX Zone 2 / 22
II 3G Ex ic IIC T4 Gc IP54
II 3D Ex ic IIIB T135°C Dc IP54


ATEX Zone 1/21
II 2G Ex ib IIC T4 Gb
II 2D Ex ib IIIC T135°C Db IP6X
IECEx Zone 1/21
Ex ib IIC T4 Gb
Ex ib IIIC T135°C Db IP6X
CSA (Northern America)
Class I, II, III
Group A, B, C, D, E, F, G T4


ATEX Zone 2
II 3 G Ex ic IIC T4

ATEX/IECEx Zone 1/21
II 2G Ex ib IIC T4
Gb- II 2D Ex ib IIIC T135°C Db

ATEX Zone 2/22
II 3G Ex ic IIC T4 Gc IP54
II 3D Ex ic IIIB T135°C Dc IP54

ATEX Zone 1/21
II 2G Ex ib IIC T4 Gb
II 2D Ex ib IIIC T135°C Db IP6X
IECEx Zone 1/21
Ex ib IIC T4 Gb
Ex ib IIIC T135°C Db IP6X
CSA (Northern America)
Class I, II Division I
Group A, B, C, D, E, F, G T4