Quick Detail:
Type:Rotating anode x-ray tube
Application: For Medical diagnosis x-ray unit
Model: XD73-1.0/2.0-125
Equivalent to Toshiba E-7239
Integrated high quality glass tube
Description:
XD73-1.0/2.0-125 tube has a double focus designed for use with standard-speed anode rotation for high energy radiographic and cine-fluoroscopic operations.
The integrated high quality tube with glass design has two super imposed focal spots and a rein-forced 74 mm anode. The high anode heat storage capacity ensures a wide range of applications for standard diagnostic procedures with conventional radiographic and fluoroscopy systems.
A special designed anode enables an elevated heat dissipation rate which leads to a higher patient through- put and a longer product life.
A constant high dose yield during the entire tube life is ensured by the high density rhenium-tungsten compound target. Ease of integration into system products is facilitated by extensive technical support.
Applications:
XD73-1.0/2.0-125 rotating anode X-Ray Tube is especially designed for Medical diagnosis x-ray unit.
Specifications:
Maximum Operating Voltage....................................................................125KV
Focal Spot Size........................................................................................1.0/2.0
Diameter....................................................................................................74mm
Target Material............................................................................................ RTM
Anode Angle................................................................................................16°
Rotation Speed....................................................................................2800RPM
Heat Storage..........................................................................................150kHU
Maximum Continuous Dissipation.............................................................410W
Filament Characteristics
Small filament.................................................................fmax=5.4A ,Uf=8±1V
Big filament .................................................................Ifmax=5.4A,Uf=11±1V
Inherent Filtration....................................................................................1mmAL
Maximum Power(0.1s)..................................................................20KW/40KW
OUTLINE DRAWING:
Competitive Advantage:
Standard speed anode rotation with silenced bearings
High density compound anode (RTM)
Elevated anode heat storage capacity and cooling
Constant high dose yield
Excellent lifetime
Detailed Images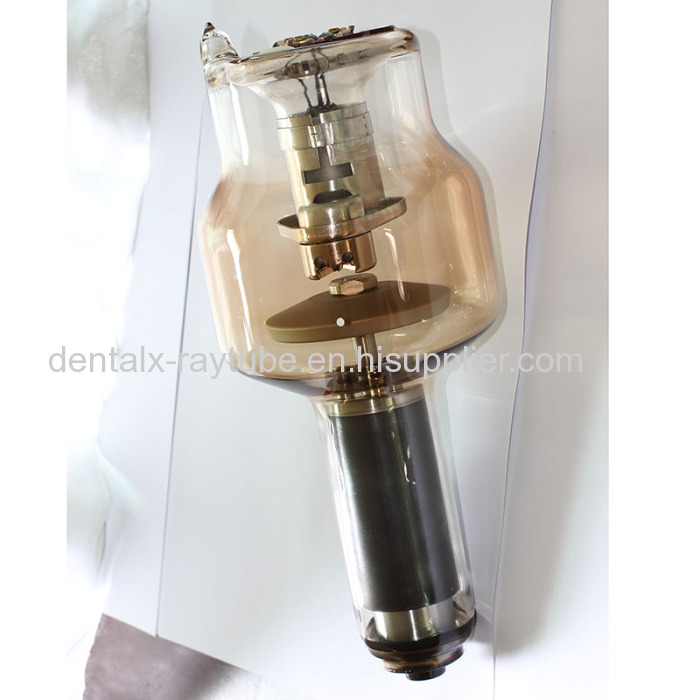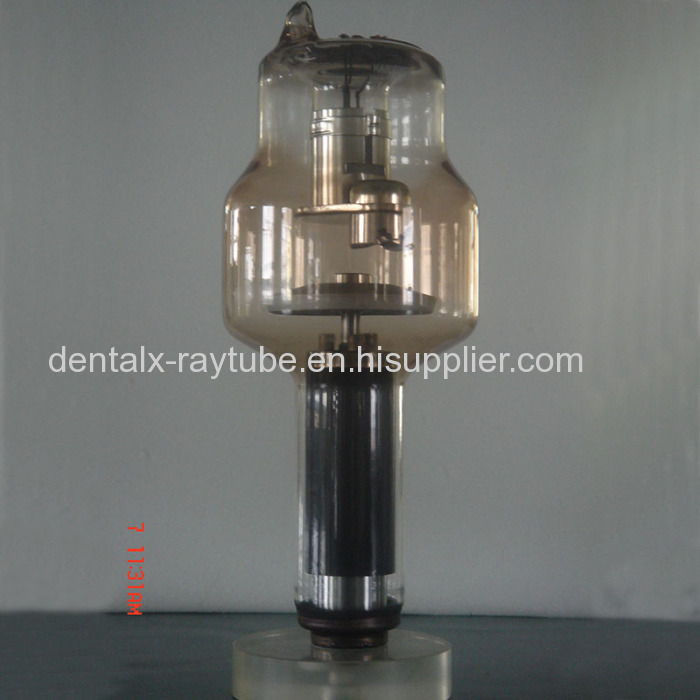 For more type of our rotating anode x-ray tubes, please see the following chart:
BRIEF SPEC.OF ROTATING ANODE X-RAY TUBE

Type




Equivalent

Nominal Focal Spot Value

Max
Rating
(kW)
Max. Voltage
(kV)

Target Angle ( °)

Anode Heat Content
(kHU)

Anode

Dimension

Diameter
(mm)
Rotation
(RPM)

Cooling Rate(W)

Length×
Diameter

XD64-0.8-1.8-125

IAE X20

0.8/1.8

10KW/
27KW

125

16°

67

64

2800

250

216×80

XD65-0.6-1.3-130

IAE X22-0.6/1.3

0.6/1.3

11KW/
32KW

130

15°

107

64

2800

300

216×80

XD66-0.3-0.6-130

IAE X20P

0.3/0.6

5KW/
17KW

130

10°

200

64

2800

475

211×80

XD67-0.3-0.6-49




0.3/0.6

1.2KW/
5.5KW

49

12°

60

64

2800

300

210×80

XD73-1.0-2.0-125

Toshiba E-7239

1.0/2.0

20KW/
40KW

125

16°

150

74

2800

410

233×108

XD74-1.0-2.0-125

IAE X40

NAGO GD7

1.0/2.0

20KW/
40KW

125

16°

150

74

2800

410

250×108

XD76-0.6-1.5-125

Toshiba E-7242

0.6/1.5

18KW/
47.5KW

125

14°

200

80

2800

410

250×108

XD80-0.6-1.2-150

VARIAN RAD-14

0.6/1.2

19KW/
50KW

150

12°

300

72

2800

500

250×108

XD83-0.6-1.2-125

Toshiba E-7240

0.6/1.2

15KW/
30KW

125

16°

150

72

2800

410

250×108

XD86-0.6-1.2-150

VARIAN RAD-12

0.6/1.2

19KW/
50KW

150

12°

150

72

2800

500

250×108

XD90-1.0-2.0-125

IAE X50
NAGO GD6

1.0/2.0

30KW/
50KW

125

16°

190

90

2800

490

250×120

XD90-1.0-2.0-150

1.0/2.0

30KW/
50KW

150

16°

190

90

2800

490

250×120

XD100-0.6-1.2-150H

VARIAN A292

0.6/1.2

24KW/
60KW
(50Hz)

150

12°

400

100

2800

900

250×140

38KW/
92KW
(150Hz)

8400