PS profile extruder line
PS Framing is made by polystyrene,100% recycle polystyrene can be re-used . It is new building and decoration material , Instead of Marble ,wooden and Gypsum . Widely application for photo frame, framed art, mirror frame, up cornice and down skirting board ,and decoration frame for interior wall . As well as house door frame.
PS products have lots of strong points as follows:
1,Environment friendly 2, high strength 3, water proof, non-corrosion, 4, varies size and design and color 5, economical 6, easy fixture .
PS products: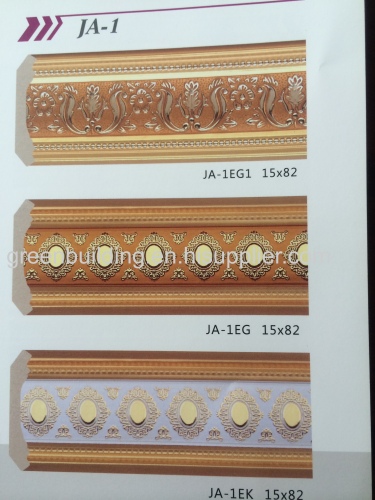 1, Material: PS (polystyrene) , (100% EPS recycled ps can be used)
Composite blowing agent( Azodicarbonamide agent ) only 0.5%
(200kg provided by seller )
DOP (dioltyl phthalate) 0.1% (50kg provided by seller )
Pet Film : you can choice different kinds and colors film ;
2,Extrude width:150-200mm in max;
3,Max. output:1-3 m/min;
4,Power Supply:3-Phase,380V/50HZ ,130KW
5,Machine outer size : 34mx1mx2m