This armature wedge inserting machine is used to insert the wedge into armature slot after armature doing coil winding. Wedge maternal and dimension can be as per customer's requirement. We also supply customzied service. This machine is suitable for home appliance, car motor, and power tooling motor armature.
Main technical data :
Armature O.D;20~60mm

Shaft length;Max 250mm

Shaft O.D: 3~17mm

Commutator O.D:12~40mm

Slot number;8~24 slots

Thickness of insulation paper:0.1mm~0.5mm

Length of insulation paper:10~70mm

Type of insulation paper material:DMD, DM, Polyester film

Efficiency:0.5S~0.8S/slot

Air source:4~6Kg/cm2

Rated power:1.5KW

Voltage:AC220V, 50/60Hz

Weight:About 400Kg

Dimension:910mm x 880 x 1300mm



Machine function and characteristic
It is of high reliability to be under the control of PLC.

The electromechanical linkage device and the faults detection system is mounted.

Pneumatic work piece clamping. The English operation system is available.

it is easy to change the tooling.

the machine body is light and elaborating.

If only the rotor to be processed is placed on the feeding track, the machine will finish the work such as the rotor lifting, clamping, shaping of the insulating paper, cutting and inserting automatically.
Information needed for wedge inserting machine inquiry.
rotor drawing

wedge dimension and material

other requirement
If possible, please send us your samples.

It will inserting wedge into armature slot as below picture shown.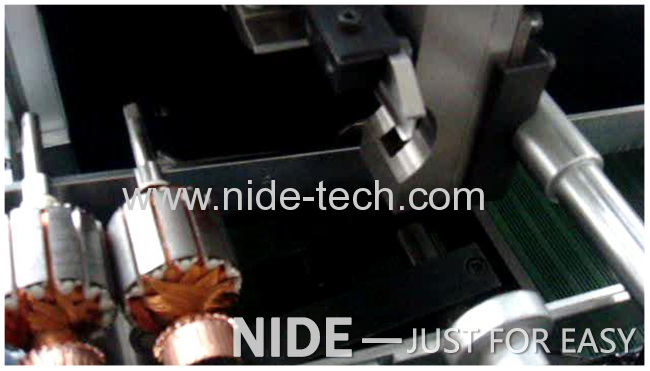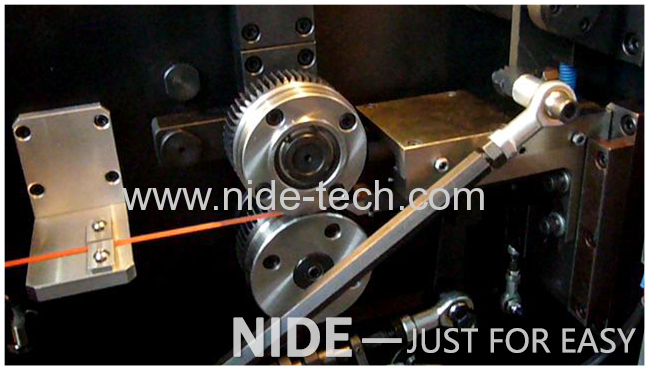 Besides paper inserting machine, we also supply different types of insulation materials for stator or armatures, such as insulation paper and wedge with different class degree. DMD Class B/F, DM Class B/F, Polyester film Class E, Red Vulcanized Fiber Class A, NH& NHN, etc