Loading Arm
Our loading arm is especially designed for loading and unloading liquids from railcars and tank truck.
The type of land loading arm is divided into top loading arm and bottom loading arm.Our loading arm can be customized as the requirements of customer, characteristics of liquids, local conditions etc.Equipped with loading platform, folding stairs and safety cage to make the loading arm into a complete loading system.
AL1412 is a typical model of closed loading arms with vapor recovery pipe. It has two arms, the liquid pipe and the vapor recovery (return) arm. The vapor return pipe can be flexible hose or metal pipe. It can often be used to load some volatile and hazardous products. It can be easily operated, installed and maintained and has good vapor recovery ratio.
.
Design Parameters
Nominal Diameter

Liquid pipe: DN50~DN150 (2",3",4", 6");

Vapor return pipe: DN25~DN100 (1", 2", 3",4")

Design Pressure

0.6MPa~2.5MPa

DesignTemperature

-30°C~+120 °C

Balancing Method

Spring balance cylinder

Pipeline Material

Carbon steel, Stainless steel, PTFE-lined, etc.

Service Product

Product oils, chemicals, especially for volatile or hazardous products,

LPG, liquid ammonia, liquid chlorine, etc.
Structure Drawing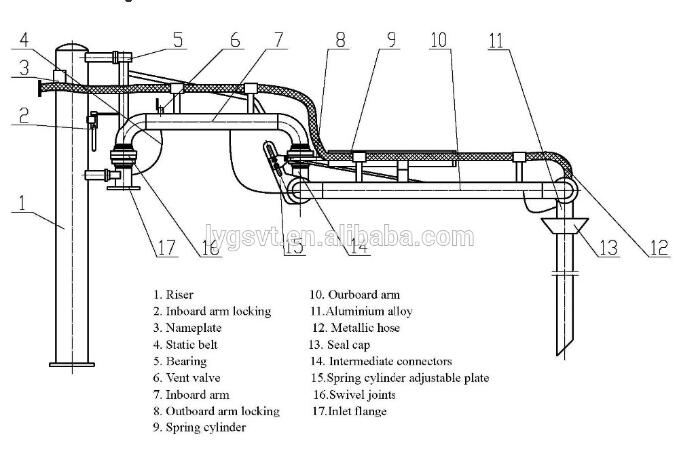 Packaging & Shipping