Aluminum Pontoon Type Internal Floating Roof
Internal Floating Roof (IFR) is tailor made to fit the corresponding tank in compliance with API 650 Appendix H standard, greatly meet the safe storage requirement of petroleum products, hazardous chemicals and liquids for the petroleum and petrochemical industry.

Custom designed and completely pre-fabricated for each application, our pontoon type Internal Floating Roof (IFR) is the model for cost-effective, efficient and long-lasting Internal Floating Roofs. We have TWO kinds of structure of pontoon type Internal Floating Roofs: # shape IFR and hexagonal IFR.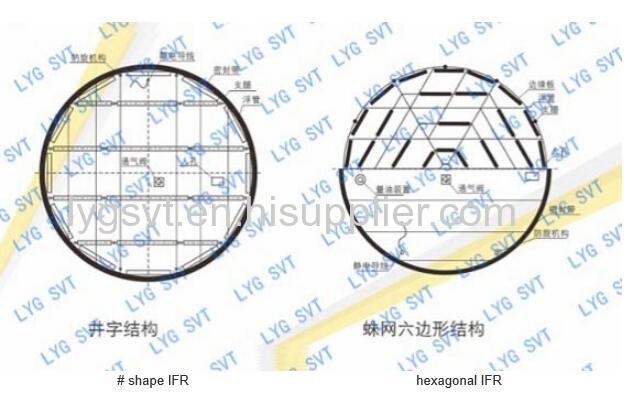 Product Description
The aluminum internal floating roof is designed as a radial hexagon. The pontoon and beam are hot extruded and combined into an integration component, without longitudinal welding seam, reducing the pontoon's leakage points, which is the leading technology in the current international pontoon type internal floating roofs.
IFR Features:
1. With special hexagon web structure, the frame of the IFR has good strength and stability. The structure itself can have a damping effect, can reduce and dissolve the shock wave quickly.

2. Having many small sizes pontoons, which increase the operation feasibility.
The pontoons are seperated from the frame, and evenly distributed, which can prevent the floating roof from inclining and getting stuck in case one or two pontoons are punctured. It increases the stability of the operation.

3. Energy saving and consumption reduction of 98%.
The space of oil&gas in the floating roof is smal, which can reduce the evaporation of product and reduce consumption.
4. High utilization ratio of storage tank.
The thickness of the internal floating roof structure is only 320mm, thus increase the storage space and utilization rate of storage tank.
5. Safe, simple, quick installation, low maintenance cost.
The installation of floating roof is bolt connection or riveting, with no welding. It can also apply to remould tank. The spare parts have good interchangeability and commonability, can be replaced seperately. It is convenient in installation and maintenance.
6. High corrosion resistance and long service life
The main part of floating roof is made of good material with good anti-corrosion performance and long service life. The seal material have good electric conduction and abrasion resistant performance, good elasticity and not easy to crack.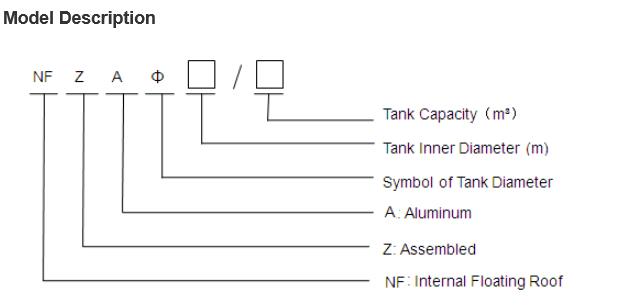 Specification
| | | |
| --- | --- | --- |
| No. | Model & Spec. | Size (mm) |
| 1 | NFZAΦ46/30000 | Φ46000 |
| 2 | NFZAΦ40/20000 | Φ40000 |
| 3 | NFZAΦ30/10000 | Φ30000 |
| 4 | NFZAΦ21/5000 | Φ21000 |
| 5 | NFZAΦ17/3000 | Φ17000 |
| 6 | NFZAΦ14.5/2000 | Φ14500 |
| 7 | NFZAΦ11/1000 | Φ11000 |
| 8 | NFZAΦ9.5/700 | Φ9500 |
| 9 | NFZAΦ8/500 | Φ8000 |
| 10 | NFZAΦ6/300 | Φ6000 |
| 11 | NFZAΦ5.6/200 | Φ5600 |
| 12 | NFZAΦ5/100 | Φ5000 |
NOTES: We do not list all the spec. We'll design and produce in accordance with client's requirement and the contract.
Structure Drawing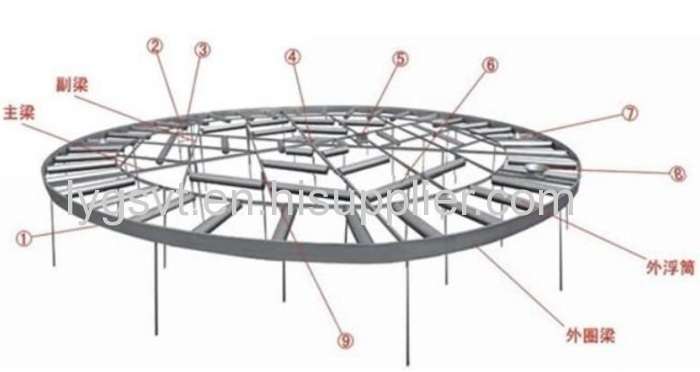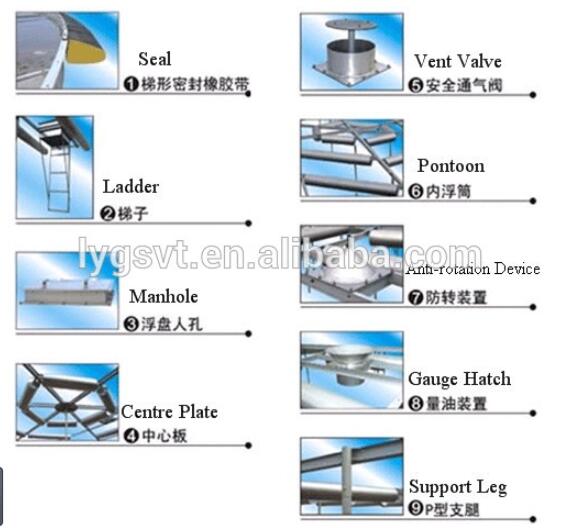 Packing and shipping