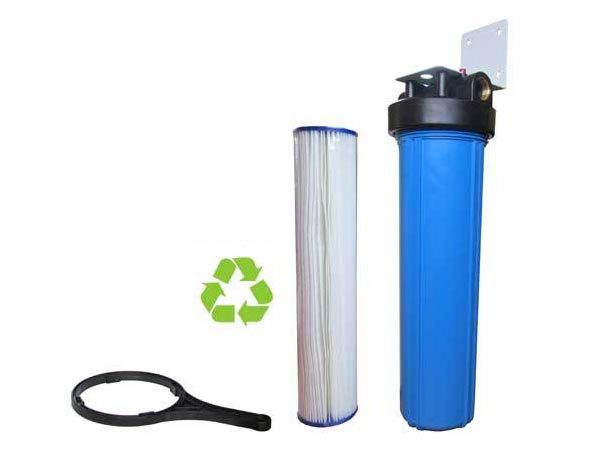 With 20'' X 4.5'' Pleated PP sediment filter cartridge inside it
Sediment free clean water in your home delivered to all faucets
✔ Clean water for food and vegetable washing free of rust, dirt, sand and other suspended particulates
✔ Protection for your homes fixtures, appliances, pipelines and drains
Features
✔ Maximum dirt-holding capacity to reduce sand, dirt, rust and other particles
✔ Reusable and washable design extends filter life
✔ Versatile - suitable for residential, commercial and industrial usage
✔ Durable, high quality, polypropylene (BPA FREE) 20" Big Blue filter housing
✔ 1" inlet and outlet FPT inlaid copper ports for large volume, fast water flow & max strength
✔ Pressure relief valve (easily nuetralize pressure for easy filter changes)
✔ Industry standard sized 20" x 4.5" filter housing and filter
✔ Includes filter wrench and white, heavy-duty, powder-coated steel mounting bracket
Do you have sediment in your water? Are you concerned about sediments clogging and damaging your appliances, fixtures and pipelines? Perhaps you have a drinking water filter system and want to extend the life of the filters and membranes in that system? This is the simplest and easiest way to accomplish all of that.
This POE (Point Of Entry) Single Stage Whole House Filtration System utilizes a 20" Big Blue Housing with a high capacity 5 Micron Pleated Sedimentary (PSED) filter to remove dirst, sand, rust, scale and other sediments found in common water sources.
Aquasafe's advanced single stage whole house system comes pre-assembled.. This system is typically placed on the water main entering the home and has the general capacity to filter 50,000 gallons of water before requiring a filter change and or washing of its filter. This system comes standard with a red pressure relief valve (seen on top of the white metal mounting bracket). This convenient feature allows the user to easily nuetralize the pressure within the system when conducting filter changes.
The 20" Big Blue Housing is extremely durable, constructed with High Grade polypropylene (BPA FREE), and is fully capable of withstanding a wide array of pollutants, chemicals and large fluctuations in water pressure. The housing of this system is industry standard, designed to accommodate standard 20" length x 4.5" diameter filters. The high-flow polypropylene (HFPP) housing cap holds the inlet and outlet ports which are inlaid copper 1" FPT (female pipe thread).
Includes filter wrench and white, heavy-duty, powder-coated steel mounting bracket.
Please Note: As The Aquasafe single stage Big Blue Whole House Water Filter is normally placed on the main water line entering the home, we recommend having a licensed plumber handle the installation for you.
Specifications and Performance data.

| | |
| --- | --- |
| | |
| Gallons per minute | 7 - 9 gpm |
| Maximum operation pressure | 90 psi |
| Weight | 14Lbs (6.35kg) |
| Dimensions | 24.5"H (29" to top of bracket) x 7.25"W x 8.0"D |
| Input & Outlet Line Size | 1" FPT |
| Maximum operating temperature | 100° F (37.8° C) |