Eco-friendly bamboo pulp Peach packaging suppliers
KINYI-A Professional Mnaufacturer of Molded Pulp Products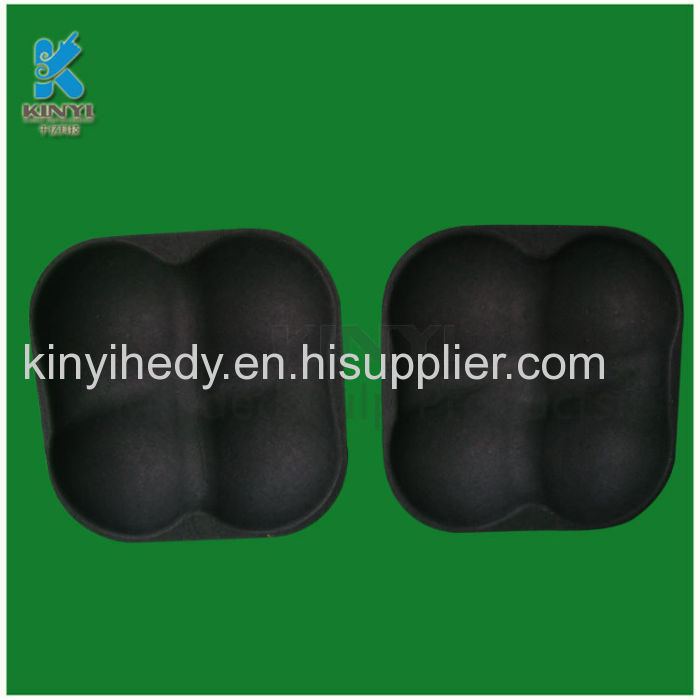 Specification:
| | |
| --- | --- |
| Raw Material | Bagasse pulp, recycled paper pulp, wood pulp, bamboo pulp or other natural fiber pulp |
| Color | White, black, brown, red, blue, green or any color as requested |
| Size | Customized as per request |
| Technique | Wet press pulp molding/ dry press pulp molding/ (transfer molded/ thermoformed fiber) |
| Thickness | 0.8mm-2mm, depending on techniques and customers' request |
| Sampling Time | 5-7 days |
| Production Mold Time | 10-12 days |
| Production Leadtime | Depends on order quantity. Normally 3000-5000 pcs/day/mold |
| Payment Terms | 30%-50% deposit on order confirmation, pay the balance before delivery |
| Shipping Terms | Ex Work or FOB Shenzhen or CIF or CFR |
| Packaging | Poly bag + Standard export carton; or customized as per request |
Product Adavntages:
1). Our molded pulp products are eco friendly, biodegradable and compostable;
2). All the raw materials are natural fiber-based renewable resources;
2). The most common color is white and brown, but can be customized in any color as per request;
3). Can be made by different techniques to achieve different surface efferts and price targets;
4). Shapes can be customized;
5). Can be made water-proof, oil resistant and anti-static; They are anti-shock and protective;
6). Can be widely used in electronics, cosmetics, food, instrument and many other industries.
7). We can provide free designs or develop products based on customers' designs;
KINYI is an industrial and trade integrated company specialized in the following products:
1). Customized molded pulp industrial packaging;
2). Molded pulp egg trays, fruit trays, cup trays, cake trays and food trays;
3). Molded pulp end products like white masks, crafts, flower pots, trash cans and wall paper;
4). Any other molded pulp products

There are various materials, colors and surface effects to choose from:
Materials: Bagasse (main material); wood, bamboo, recycled carton; white paper; wheat straw…
Colors: milky, pure white, black, grey, brown, red, green or any other colors
Surface effects: traditional thick-wall type; transfer molded type and very smooth thermoformed fiber type.

The services we KINYI provide:
1). The most feasible, suitable and practical packaging solutions based on requirements of usage, surface effect, materials, colors, price and etc;
2). One-stop services of designing, molding, sampling, manufacturing and turnkey packaging.
3). Supportive services like third-party factory audit, product inspection and sourcing of relevant products.
1). Are you a trader or a manufacturer with your own factory?
We are an industrial and trade integration company. We have our own factory and cooperating factories. We communicate and trade in the name of our sales office which is financially independant.
2). What kind of packaging do you make?
We mainly design and produce molded pulp inner packaging trays. There are two types:
a. Traditional rough type with one side rough and the other side smoother, usually for protective purpose during transportation, like wine shippers and egg trays;
b. New smooth type: Thermoformed, very defined surface, sturdy and smooth, have the feeling of plastic; suitable for high-end products requiring good appearance.
3). Will there be any tooling cost if we want you to make packaging for us?
Molded pulp products are formed based on molds, so there will be tooling cost. Our molds are made of high quality aviation Aluminum, and several molds are needed in different process to finish one product, so the tooling cost will be a bit higher than some other packaging like plasitc. The tooling cost can be returned if quantity is big enough.
4). Can you make the packaging design for us based on our ideas or products?
We provide FREE design drawings based on customers' ideas or products. You can just send us details of your products like dimensions, pictures, or actual samples, then we can make the custom design based on your requirements. It only takes about 1-2 days.
5). Besides white and brown color, can you make other colors?
The most common color is white, black and brown, but we can also make any other color as per request. But there will be MOQ requirment for other colors, and price will be higher.