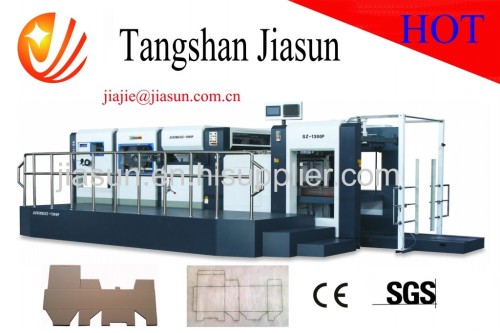 The machine is a perfect combination if the motion control system with servo motor,which ensures the operation more smoothly and reliable.
The machine is equipped with stripping part which can remove the waste on three edges and holes in the middle of the sheet after die-cutting(Stripping part is optional).
Adopt varriable frequency speed regulation system to realize stepless speed change.
Front-lead feeding part:
Adopt patent technology of front-lead feeding structure,which can effectively prevent and reduce damages to the surface of printed sheet.
Stipping part:
The stripping part is an optional device, any ty pe of our die-cutting machine can add it freely.
It can remove the waste on three edges and holes in the middle of the middle of the sheet after die-cutting.
Electric unit:
The electrical part adopts PLC programmable control system.It makes the paper feeding ,transporting and die-cutting under full automatic control and monitoring.It is equipped with a variety of security switch which can be automatically shut down in case of any unexpected situation.
Main driver:
The main driver system adopts worm wheel,worm gear set and crankshaft structure,enshuring the machine running stably and precisely.The material of the worm wheel is special alloys of copper.The worm gear and crankshaft is chromed steel quenched with high strength,long service life,and withstanding more pressure.
The Large Torque Clutch:
The machine is equipped with a large torque and quick-response pneumatic clutch.It has the feature of accurate action when doing start,emergency stop, electric driving and inching.No need to do maintenance every day for this cluth.
Die-cutting unit:
The die-cutting unit is designed for corrugated sheet.The centralized positioning and rotary plate mouting device makes the plate change and adjustment more convenient.This machine uses nail positoning and lock positioning methods,quick and stable.