sewer water PVC pipe extrusion line
We use good quality C model and U model steel as the frame, SIEMENS motor, SIEMENS contactor, OMRON tempertre controller, TTIANYI Button, ABB/FUJI/HOLIP/SHREADER inverter etc. electrical parts.
1,Production flow
Raw material+agency----------mixing---loader-----force feeding-------extrusion------------extrusion mould—vacuum forming tank---spray cooling tank --haul-off---cutter----stacker
2,PVC Sewer Water Pipe Extrusion Line Each par function introduction
(1) raw material mixing: is PVC stabilizers, plasticizers, antioxidants and other accessories, scale, technology has added into a high-speed mixer, the material and mechanical friction material from temperature to set the process temperature, and then the cold mixing machine material to 40-50 degrees; this can be added to the extruder hopper.


(2) The extruder portion: the machine equipped with a quantitative feeding device, so that the extrusion amount and feeding amount can be matched, to ensure that the products stable extrusion. Due to the characteristics of conical screw, a feeding section having a larger diameter, the material heat transfer area and the shear velocity is relatively large, is conducive to the plastics materials in metering section of screw, small diameter, reducing the heat transfer area and on the shear rate of melt, the melt at lower temperatures and extrusion. Screw in the barrel rotates, the PVC mixture plasticizing to head, thereby achieving compaction, melting, mixing and homogenizing; exhaust gas, dehydration of. The feeding device and a screw drive device with variable frequency speed control, can realize the synchronous speed control.
(3) Extrusion die head part : by compaction, melting, mixing of PVC, with follow-up materials by the screw to die, extrusion die head is the key part of the pipe forming
(4) Vacuum shaping water tank for pipes, cooling stereotypes, stereotypes water tank is provided with a vacuum for shaping and cooling of the vacuum system and a water circulating system, stainless steel tank, circulating water spray cooling, vacuum shaping water tank is provided with a mobile device, and left and right height regulating manual device.
(5) hauling machine for continuously, automatically and is cooled to harden the pipes from the head out, variable frequency speed regulation
(6) Cutting machine: by the travel switch according to the length required control, automatic cutting, and delay over the frame, implementation of water production, cutting machine with permanent switch signal for instruction, complete the cutting process, the cutting process and pipe running to maintain synchronization, cutting process by the electric and pneumatic drive, cutting machine is provided with a dust suction device, the cutting chips produced by timely aspirate, and recovery
(7) stacker: material turning movement from the cylinder through the gas path control to achieve erection, turning a limit device, when the cutting saw to cut the pipe, pipe to transport, after time delay, the cylinder into the work, realize the turning action, reach the discharging purpose. After unloading, the delay of several seconds automatic reset, waiting for the next cycle.
3 PVC Sewer water pipe extrusion line technical parameter
| | |
| --- | --- |
| extrusion machinery | SJZ80/156 conical double screw extruder |
| pipe range | 200-400mm |
| Main motor | 55KW |
| Motor speed adjusting | 55KW ABB inverter |
| vacuum and water pump | 7.5KW + 5.5kW |
| hauling motor | 1.1KW*4pcs |
| cutting motor | 1.5kw |
| Area need | 35X3X3m |
Others models:
| | | | | | |
| --- | --- | --- | --- | --- | --- |
| Model | KPM-PVC125 | KPM-PVC160 | KPM-PVC250 | KPM-PVC500 | KPM-PVC630 |
| Max pipe | 125mm | 160mm | 250mm | 500mm | 630mm |
| Auxiliary power | 13kw | 14kw | 19kw | 27.5kw | 35kw |
| Water cost | 3 | 6 | 6 | 9 | 12 |
| Air cost | 0.3-0.6 | 0.3-0.6 | 0.3-0.6 | 0.3-0.6 | 0.3-0.6 |
reference pics:
extrusion die: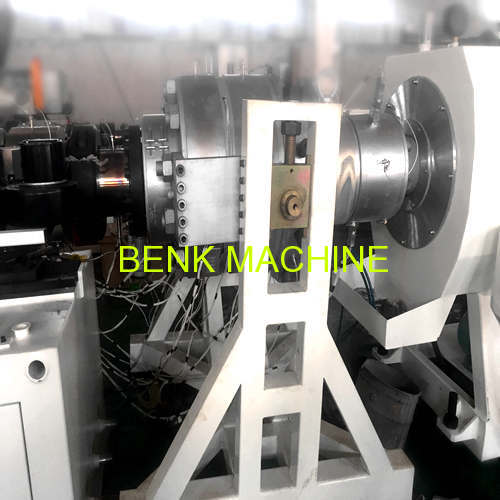 vacuum forming tank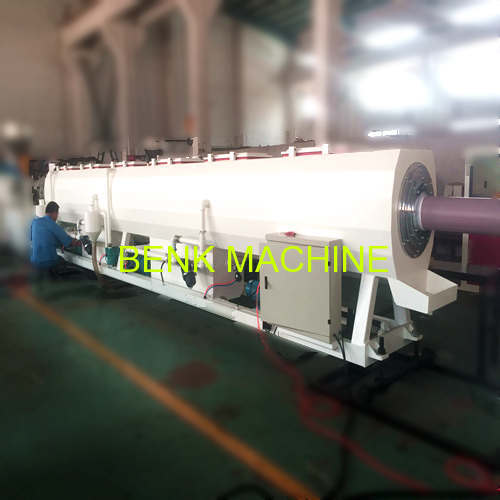 four claws haul-off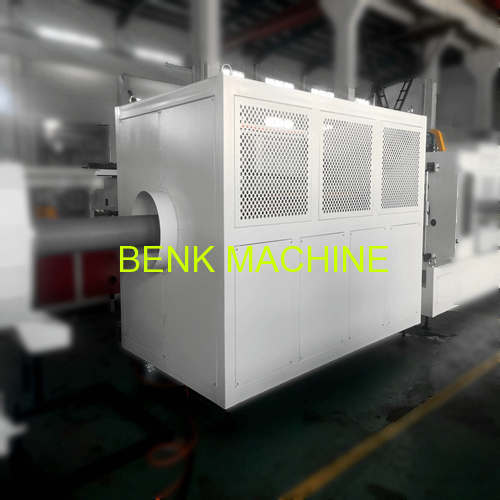 planetary cutter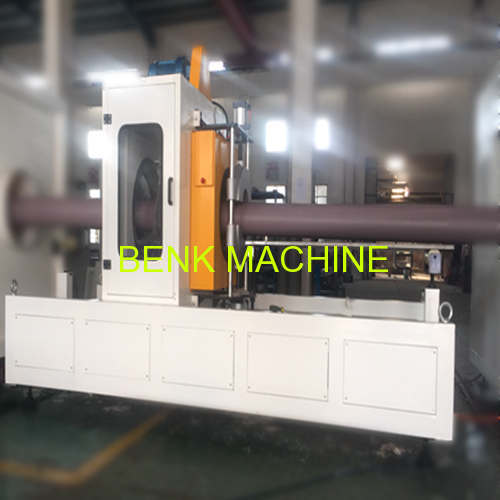 automatic pipe belling machine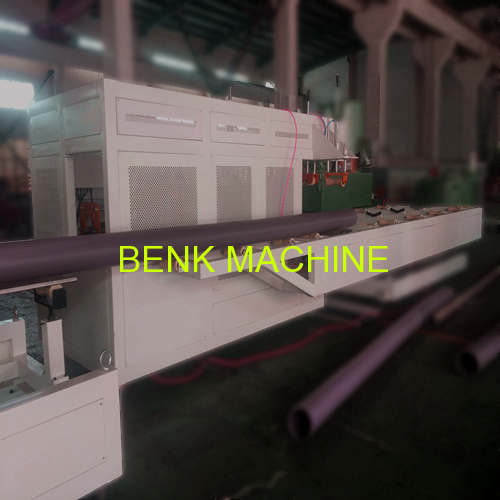 After-sales service
Technical documents
All the symbols on the equipments should be in English. Seller is responsible to provide general layout plan, electric plan, installation direction, and manual book in English to Buyer on time.
Arrangement for inspection, installation and testing work
a. After all machines are delivered to customer's factory; Buyer is responsible for all preparation work, e.g. electricity supply, water supply, labors and cranes, etc.
b. BENK will prepare for visa application for their engineers, who are responsible for guide of machine installation and testing at the Buyer's factory.
c. The Buyer will buy the round-trip air ticket for Engineer if visa application is approved. The buyer is also responsible to bear expenses generated, e.g. visa formalities, meals, accommodation and allowance of USD80 per day for each engineer.
d. Engineer will give free training lessons to labors in buyer's factory.
e. If buyer doesn't request installation and commissioning by Seller's engineer in 4 months since date of bill of lading, which to be accounted all the machines has been successfully tested by buyer.
Quantity and quality guarantee
a. Quantity/Quality Discrepancy to destination port during transportation:
In case of quality/quantity discrepancy to destination port in transportation, customer should file claim within 30 days after the arrival of the goods at port of destination. Insurance company and shipping company will be responsible for any discrepancy of the goods caused by shipping company and other transportation organization and/or post office.
b. Guarantee period and after-sales services: 13 months since date of bill of lading
During this guarantee period, BENK will provide spare parts without any charge in case of quality discrepancy caused by us. If the malfunctions are caused by your incorrect operations, BENK will provide the buyer spare parts at cost price.
c. Long-term service:
BENK will charge the buyer cost price of spare parts beyond one year and provide long-term technical guide.
We thank you for your inquiry and would be pleased to receive your order soon.
ZHANGJIAGANG CITY BENK MACHINERY CO., LTD.