PVC free foam board production line
PVC free foam board production line are applied in PVC powde+Wooden powder+other additives raw material to produce kinds of wpc foaming board. Adopting our company's special design and unique processing, these lines can produce different proportion (0.55-0.95) profile wood plastic products to meet customer's needs. With different products, we can match different performance twin extruder or single extruder which equipped with auxiliary devices such as vacuum forming machine, haul-off and cutting machine, loading shelves to optimize its capacity. By using moulds which are specially designed with customer's products, customer can produce the products that they need.
SJZ92 KPM-FOAM1220 PVC free foam board production line
Main tech parameters:
| | |
| --- | --- |
| Product material: | Wooden powder + PVC powder + Other additives |
| Products max width: | 1220mm×2440mm (Length can be adjusted) |
| Product thickness: | 25-50mm |
| Extrusion capacity: | 600kg/h (capacity varies with the density change) |
| Total installed power: | 215kw (Including mould heating power) |
reference pic:
extrusion line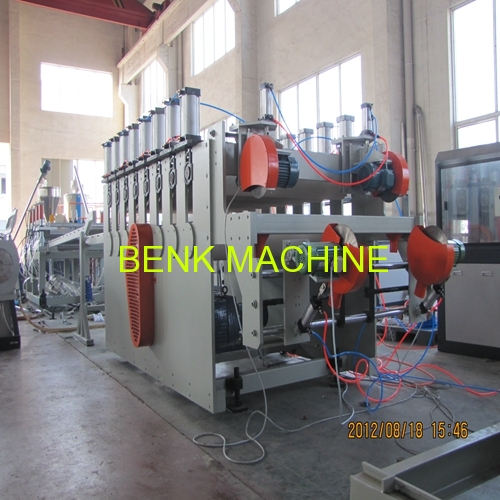 extrusion die: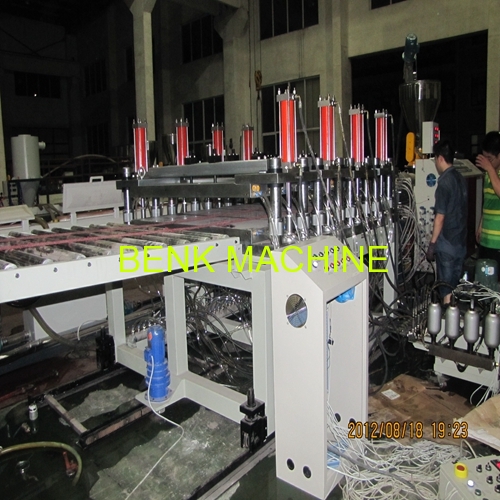 Feel free write to us if need more info.
Thanks!