80-120mesh wood power making machine
80-120mesh wood power making machinery
wood powder making machine is suitable for: wood powder ,wood chaff, bamboo powder, chestnut skin powder ,elm wood powder ,wood grain of wood skin, grain of camphor ,wood powder cedar ,wood powder shrimp, skin powder ,octagon powder of Chinese prickly ash ,chili powder, pepper purified ,cotton feather, feather terrier, straw wheat ,bran rice ,hull stick ,wood potato, dross cassava herbal, fish cake, kind of sanshui magnesium silicate and all fibres material crushing process.

1.This wood powder making machine have three different types of blades inside to pulverize the wood completely in to powder
2. Low noise and low running cost.
3. All of the raw materials of our wood powder making machine were supplied by trusted supplier, this can improve the service life of wood flour machine
main technical parameters:
Type

500

600

700

800

900

Power(kw)

22-30

30-37

37-45

45-55

75-90

Rotating speed(r/min)

4200

3300

3300

2900

2900

Number of Knife

36

54

72

72

96

Capacity(kg/h)

200-500

300-600

400-700

500-800

600-1000

Granularity(mesh)

10-500

10-500

10-500

10-500

10-500

Feeding Size(mm)

≤30-35

≤30-40

≤35-50

≤40-60

≤40-60

Moisture Content

<6%

<6%

<6%

<6%

<6%

Floor Area(m)

4.6×1.8×3.5

5.2×2.5×4.3

6×2.8×4.3

6.5×2.8×4.3

7×2.8×4.3

Note: the capacity changes according to different material granularity.
reference pics from clients:
pic from Poland client: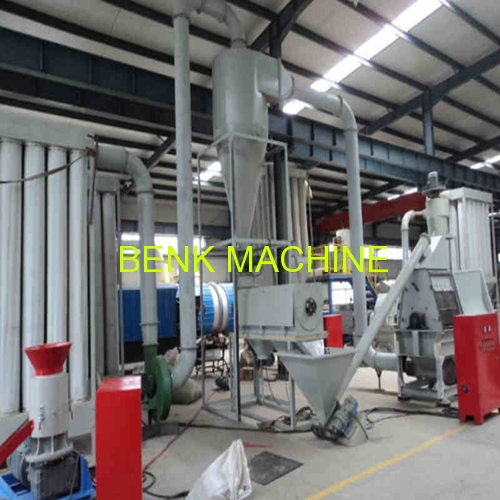 pic from korea client: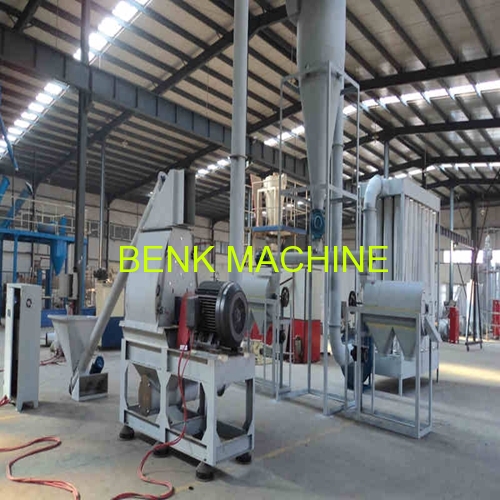 pic from Vietnam client: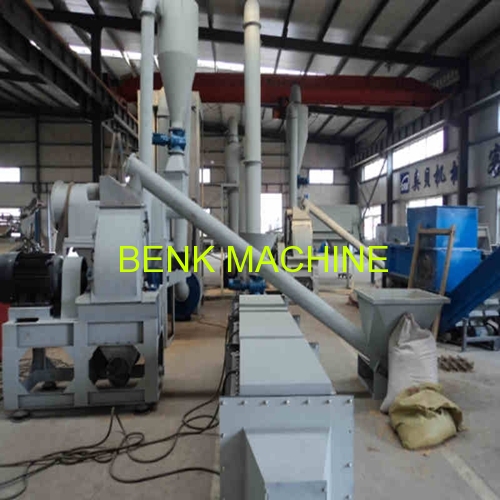 BENK"S Service:

3.1 Technical documents
All the symbols on the equipments should be in English. Seller is responsible to provide general layout plan, electric plan, installation direction, and manual book in English to Buyer on time.
3.2. Arrangement for inspection, installation and testing work
a. After all machines are delivered to customer's factory; Buyer is responsible for all preparation work, e.g. electricity supply, water supply, labors and cranes, etc.
b. BENK will prepare for visa application for their engineers, who are responsible for guide of machine installation and testing at the Buyer's factory.
c. The Buyer will buy the round-trip air ticket for Engineer if visa application is approved. The buyer is also responsible to bear expenses generated, e.g. visa formalities, meals, accommodation and allowance of USD60 per day for each engineer.
d. Engineer will give free training lessons to labors in buyer's factory.
e. If buyer doesn't request installation and commissioning by Seller's engineer in 4 months since date of bill of lading, which to be accounted all the machines has been successfully tested by buyer.
3.3. Quantity and quality guarantee
a. Quantity/Quality Discrepancy to destination port during transportation:
In case of quality/quantity discrepancy to destination port in transportation, customer should file claim within 30 days after the arrival of the goods at port of destination. Insurance company and shipping company will be responsible for any discrepancy of the goods caused by shipping company and other transportation organization and/or post office.
b. Guarantee period and after-sales services: 13 months since date of bill of lading
During this guarantee period, BENK will provide spare parts without any charge in case of quality discrepancy caused by us. If the malfunctions are caused by your incorrect operations, BENK will provide the buyer spare parts at cost price.
c. Long-term service:
BENK will charge the buyer cost price of spare parts beyond one year and provide long-term technical guide.
We thank you for your inquiry and would be pleased to receive your order soon.
ZHANGJIAGANG CITY BENK Machinery Co., Ltd.
WELCOME COME VIST OUR FACTORY LOCATED IN ZHANGJIAGANG.