Cracked Vagcom 16.8.3 VCDS 16.83 Diagnostic Cable Vag Com 16.8.3

Vag 16.8.3 VCDS cable Vag com 16.8.3 HEX-CAN USB Interface Support Germany/English/French

Crack VCDS 16.8.3 diagnose cable for Audi/VW/Seat/Skoda run on win10 operate system

Latest version: V16.8.3

Note: Germany and English Two language version in one cable

OS: With Windows 2000, XP, Vista, win7, win8, win8.1 WIN10 the operating system compatibility (32-bit and 64 - bit)

Highlight: Compared to the previous version, the VAG16.8.3 main changes is BUG fixes and improvements, support Windows10 system
Vehicle Application List:

Golf / Gol GTI / Jetta / Bora / Vento / Rabbit / Touran / New Beetle / Cabrio / Passat / Magotan / Touareg / Phaeton / Polo / Santana / Sharan / Transporter / Eurovan / Winnebago Rialta / VW Corrado / VW Eos / Audi TT / Audi A3/S3 / Audi A4 / A4 / Cabriolet Convertible / S4 / RS4 / Audi A6 / 100 / A6 / Allroad / S6 / Ur-S4 / RS6 / Audi 200 / V8 / A8 / Audi S8 / Audi 90 / Cabriolet Convertible / Audi Q7 / AudiR8

Vagcom 16.8.3 New Features:

1.Includes partial support for VW Crafter vans. Communications with all control modules; functions supported: Control Module ID and Advanced ID, Fault Codes (Read and Clear), Supported Codes, Security Access, and Adaptation. Other functions such as Measuring Values, Output Tests, and Basic Settings will be added in future versions.
2.New more universal Airbag Coding Assistant.
3.New "Upload Debug/Log File" function in Applications Dialog
4.Completely revised and expanded ROD (ODX) Data.
5.New USB Drivers. Now compatible with the latest PCs which use Fresco Logic USB3 chipsets.
6.Refactored DTC routines which interpret DTC data, including enhanced interpretation of status byte for DTCs in UDS modules.
7.New area to display additional info for Basic Settings.
8.Added data types 0B, 0D, 0F to Generic OBD-II Mode 9.
9.New version of LCode.
10.Revised and expanded Label Files.

Vagcom 16.8.3 PCB Board Photos: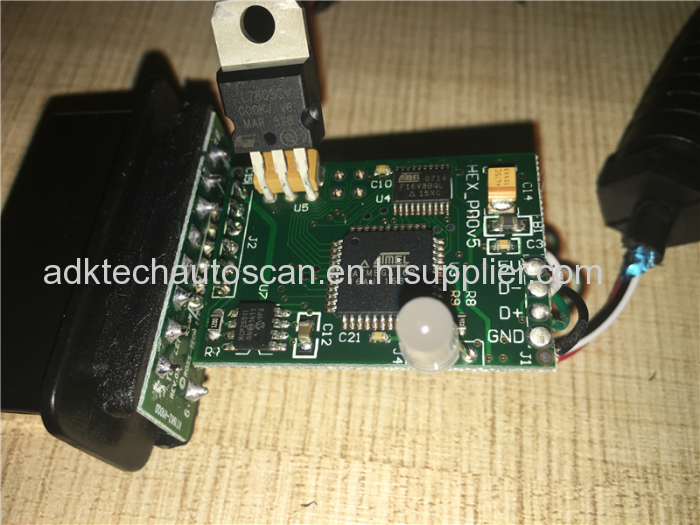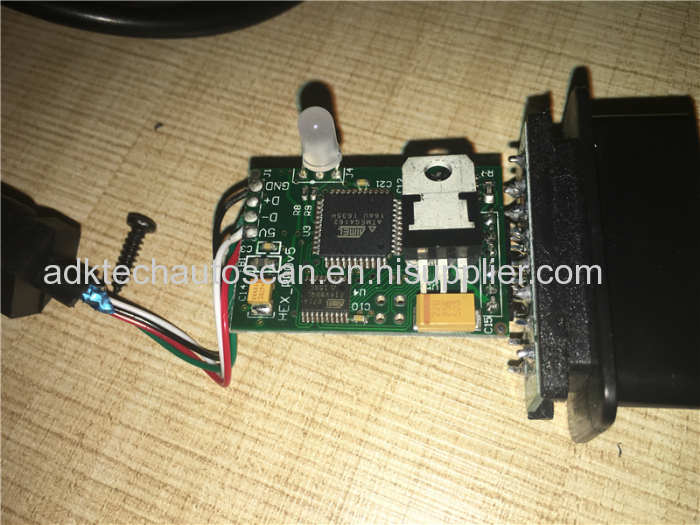 Crakced vcds 16.83 Basic functions:

00 Auto Scan
01 control module unit information
02 read fault codes
03 Output Test
Selective output test (only for KWP-2000 *)
04 Basic settings
05 clear DTCs
06 Close Control Module
07 pairs of coding control module
Slave control module for coding (only for KWP-2000 *)
Read measured value block 08
09-channel read (applies only to KWP-1281 *)
10 matching
11 Log (known under KWP-2000 * Coding II)
15 View Ready
16 security access (only for KWP-2000 *)
18 All supported fault codes (only for KWP-2000 *)
33 Common OBD-II function
... ect

V16.8.3 VCDS Operate Instructions:

- Download the self-installing distribution file available below.
- Run it and follow the prompts to allow it to install itself.
- The installer will prompt you if you wish to see a PDF of installation instructions.
- You must install vag on your PC's hard disk!
It may not work properly if you try running it directly from other media.
However, you can use other media such as a CD or USB memory key to move the distribution file from a PC with internet access to another PC that does not have internet access.
- Connect an appropriate interface between the computer and the
- Turn the car's ignition switch ON. No need to start the
- Start the vag program:
Click [Options] and select the correct communications port.
Use [Test] to confirm that the program can use the port and find the interface.
Then [Save].
Now Play. Make sure the software can reliably access all the control modules that it should in your car.

Release Notes:
1). Release 16.8.3 works with Windows XP, Vista, 7, 8, and 10 (both 32-bit and 64-bit)
Windows 2000 will probably still work, but we no longer consider it supported.
Windows running in a VM (Parallels, Virtual Box, etc) may work but is not supported.
Windows 95, 98, ME, and NT4 definitely will not work.
2). Release 16.8 must be used with a HEX-, KEY-, KII-, or Micro-CAN "high-tech" Interface.
3). It does not work with any third-party interfaces or some of our older "low-tech" interfaces.
4). If you're a registered user and have an older low-tech interface, you should consider our
5). If you're not ready for an interface upgrade, you'll have to use Vag-Lite instead.
6). It is essential NOT to install in the Program Files tree in on systems running Windows Vista or newer.

To remove other old versions:
- Versions prior to Release 704, simply delete the shortcuts from your Start menu and
- Desktop and delete the folder(s) where the program was installed..
- Release 704 and newer may be uninstalled using Windows' Add/Remove Programs or by running the
- uninstall.exe program found in the folder with the version that you wish to remove.

Vagcom 16.8.3 Diagnose Car List:

For Audi A1 (8X) 2010+
For Audi A2 (8Z) 2000 - 2005
For Audi A3/S3 (8L) 1997 - 2003
For Audi A3/S3 & A3 Cabriolet (8P/FM) 2004+
For Audi A3/S3 (8V/FF) 2013+
For Audi A4/S4/RS4 (8D) 1995 - 2001
For Audi A4/S4/RS4/Cabriolet (8E/8H) 2001 - 2008
For Audi A4/S4/RS4 (8K/FL) 2008+
For Audi A5/S5 (8T/FH/FR) 2007+
For Audi A5/S5 Cabriolet (8F) 2010+
For Audi 100/A6/S6 (4A) 1991 - 1997
For Audi A6/S6/RS6/allroad (4B) 1997 - 2006
For Audi A6/S6/RS6/allroad (4F/FB) 2005 - 2011
For Audi A6/S6/RS6/allroad (4G/FC) 2011+
For Audi A7 (4G) 2011+
For Audi A8/S8 (4D) 1994 - 2002
For Audi A8/S8 (4E) 2003 - 2010
For Audi A8/S8 (4H) 2010+
For Audi Q3 (8U/FS) 2012+
For Audi Q5 (8R/FP) 2008+
For Audi Q7 (4L) 2006+
For Audi R8 (42) 2007+
For Audi TT (8N) 1999 - 2007
For Audi TT (8J) 2007+
For Audi Radio/Navigation System
Bentley Continental (3W) 2003+
For Skoda Fabia (6Y) 2000 - 2007
For Skoda Fabia (5J) 2007 - 2010
For Skoda Fabia (5J) 2011+
For Skoda Felicia (6U) 1996 - 2001
For Skoda Octavia I (1U) 1997+
For Skoda Octavia II (1Z) 2005+
For Skoda Pick Up (67) 1996 - 2001
For Skoda Roomster (5J) 2006 - 2010
For Skoda Roomster (5J) 2011+
For Skoda Superb (3U) 2002 - 2008
For Skoda Superb (3T) 2008+
For Skoda Radio/Navigation System
For Seat Alhambra (7M) 1996 - 2010
For Seat Alhambra (71) 2011+
For Seat Altea (5P) 2004+
For Seat Arosa (6H) 1997 - 2004
For Seat Exeo (3R) 2009+
For Seat Ibiza/Cordoba (6K) 1993 - 2002
For Seat Ibiza/Cordoba (6L) 2002+
For Seat Ibiza (6J) 2008+
For Seat Inca (6K) 1996 - 2003
For Seat Leon/Toledo (1M) 2000 - 2006
For Seat Leon (1P) 2006+
For Seat Toledo (1L) 1992 - 1999
For Seat Toledo (5P) 2005+
For Seat Radio/Navigation System
For VW Amarok (2H) 2010+
For VW New Beetle/Cabriolet (1C/1Y/9C/AG/AL) 1998 - 2010
For VW Beetle (5C/AT) 2012+ (North American Region only)
For VW Caddy (9K) 1996 - 2003
For VW Caddy (2K) 2004+
For VW Corrado (50) 1989 - 1995
For VW Crafter (2E) 2006+
For VW Eos (1F) 2006+
For VW Fox/Spacefox/Sportvan/Suran (5Z) 2005+
For VW Gol/Parati/Saveiro (5X) 2000+
For VW Golf/Jetta (19E)|For VW Golf/Jetta II (19E) 1983 - 1992
For VW Golf/Jetta/Vento/Cabriolet III (1H) 1992 - 1998
For VW Golf Cabriolet IV (1E) 1999 - 2002
For VW Golf/Jetta/Bora IV (1J/9M) 1998+
For VW Golf/Golf Plus/Jetta/Bora V (1K/5M) 2004+
For VW Golf/Golf Plus/Jetta Wagon (JSW)/Golf Variant (5K/52/AJ) 2009+
For VW Jetta (1K/AJ) 2010 only
For VW Jetta (16/AJ) 2011+ (North American Region only, GLI excluded)
For VW Jetta (16/AJ) 2011+ (Rest of World, including North American Region GLI)
For VW Golf VII (5G/AU) 2013+ (Rest of World, 2015+ in North America)
For VW LT (2D) 1996+
For VW Lupo (6E/6X) 1999+
For VW Passat (31) 1988 - 1993
For VW Passat (3A) 1994 - 1997
For VW Passat (3B) 1997 - 2005
For VW Passat (3C/AN) 2006 - 2011, and later RoW
For VW Passat CC (35/AN) 2009+
For VW Passat (36) 2011+
For VW Passat (NMS/A3) 2012+ (North American Region only)
For VW Phaeton (3D) 2002+
For VW Polo (6N) 1994 - 2002
For VW Polo (9N) 2002 - 2009
For VW Polo (6R) 2009+
For VW Routan (7B) 2008+
The Routan is a rebadged Dodge Caravan and is NOT supported by either vag or the VW factory scan tools.
For VW Scirocco (13) 2008+
For VW Sharan (7M) 1995 - 2010
For VW Sharan (7N) 2011+
For VW Tiguan (5N/AX) 2007+
For VW Touareg (7L/A9) 2003 - 2010
For VW Touareg (7P/BP) 2010+
For VW Touran (1T) 2003+
For VW Transporter (70) 1991 - 1996
For VW Transporter (7D) 1997 - 2003
For VW Transporter (7H/7J) 2003 - 2009
For VW Transporter (7E/7F) 2010+

VAGCOM 16.8.3 Diagnostic Cable Package List:

1 x Vag 16.8.3 diagnostic cable
1 x CD 16.8.3 Software