Features
1.Locate the wire towards which high or low voltage with alligator clip that can access AC110V or 220V high voltage without burning equipment.
2.No interference completely under any current or external environment when cable hunting.
3. The alligator clip and socket can be used at the same time.
4.The detection range is 0 to 2m deep and cable length 2000m for SCAN.
5.Amplifier probe signal has a light intensity and power light color to remind.
6.The target cable is under the floor slab, the ceiling or in the wall are not affected to be hunted.
7.The transmitting and receiving power can be adjust according to the actual situation.
8.The emitter with large capacity lithium battery,can be used rechargeable.
Technical indexes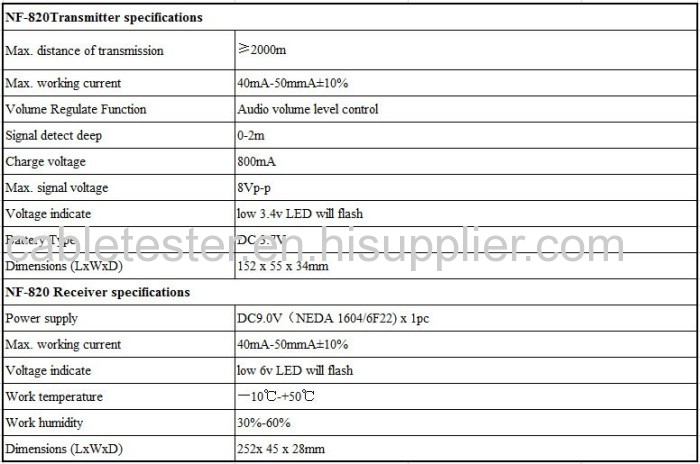 1.Locate the underground cable route and towards.
2.Tone Generator signal strength can be adjusted from 0 to 2 meters.
3.Scan single cable,2 core and multiple core wire.
4.Low battery display.
5.Polarity judgment.
6.The emitter with charging mode.
Package included
Tone Generator x 1pcs
Amplifier probe x 1pcs
5V1A Charger x 1pcs
USB Charger cable x 1pcs
Earphone x 1pcs
Manual x 1pcs
Certificate of approval x 1pcs
Toolkit x 1pcs
Color box x 1pcs
Details Picture