The stator varnishing machine is used for insulation treatment for various motor stator winding, transformer coil etc. The whole process, except for loading and unloading workpiece , is completely automatically. The machine automatically finishes the full procedure of pre-heating, dipping, dropping, colloidization and post curing, etc.
The automatic production guarantees the good and stable quality standard of the workpiece. A. comparing with the traditional varnish way, the production efficiency is much higher. B. the coating is even, there is no unnecessary coating on the workpiece, so it's helpful for saving cost of varnish, work time, labor.
Technical parameter and specification
| | |
| --- | --- |
| Quantity of work positions | 32 |
| varnish depth(mm) | 320 |
| Basket dimension(mm) | 890*350 |
| Pitch time(min) | 1-30adjustable |
| Heating preparation time(min) | ≤45 |
| Working temperature of the dryer(℃) | ≤150℃ |
| Power(KW) | 120 |
| Dimension(M) | 11.08*2.37*2.82 |
| Weight(T) | 4.5 |
Operation
1. At first, the pitch time, dipping time must be set in screen.
2.Turn on the power, check the three-phase indicator, which should shows 380V.
3. Press START button to start the fan motor of heating air cycling, indicator should be on.
4.Switch on all heating switch for each heating zone, indicator should be on. The heater begins to work. And regulate the temperatures for each zone.
5. Switch on the exhaust motor, indicator should be on.
6. Switch on the varnish pump, indicator should be on. The varnish is pumped from the varnish container to the varnish tank in cycling condition.
7. Before stopping the machine, switch off the power of the heater firstly. 10 minutes later, then stop the heating air cycling fan motor. Finally press STOP button after all waste gas is exhausted.
Stators suitable for this machine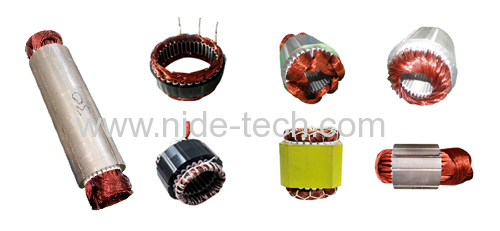 Machine diagram