pvc pipe making machine
pvc pipe making machine process flow:
PVC powder + additive → mixing → spring feeding → twin screw extruder → mould and calibrator → vacuum forming machine → haul off machine → cutting machine → discharging rack
The System configuration of PVC pipe making machine:
1.screw feeding machine
2.mixing unit
3.spring feeding machine
4.twin screw extruder
5.pipe moulds
6.vacuum calibration tank
7.hauling off machine
8.cutting machine
9.pipe stacker
pvc pipe making mahcine technical parameter
Parameter

PVC-63

PVC-160

PVC-250

PVC-315

PVC-450

PVC-630

Pipe specification(mm)

Φ16-Φ63

Φ75-Φ160

Φ125-Φ250

Φ180-Φ315

Φ200-Φ450

Φ355-Φ630

Vacuum forming length(mm)

4000

5000

5000

6000

6000

6000

Degree of vacuum(Mpa)

-0.03~0.08

Max hauling force(N)

10000

15000

20000

25000

30000

50000

Hauling speed (m/min/max)

10

6

4

3

2

1.4

Effective hauling length(mm)

1000

1500

1500

1500

1800

1600

Air consumption(m3/h)

0.4

0.6

1

1.2

1.5

2

Water consumption(m3/h)

5

6

7

8

9

12

Line length(m)

20

22

30

30

36

42
Outstanding features of PVC Pipe Making Machine:
extruder: adopting conical twin-screw extruder, unique designed screw, realizing shorting plasticizing time, good compounding and excellent plasticization.

gearbox: adopting super quality gear box and reducer, with nice outline, stable running, low noise and long service time.

extruding barrel temperature controlling system: adopting cast aluminum heaters with stainless steel covers, wind cooling system, ensuring good features of cooling and heating, precision temperature controlling.

screw and barrel: screw-core installing with internal temperature controlling system, barrel equipped with vacuum degassing system, can get rid of the waste gas from the raw material which can guarantee super quality of the products.

driving system: adopting A.C motor, using FUJI or ABB inverters which provide stable torque output and various speed.

vacuum calibrating tank: with two vacuum chambers which can make sure the perfect roundness of the pipe, spraying water cooling, equipped with temperature controller, realizing automatic discharging the water, the main body of the tank make of stainless steel, long service time.

haul-off machines: 2 laws, 3 claws, 4 claws, 6 claws and 8 claws are provided to manufacture various pipes, haul-off speed governed by the FUJI or ABB inverter.

cutting unit: saw cutting and planet saw cutting, with dust collection system.

staking unit: automatic overturning system, can freely fix the length of the pipe.

controlling system: manual controlling cabinet or SIEMENS PLC touch screen controlling

Noting:

Please feel free to contact us for more information. Additionally, it is worth noting that, it will be more advantageous if you told the diameter and more details of the pipes you are going to produce when sending your messages.

Main Applications:

1. Water supply and drainage pipe lines in building;

2. Rainwater drainage pipelines in building;

3. Electrical wiring pipe in building;

4. Air conditioning condensate water systems.
more reference picture of pvc pipe making machine:
haul-off used to guarantee enough force for the processing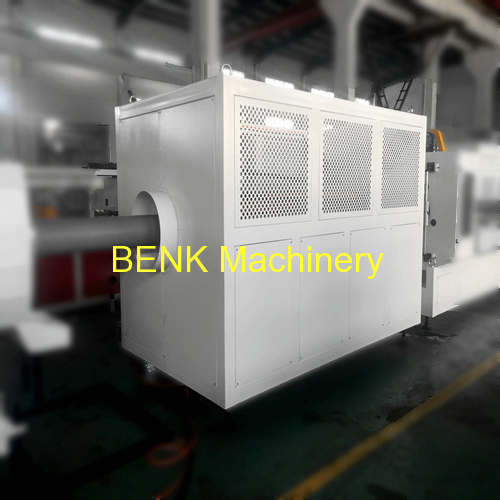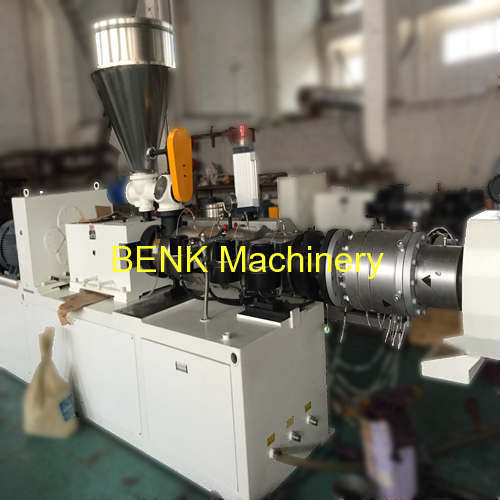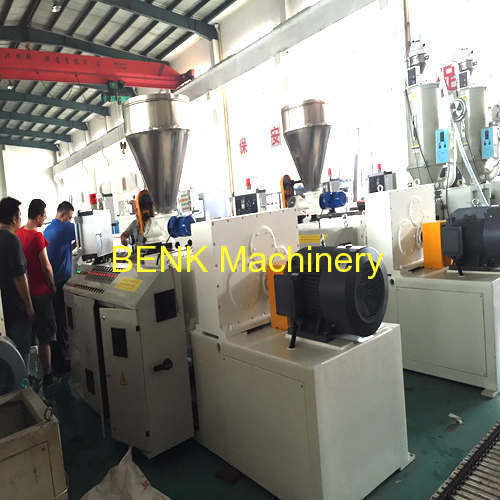 2. pvc pipe making machine after-sales service
2.1 Technical documents
All the symbols on the equipments should be in English. Seller is responsible to provide general layout plan, electric plan, installation direction, and manual book in English to Buyer on time.
2.2. Arrangement for inspection, installation and testing work
a. After all machines are delivered to customer's factory; Buyer is responsible for all preparation work, e.g. electricity supply, water supply, labors and cranes, etc.
b. BENK will prepare for visa application for their engineers, who are responsible for guide of machine installation and testing at the Buyer's factory.
c. The Buyer will buy the round-trip air ticket for Engineer if visa application is approved. The buyer is also responsible to bear expenses generated, e.g. visa formalities, meals, accommodation and allowance of USD80 per day for each engineer.
d. Engineer will give free training lessons to labors in buyer's factory.
e. If buyer doesn't request installation and commissioning by Seller's engineer in 4 months since date of bill of lading, which to be accounted all the machines has been successfully tested by buyer.
2.3. Quantity and quality guarantee
a. Quantity/Quality Discrepancy to destination port during transportation:
In case of quality/quantity discrepancy to destination port in transportation, customer should file claim within 30 days after the arrival of the goods at port of destination. Insurance company and shipping company will be responsible for any discrepancy of the goods caused by shipping company and other transportation organization and/or post office.
b. Guarantee period and after-sales services: 13 months since date of bill of lading
During this guarantee period, BENK will provide spare parts without any charge in case of quality discrepancy caused by us. If the malfunctions are caused by your incorrect operations, BENK will provide the buyer spare parts at cost price.
c. Long-term service:
BENK will charge the buyer cost price of spare parts beyond one year and provide long-term technical guide.
We thank you for your inquiry and would be pleased to receive your order soon.
ZHANGJIAGANG CITY BENK MACHINERY CO., LTD.