Ceramic Plate Ozone Generator 7GRH Air Ozoniser, Air Ozonaor, Ozone Sterilizer, Ozone Disinfector Parts + Free Shipping
Specification:
| | |
| --- | --- |
| Power Supply Size | 138*55*48mm(L*W*H) |
| Ceramic Plate Size | 90*50*1.5mm(L*W*H) |
| Ozone Output | 7g/h |
| Input Voltage | DC12V/DC24V/AC220V/110V±10% |
| High Voltage | 3.1kv-3.5kv |
| Power Consumption | 80W |
| Gas Feeding | Dry Air or Oxygen |
| Ozone Generating Method | Corona Discharge |
| Cooling Method | Ambient Air Cooling |
| Warranty | One Year |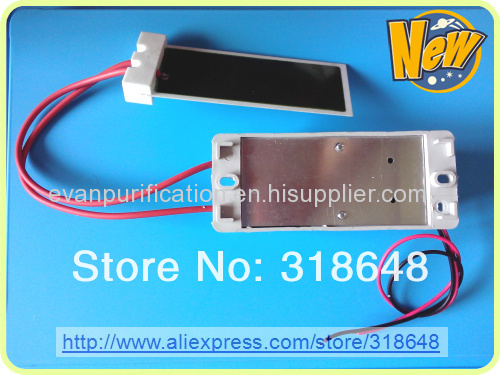 Working Principle:
Take advantage of high voltage, use dry air or oxygen in the air as raw material to produce O3.
Product Description:
Ceramic Plate Ozone Generatorfor Air Purifier is a good unit for air treatment ozone machines. Welcome to contact us ANY TIME by TradeManager (ID: CN1000710471)
Features:
• Portable, easy for professional DIY use.
• Low power consumption
• One year warranty
• Safe, quiet and efficient.
Application:
• Dryer
• Dishwasher
• Refrigerator
• Electronic shoe cabinet
• Air purifier
• Eliminates odors
• Freshens stale air
• Destroys airborne microbes
Two plates available for you to choose. pls leave us a message on which plate you prefer.
The white plate can generate a good amount of ozone quickly.
While the blue plate can work under a certain wet place.
White plate: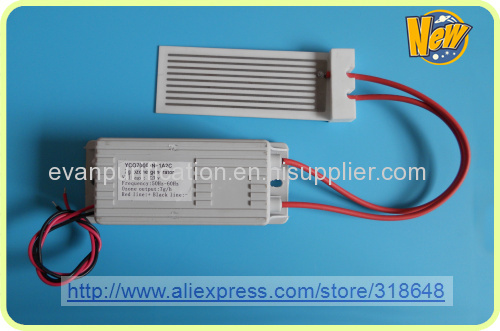 Blue Plate: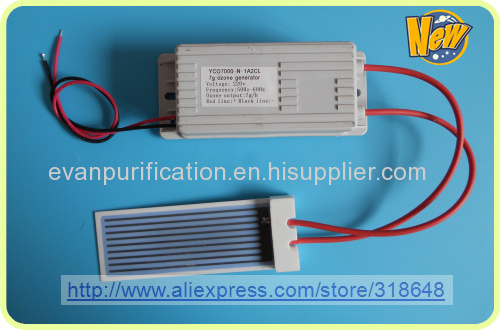 Attention:
When using this ozone generator, better to use an electrical fan. and strictly forbid people working in the room
with ozone in high concentration. The output high voltage is dangerous. you are strictly forbidden to touch it in
any way when it is working.