PFS Impulse Sealer
impulse sealer,Impulse Heat Sealer,heat sealer,heat sealers,impulse sealer with cutter,heat sealer with cutter
ChinaCoal02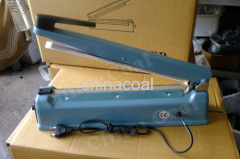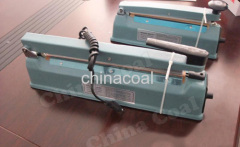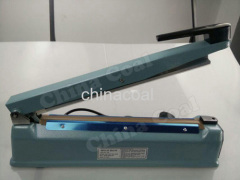 PFS Impulse Sealer Introduction

The PFS impulse sealer is easy to be operated and suitable to seal various kinds of plastic films, with the heating time adjustable. It starts working just by turning on the power supply. An impulse sealer is used to close the open edge of a bag before heat shrinking the bag.
This simple process has just a few steps:
(1) place item in bag,
(2) use sealer to make a new seam so contents are completely encased,
(3) use heat gun to shrink bag.
It's impulse type. Machine only uses power and gets hot when seal arm is depressed to seal a bag. Cools immediately after sealing.

PFS Impulse Sealer Features:

Simple to use- Impulse Sealing System - Seals Uniformly - Every Time
Solid state timer adjustable from .3 to 1.2 seconds for sealing bags of various thickness. (Max 6 Mil for PE, max 4 Mil for PP).
Die-Cast construction No Warm-up time necessary Timer for Sealing Control Protection Fuse
8 inch (20 cm) sealing length 0.12 inch wide sealing
Voltage: 220V-240V / 50HzPower: 300W
Power: 300WPlug type: European 2 prongs plug.
This 8" Impulse heat sealer provides a sturdy, airtight, watertight seal for polyethylene (PE) and polypropylene (PP) bags and other materials (shrink film, saran, etc.) NOT recommended for use on cellophane, foil, metal, mylar, etc.
Package Included: 1 Plastic Bag Sealer
Extra Spare Parts Included 1 Sealing Element and 1 Teflon Sheet
PFS Impulse Sealer Main Parameter
Model


PFS-100


PFS-200


PFS-300


PFS-400


voltage


AC220V 50HZ 110V 60HZ


Impulse power


180W


330W


430W


600W


Sealing length


100MM


200MM


300MM


400MM


Max. seal thickness


0.2MM


0.3MM


Heat time


0.2-1.3 SEC


Machine size


220*72*140MM


320*80*150MM


450*85*180MM


550*85*180MM


Machine weight


1.8KG


2.8KG


4.5KG


5.2KG