DXDJ-40II/150II Automatic pouch Sealing And Filling Packaging Machine
automatic packing machine, pouch sealing machine, pouch filling machine
China Coal02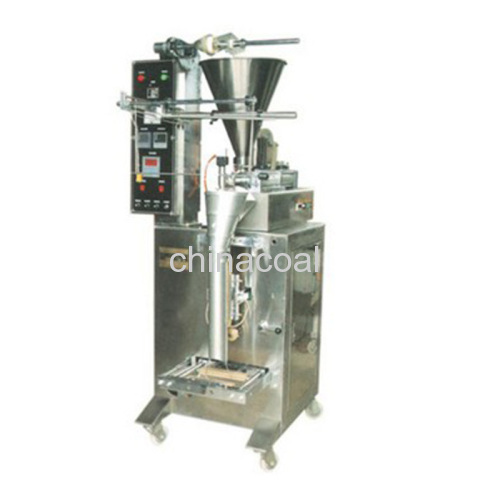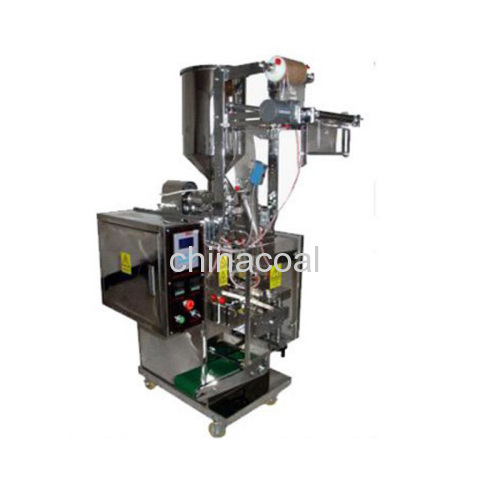 DXDJ-40II/150II Automatic pouch Sealing And Filling Packaging Machine Introduction
I,Applications:
It is suitable for automatically packaging of good free-flowing products such as shampoo,honey,water,vinegar,alcohol,and so on. The processes of bag making measuring, filling, sealing,
counting and hot pressing codes can be done automatically Packing material include several kinds of heat-seal lamination, such as PET/plated AL/PE,PET/PE,NYLON etc.
Ⅱ,Features:
1. All stainless steel cover meets to GMP standard.
2. Equipped with antipollution and dustproof device.
3. Automatic adjustment of pouch size and filling range.
4. Photocell controller is easy to manipulate.
5. The horizonal sealing uses high temperature resistant bearing which will ensure the continuous operation of the machine without filling
the oil regularly.
6. The operation facility is controlled by American intel computer, all function is displayed with digital screen.
7. Minimum sealing temperature variation employs PID temperature, the tolerance is controlled by
± 2%.
8. Along with assembling automatic no packing alarm system, help user to economize cost.
9. Equipped with easy open system.
10. Equipped with advanced feeding device,the filling range can be adjusted by the computer, there is no need to adjust the pump,which
make the operation very easy.
11.The back absorption function is controlled by the computer,it is very easy to operate.
12. Sealing part: roller spend process is special designed and the effect of sealing is very well
13. have gained the European CE certification
Ⅲ,Option
1.Ink printer
2. Mixer
DXDJ-40II/150II Automatic pouch Sealing And Filling Packaging Machine Parameter
| | | |
| --- | --- | --- |
| TYPE | DXDJ-40II | DXDJ-40II |
| Bag size | L55-110 /W30-80mm | L70-150 /W70-115mm |
| Capacity | 40-80 bags/min | 28-80 bags/min |
| Filling range | 5-40 ml | 30-150 ml |
| Power | 220V,50HZ,1.5KW | 220V,50HZ,1.9KW |
| Weight | 350 KGS | 350 KGS |
| Dimension(L*W*H) | 600X 790X1780 mm | 700X 800X1900 mm |