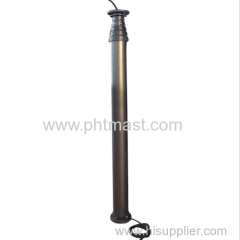 Item #: CCTV-70406090-2

9m CCTV Mast, non-locking collar design, automatic extending and retracting, free standing, free maintenance, anti rotation, 5 years guarantee.
Designed for UK client for mobile CCTV. This mast have 2.06m retracted height, can installed inside of a Van vehicle. Internally wired CCTV cables 1x CAT6 cables and 2x 1.5mm cables for camera and power even lights. Mast come with 6 sections, section diameter from 66mm to 160mm, mast net weight 65kg approx. This mast we use the highest air tightness design, every mast is made testing with payloads, and keep extended height more than 7 days without additional air supply in.
This CCTV mast model was listed as standard model, you can order them directly. default accessories include one top flange, one bottom flange, one air hose pipe. we also supply side mounting, top roof mounting bracket, electric air compressor in DC or AC, air control unit.
9m CCTV pneumatic telescopic mast
Item #: CCTV-70406090-2
1> Internal cable: 1xCAT6 + 2x1.5 mm cables
2> Maximum Working Pressure: 0.2Mpa
3> Maximum Head Loads: 50kg
4> Retracted Height: 2060mm
5> Extended Height: 9000mm
6> Number of Sections: 6
7> Section Dia. 66mm~160mm
8> Materials: Aluminum Alloy 6063/T5
9> Mast weight: 65kg approx.
10> Accessories: 1x top flange, 1x bottom flange, 1x air hose pipe
11> Packing: one unit per packing box, 241cmL x 36cmW x 43cmH, 90kg in gross weight
12> Optional accessories: electric air compressor, air control manual, side mounting brackets