Principle
Provide the best solution to move raw materials from classless/low class clean areas to class A/B
areas, fully meeting the control requirements of GMP-2010 on sterile manufacturing environment.

The sterile pass box is used for biological decontamination on the surface of raw materials to
avoid materials carrying contamination from classless/low class clean areas to class A/B areas. It
is used to pass various clean and dry goods in sterile production, such as packaging materials,
instrument, raw material packaging, accessories, and environmental monitoring equipment.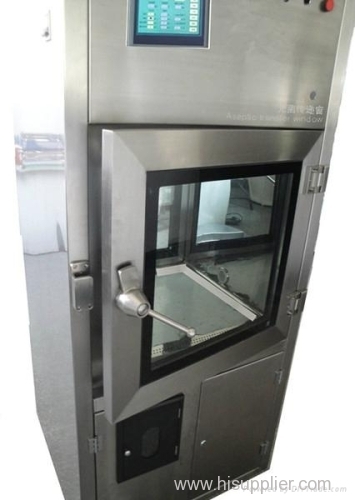 Product Dimensions
Model 1500: overall dimensions (L×W×H): 1795×1200×1800mm
Chamber size (L×W×H): 1100×1100×1200mm
Model 600: overall dimensions (L×W×H): 1495×900×1600mm
Chamber size (L×W×H): 800×800×1000mm
Model 125: overall dimensions (L×W×H): 1000×880×1790mm
Chamber size (L×W×H): 500×700×500mm
Note: Other sizes can be customized.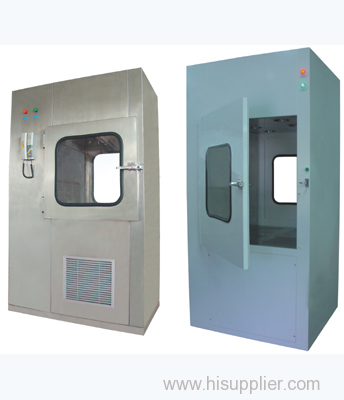 Features:
The sterile pass box uses vaporized hydrogen peroxide (VHP) as the biological detergent to
effectively kill fungi, bacteria propagules and spores, viruses, mycoplasmas and other microorganisms.VHPS is a decontamination process under low temperature and atmospheric pressure, featuring broad
spectrum, high efficiency and environmental protection;
The running of sterile pass box is controlled by SIEMENS programmable logic controller
(PLC)automatically, and the system is stable and reliable;
In biological decontamination and exhaust phase, the air sent into the cabin is filtered by H14 HEPA filter to prevent materials from contamination;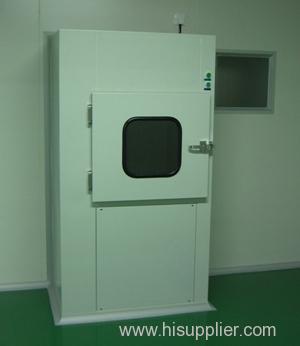 The sterile pass box has independent ventilation and exhaust unit, including fan, pneumatic
butterfly valve and exhaust pipe, which can quickly replace the hydrogen peroxide gas in the cabin
and avoid it entering HVAC system; material inlet/outlet is of double-door structure with pneumatic sealing, pneumatic locking and two-door interlock in operating state;
The inner wall is polished, and the welding and the fillet meet GMP requirements;
The sterile pass box has a trolley-type bracket with a track system to facilitate material
handling.The system monitors the temperature, relative humidity and pressure in the pass box in real
time. Testing ports of hydrogen peroxide concentration, dust particles and planktonic bacteria are
optional;
The sterile pass box features easy verification and good reproducibility, with complete IQ,
OQ and PQ files, and on-site verification.