Difference for Vegetables vacuum cooling and cold room cooling
Fresh vegetables after harvest still is life alive, will continue a series of physiological changes,.Some vegetables after harvest unique flavor and texture will be more apparent,on the color, flavor and nutrients are more suitable for people's needs, this process is called ripening stages (such as the past, we can see that bananas are picked green in the south, and transported to the north is almost ripe bananas), followed by fruits and vegetables gradually began to lose their color, flavor and nutrients as well as softening, disintegration, this is the stage of aging.
Vacuum cooling is in a low pressure environment, so a part of the water evaporation away food latent heat of vaporization, so that the remaining portion of the food to cool.
After harvest, fresh fruits and vegetables'main factors are temperature, humidity, atmospheric gases, packaging and mechanical damage, these factors can cause weight "loss", body atrophy, color, luster faded ....Generally speaking, after harvest breathing form of vegetables is divided into two: the climacteric and non-climacteric, the former at maturity respiration rate reached a peak ,at this time of fruit flavor quality is the best, then decreased respiration rate, fruit followed by aging (ethylene will lead climacteric respiratory peak ahead of the arrival of fruit, promote early maturity, senescence),Such as apples, bananas, peaches, mango and so is this category.In Case berries, fresh blackberries, blueberries and strawberries, are highly perishable crops, they need to pre-cooled immediately after harvest, to prevent the rapid decline in quality. At relatively high temperature, it will soften and rot within four hours. If they pre-cooling process, the shelf life can be extended to ten days, or even longer.
After harvest fresh fruits and vegetables with a large number of field heat, there are strong hot breath.Usually within a certain temperature range, each additional 10 ℃ respiration rate will increase by 1 to 1.5 times or more.Respiratory greater the intensity, the greater the consumption of materials, storage life is shorter.Heat generated by respiration crops will accelerate its maturity and even corruption, appear unwilling to see the shape, color and soften the tissue changes, breathing heat can also cause changes in metabolism, affecting product taste and nutrition.In the range of 30 ℃ ~ 60 ℃, fungi, bacteria and various microorganisms multiply is the most productive.Fresh fruits and vegetables are generally weighing sales, then the water loss caused by weight loss also further reduce the economic value of the product.
Precooling and conventional cooling concept is different."Pre-cool" it refers to the food from the initial temperature (about 30 ℃) rapidly to the desired final temperature (0 ~ 15 ℃) process, before refrigeration, modified atmosphere and quick freezing rapid cooling process is called pre-cooling, a common vacuum cooling, pre-cooling water, ice water pre-cooling and so on.Pre-cooling "is a very effective method that rapid elimination of field heat and the hot breath of fresh fruits and vegetables after harvest, so that fresh vegetables physiological activity slowing, inhibiting fungi and other microorganisms multiply or itself overgrowth (such as asparagus overgrowth will bent, broccoli will bloom) and reduce its moisture loss (weight loss) and a variety of circulation losses, enabling consumers to obtain a high degree of fresh and clean fruits and vegetables. among them, vacuum cooling is currently the world one of the most advanced preservation technology
The basic principle of vacuum cooling: at normal atmospheric pressure, the water was evaporated at 100 deg.] C, and atmospheric pressure is 610Pa, the water will evaporate at 0 ℃, because the boiling point of water with the decrease of the atmospheric pressure decreases, which as in the high people latitudes are not able to find water to boil 100 ℃, but the following 100 ℃. Boiling water evaporates quickly, it rapidly absorbs heat.Fresh fruits and vegetables placed in a closed container, out of the air quickly, as the pressure continues to decrease, vegetable surface' water begins to evaporate, the evaporation latent heat of vaporization taken away, so that fruits and vegetables down to a low temperature, it is sometimes also called evaporative pre-cooling.
Vacuum cooling for a large surface area of leafy vegetable effect is particularly significant, such as lettuce, lettuce and spinach. High moisture permeability products, such as corn and cauliflower can also be used in this way, because of their loose structure, water evaporation is more rapid. Vacuum cooling water loss is generally about 3-5%, it will not affect the appearance of the cause of "malaise", softening, no freshness and so on.As vacuum cooling, the pressure difference of vegetable organization between inside and outside, harmful gases and heat within the organization also will be "withdrawn",any other method of cooling is from the outer surface to the internal organization slowly "penetration" , and cooling under vacuum, the cooling from the inside to the outer surface of the tissue at the same time, which is unique to vacuum cooling, so long preservation time . Vacuum cooling method compared with other cooling methods, has the following characteristics:
1. Cooling speed: 20-30 minutes to reach required temperature of refrigeration preservation .
2. Uniform cooling: the product surface free of water vapor takes away their own heat to achieve cooling goal, and realizes uniformly cooling from the inside to out.
3. Clean and health: Under a vacuum environment, can be bactericidal or inhibit bacterial growth, prevent cross-contamination.
4. The thin-layer drying effect: the preservation of epidermal damage or inhibit expansion and other effects.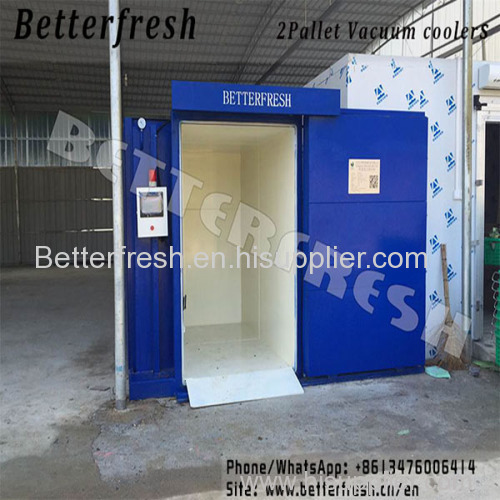 5. Without limitation Packing: as long as the packaging has holes, items can be uniformly cooled.
6. Highly freshness: can protect the original food color, smell, taste, extend shelf life.
7. The highly automation: Through pressure sensors to control the refrigeration system and vacuum system pressure, is convenient to adjust the vacuum degree of vacuum cooling machine, remote control for easy monitoring equipment operation and resolving equipment failures.
8. highly accurate: with precision digital display temperature and humidity control, precisely control the degree of vacuum and humidity.
9. Security and Stability: electrical part is the use of well-known brand products, ensure that the machine is stable and long life, safe operation.