New postpartum therapy disposable electrode
Producttion Introduction
It is mainly used for the treatment of women's breast, ovary, uterus, pelvic floor, vaginal and body shape according to postpartum physical changes.

We are seeking global co-operation agents for our products.
1. Scope of application
Cure the diseases of women after birth baby and improve her health.
1. Pelvic Inflammation, 2. Galactagogue Routine Therapy,
3. Urinary Retention, 4. Hypogalactia,
5. Postpartum Recovery, 6. Mammary Ducts Impatency,
7. Recovery of Shape, 8. Lobular Hyperplasia,
9. Postoperative Pain Relief, 10. Involution of Uterus .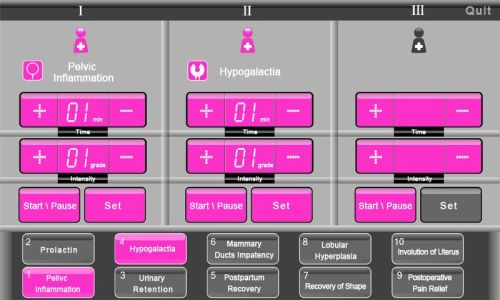 Medical projects
A. Galactagogue Conventional Therapy
Adoption of the breast electrodes inside the breast to produce mechanical Vibration and rotational motion , Substitute to produce baby sucking the nipple effect , is the baby sucking its strength 5-10 times , while endocrine regulation , improve local blood circulation, promote maternal body pituitary Secretion of prolactin and oxytocin , to make Breastfeeding up in advance , reducing pain during breastfeeding .
1. 8-10 hours milk secretion in advance , increased Secretion quantity.
2.Dredge breast duct ; breast milk reduce siltation ; caesarean effect is more pronounced.
3.Activation of breast involution , reduce the risk of breast disease , breast firm,reduce the breast droop.
B. Postpartum , Postoperative Urinary Retention Treatment
Due to changes in psychological , anesthesia , pain and postural factors it is easy to form urinary retention; This instrument can cause lumbosacral pelvic muscles and fascia produce regular contraction movement, led the bladder muscle rhythmic movement , the lifting of the bladder muscle paralysis , improve local blood circulation , relieve congestion and edema of the bladder , the bladder contraction promote rehabilitation , restoration of spontaneous urination.
C. Treatment of Uterine Involution
1.Adoption of the act on the maternal abdomen electrode sacral ; promote pelvic muscle contraction ; fascia tension increased ; uterine ligament exercise; eliminate pelvic congestion ; reduce postpartum hemorrhage; promote lochia discharge ; accelerate uterine involution .
2.Promote bowel movements , improve local blood circulation, adjust the visceral autonomic nervous system, promote intestinal exhaust , defecation, promote uterine contractions, the bottom of the uterus drops , alleviate postpartum fatigue, relieve back pain, fart time averaging advance 10-20 hours,return to normal diet to ensure adequate nutrition for pregnant women , physical and quick recovery , prevent Intestinal adhesions and postpartum constipation .To the pelvic organ recovery and mitigate postpartum perineal swelling, surgery pain and postpartum hemorrhoids have a certain effect .
D. Postoperative analgesia and postoperative recovery treatment
1.Surgical analgesic: Instrument controlled by microcomputer surgery irritation sacral skin surface , interference perineal nerve transmission , so that transmission blocking pain , pain is suppressed.
2.Postoperative recovery : by the microcomputer control equipment , so that pelvic floor tissue contraction , thereby stimulating uterine ligament campaign to promote uterine contraction, strengthen capillaries , improve local blood circulation .
we are seeking global co-operation agents for our products.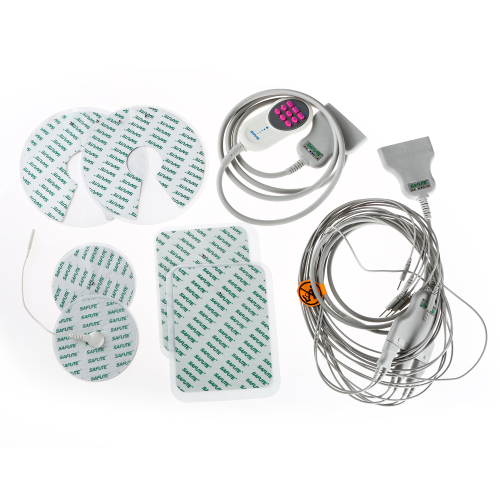 Main Technology :
(1)Gate control theory
1960s, the gate control theory is proposed by Melzack and Wall , it aim at the adjustment and control of spinal. Spinal dorsal horn fringe and glial cell area (SG) neurons plays a key role in the gate.
The special low frequency pulse will work on the lumbosacral spinal dorsal horn fringe and glial cell, then it will be excited and close the gate of spinal nerve pain, so that pain information will diffuse to the horizontal direction.
(2) Humoral mechanism
Continued low frequency pulse wave will stimulate the central nervous system of pregnant women, so her body will release the endogenous morphine-like substances that can inhibit the sympathetic nerve activity and response to pain, then excite her own pain control system, and reduce the pain.
They are used with our devices in the hospitals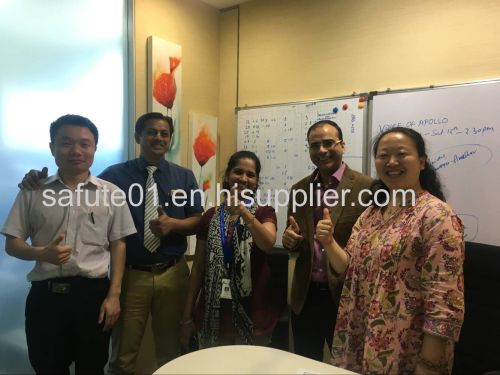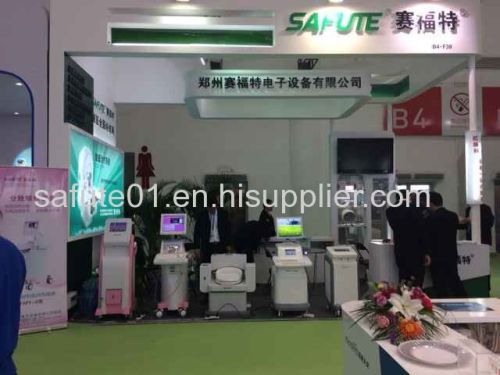 Contact Person : Ms. Flora

Zhengzhou Safute Electronic Equipment Co., Ltd
Add: No.8, Guohuai Str, High & New Technology Industries
Development Zone, Zhengzhou, Henan, China.
Skype: flora20801