PVC ROOF TILE MAKING MACHINE
1. Product Description for PVC Roof Tile Making Machine
This PVC+ASA synthetic resin tile extrusion machine adopts the advanced foreign technology, and designed for corrosion resistance of plant and heavy rain area, it's a new generation of permanent roofing materials.
This line adopts a processing two layer co-extrusion technology, each layer has different functions. Surface materials: weather ability resin to keep the durability and resistance to chemical corrosion of products.
Underlying material: white ductile materials, to enhance the sense of space and brightness of house.
The two different materials give the each features of product: smooth face and getting together well. The new PVC anticorrosive composite wave tile solves the problems of durability, corrosion resistance, small rigid, the sense of space and aesthetic.
Main technical paramater of PVC Roof tile Making Machine
| | |
| --- | --- |
| main extruder | SJZ80/156 conical double screw + SJ65/33 single screw extruder |
| capacity | 400KG |
| installtion power | 145KW |
| instalaltion size | 26*4*3M |
| Main motor | SIEMENS motor |
| inverter | ABB |
Machine List of PVC Roof Tile Making Machine
| | | |
| --- | --- | --- |
| No. | Machine | Quantity |
| 1 | Screw loader | 1 set |
| 2 | SJZ80/156 conical twin-screw extruder | 1 set |
| 3 | SJ65/33 single screw co-extruder | 1 set |
| 4 | Extrusion mould and flow distributor | 1 set |
| 5 | Embossing roller | 1 set |
| 6 | Side cutter | 1 set |
| 7 | Glazed-tile forming machine | 1 set |
| 8 | Cutter | 1 set |
| 9 | Stacker | 1 set |
| 10 | Mold for tile top, ide ridge tile, three way tile, ridge tile end | 1 unit |
2. machine reference pictures for PVC Roof Tile Making Machine
2.1 Extruder for PVC Roof Tile Making Machine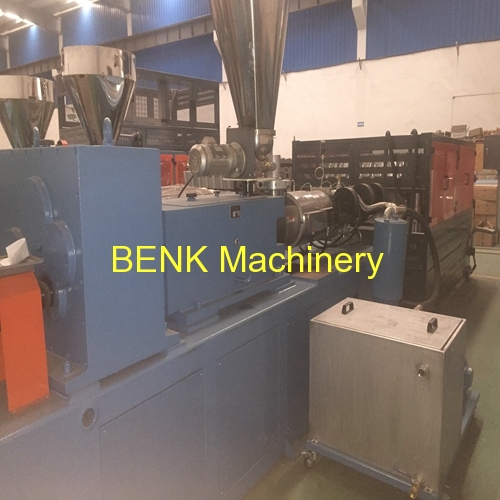 2.2 Haul-off and forming mould for PVC Roof Tile Making Machine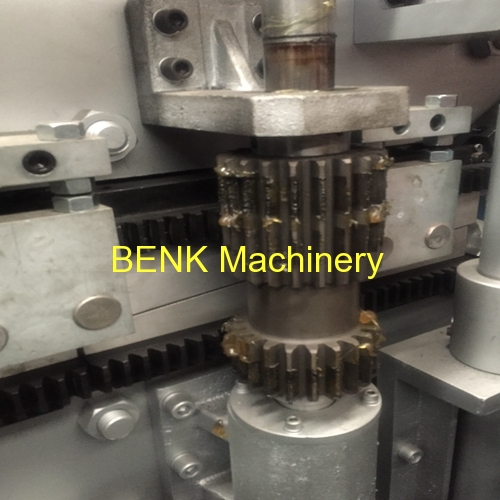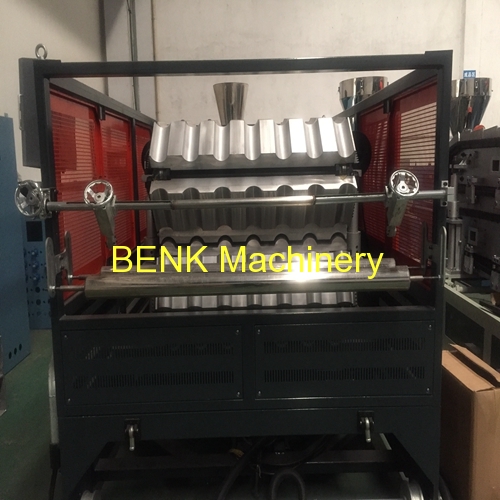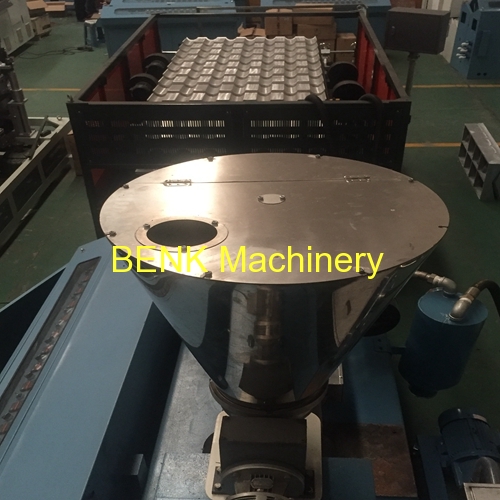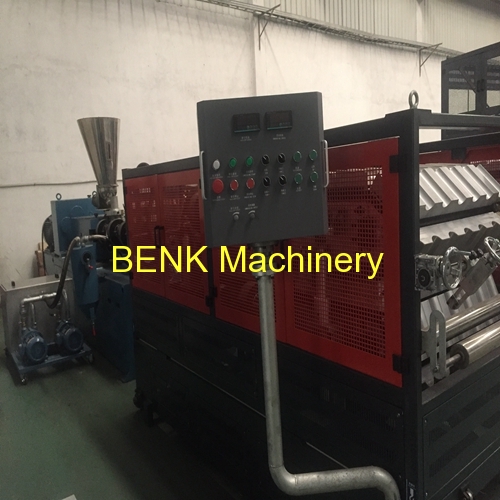 3. BENK'S Service for PVC Roof Tile Making Machine

3.1 Technical documents
All the symbols on the equipments should be in English. Seller is responsible to provide general layout plan, electric plan, installation direction, and manual book in English to Buyer on time.
3.2. Arrangement for inspection, installation and testing work
a. After all machines are delivered to customer's factory; Buyer is responsible for all preparation work, e.g. electricity supply, water supply, labors and cranes, etc.
b. BENK will prepare for visa application for their engineers, who are responsible for guide of machine installation and testing at the Buyer's factory.
c. The Buyer will buy the round-trip air ticket for Engineer.
d. Engineer will give free training lessons to labors in buyer's factory.
e. If buyer doesn't request installation and commissioning by Seller's engineer in 4 months since date of bill of lading, which to be accounted all the machines has been successfully tested by buyer.
3.3. Quantity and quality guarantee
a. Quantity/Quality Discrepancy to destination port during transportation:
In case of quality/quantity discrepancy to destination port in transportation, customer should file claim within 30 days after the arrival of the goods at port of destination. Insurance company and shipping company will be responsible for any discrepancy of the goods caused by shipping company and other transportation organization and/or post office.
b. Guarantee period and after-sales services: 13 months since date of bill of lading
During this guarantee period, BENK will provide spare parts without any charge in case of quality discrepancy caused by us. If the malfunctions are caused by your incorrect operations, BENK will provide the buyer spare parts at cost price.
c. Long-term service:
BENK will charge the buyer cost price of spare parts beyond one year and provide long-term technical guide.
Want more information for our PVC Roof Tile Making Machine, please feel free caontact us!