Established in 2000, Chengdu Hurricane Speed & Performance Auto Parts Co., Ltd. have grown to be a professional enterprise in performance auto parts. We believe that focus on the quality and customer needs can be successful. Now our main products: connecting rod, has grown to be a professional product. All Hurricane connecting rods are Computer Controlled Numeric(CNC) machined and shot peened, material:4340 steel, 40CrNiMo(US) or EN24(EU)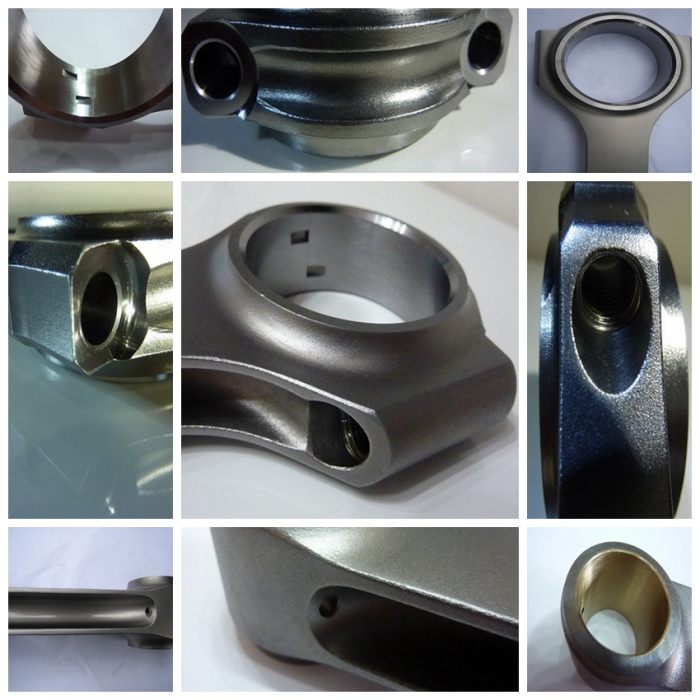 1.Smooth finish of BE BORE surface .it`s precision is within 0.01mm after honing. It is even used to be your mirror.
2.Big end surface effect. the surface is very smooth , the R part is mellow and full.It is hard to see the tool vestige.
3.shot-peening effect. we are strict to select steel shot. We only use the cleanest shot which has the most suitable size. The result is our rods`surface is very bright and smooth.
4.Bolt seat.you can see the roof `s arch is mellow and full. Only CNC can reach this degree.
5. The bolt hole and thread are made by CNC and Precise cutting-tool.You can't find any tool vestige even on the bolt hole surface.
6.Big end arch part surface is also very smooth and we make the shoulder into arc shaped.
7.H –beam effect. as a result of twice maching by CNC, it is very smooth. Next picture may help you get a close impression of the H-beam.
8.Pin end arch part surface is very smooth, it is hard to see the tool vestige.
9.Cooper bush of the pin end. It is smooth and beautiful.
10.generally,2.5mm-3mm diameter oil hole on the pin end.