COLO-668T-06C powder spray gun for laboratory testing
Thiscup powder caoting equipment Designed for small sample testing orpowder manufacturers, the Cup Unit incorporates the application cup tothe gun. The cup is self-fluidizing and is easy to clean, making colorchanges fast and easy.
(colo-668 series,pulse and intelligent manual operation type)
Typical characteristics:
1. Save powder by 20% compare to common Electrostatic Coating ,for the average thickness is 60 μm compare to 70 μm of the latter.
2. Can charge the powder continuously to coat well object's deepest corner.
3. Charge the powder with low current and high voltage.
4. Reduce orange peel effect significantly compare to common Electrostatic Coating.
5. work wellwith powder spray booth, powder coating oven to formthe whole powder coatingequipment.
6.used broadly in steel coating, aluminum coating ,metal powder coating, epoxy powder coating,polyester powder coatingandbicycle powder coating ,and so on.
7,Controlunithas one-touch intelligent operation button good for flat parts,complicated parts and recoat parts.Easy to operate.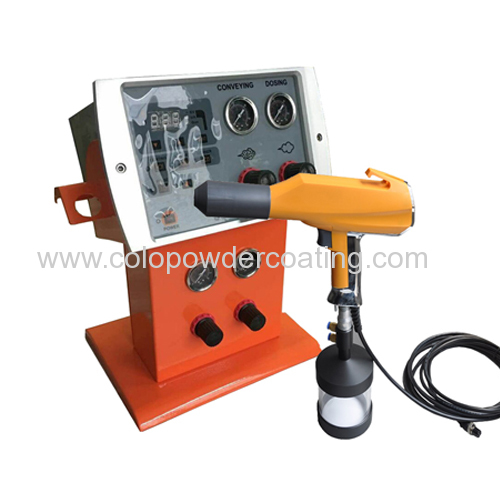 the same type of product
COLO-668T-H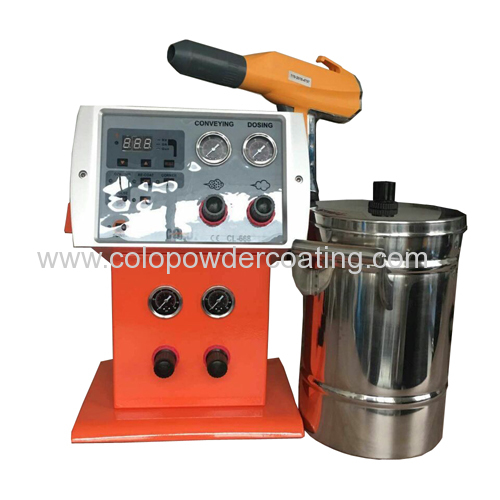 small production coating type (With a 10L powder hopper)
COLO-668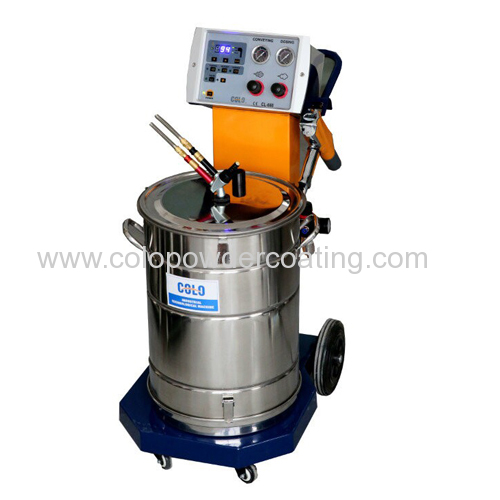 manual type take with a trolly and detachable powder hopper (52L)
Technical Data
Power range 110V/220v
Frequency 60HZ/50HZ
Temperature range in use -10 °C+50 °C
Powder Gun
Gun weight: 500G
Rated output voltage 24VDC
Maximum output current 180Ua(max)
Maximum output voltage 0-100KV (adjustable)
Maximum powder injection 600g/min
Polarity negative (-)
Pneumatic technical spec
Maximum input-air pressure 8kg/cm
Optimum input-air pressure 6kg/cm
Minimum input-air pressure 4kg/cm
Maximum water vapor content or compressed air 1.4g/N m3
Maximum oil vapor content of compressed air 0.1ppm
Maximum cimpressed-air consumption 13.2 m3/h
TPulse coating 15~20 clock/sec
Theprocess of the coating is like this: The powder is fluidized in thepowder hopper. The injectors transport the powder through the hoses tothe guns. The guns spray a powder/air mixture onto the workpieces
ChinaPowder coating gun, China powder coating machine, China powder coatingsystem, China powder coating equipment, powder coating control unit
COLO Powder Coating Systems is a top supplier of powder coating systems and powder coating equipment including automated powder coating machine, spray booths and spare parts.
The product can be packed in wooden package or paper package based on your suggestion. Excellent package can avoid the breakage. About the machine, we usually ship within 7 days after receiving the payment.