Sucker rod BOP is designed for sealing of polished rod or sucker rod, wellhead sealing while stuffing box
replacing, and for other repair work. Especially for well flooding or other natural disasters, sucker rod BOP can
act for continuous well shutdown to avoid environmental pollution. Main pressure of our sucker rod BOP is
1,500 or 2,000 psi or 3000psi
Sucker rod bop is control equipment which can prevent oil and gas Leakage, and they can Guarantee well
washing, sand washing, and downhole fracturing operation smoothly.
The main features:
Reasonable design, simple structure, convenient operation, reliable sealing, long service life.
Products meet the standards of all kinds of rod seal. It's a kind of necessary tools on the oilfield.
The stuffing box is designed with two sealing structure, products, reasonable structure, convenient operation,
reliable sealing. The stuffing box has an automatic adjustment of the level of the axial center and
automatically adjust the angle that allows the rod back and forth to run automatically adjust volume and pan
angle to ensure the polished rod stuffing box with polished rod concentric, eccentric wear to avoid the
phenomenon.
The Stuffing box can be fixed directly to Sucker rod BOP or can be as a seperately part to be installed.
Specification:
Item

Norminal Diameter

Pressure

Thread

Sucker Rod size

1

2 3/8", 2 7/8", 3 1/2"

14Mpa/21Mpa

2 3/8" EU, 2 7/8" NU, 2 3/8"NU

2 7/8" EU 3 1/2"EU

5/8"- 1 1/2"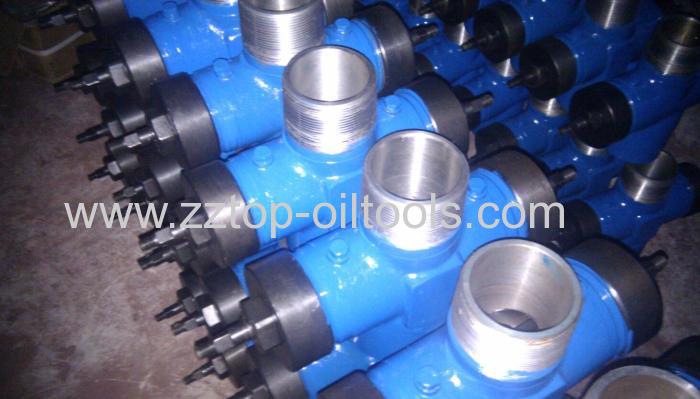 ZZTOP is the professional manufacturer and supplier for the oilfield equipment


As the manufacturer, we produce below items:
-DST tools- Full bore retrievable packer, circulating valve, select tester valve,safety valve etc.
-Surface well testing equipment - Flowhead, SSV, ESD,Separator etc.
-Wellhead equipment such as BOP, X-mas tree, Choke manifold, kill manifold, drilling spool, casing head and other valve & flanges
-Downhole tools such as stabilizer, stabilizer forging, reamer, X-over sub and etc
As the distributor, we are working with large rig companies and heavy equipment manufacturers for the below products:
-Rig parts from RG,BOMCO,SJ,Hong Hua,KR etc,such as mud pump,rotary table, hook & block, swivel, crown block and consumable parts
- BOP and wellhead parts from Rongsheng,Shenkai
- Pipe- Tubing, Casing, seamless pipe
- Handling tools and Fishing tools
Should any items be of interest to you, contact me freely.